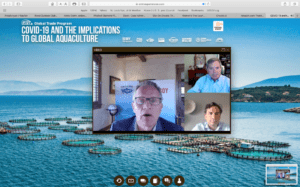 The U.S. Soybean Export Council (USSEC) showcased the U.S. Soy industry commitment to the aquaculture industry during a unique global event hosted on May 20, 2020. The conference, COVID-19 and the Implications to Aquaculture, focused on the impact of COVID-19 on global aquaculture production and marketing supply chains. It also highlighted the ability of U.S. Soy to meet global needs for the aquaculture industry.
"Our industry has always prioritized innovation and adaptability in order to better serve our customers and meet the needs within the global seafood industry, and the COVID-19 pandemic is no different," said Jim Sutter, USSEC CEO, as he greeted participants. "At USSEC, we've had an active program in aquaculture for 35 years, with partners ranging from small fish farms in Asia, to large international operations across the globe. And no matter who we're working with, our top priority is to optimize and demonstrate the value and nutritional benefits of U.S. Soy in aquaculture diets."
Monte Peterson, a farmer from North Dakota in the U.S. Northern Plains, serves as the chairman of USSEC and a board member of the American Soybean Association. He said U.S. soybean farmers intend to serve as an example to others by continuing to raise soybeans safely, sustainably and effectively. He added that they continue to produce a high-quality, sustainable, reliable crop.
"Despite facing a public health issue and continued global uncertainty, our commitment to producing a safe and reliable soybean meal for aquaculture has never wavered," Peterson said in his opening remarks. "Agriculture was recognized as critical infrastructure by the U.S. government. And with events like this, we can show how U.S. Soy farmers intend to honor that through their work, proceeding with planting for the 2020 harvest, and staying focused on being a reliable supplier to our customers."
During the conference, nearly 900 global customers from 60 countries around the world heard from industry leaders.
George Chamberlain, president of the Global Aquaculture Alliance (GAA) discussed the impact of COVID-19 on aquaculture and how despite the global pandemic, the demand for aquaculture is growing.
Gorjan Nikolik, senior analyst for seafood from Rabobank, noted that while prices have been impacted, production and volumes have remained consistent and recovery could happen this year, during his industry update on salmon and shrimp.
Carlos Salinas, USSEC senior director of soybean meal, noted that the U.S. is positioned to meet increasing global demand. During his remarks, Salinas emphasized sustainability as a key element for all members of the aquaculture supply chain.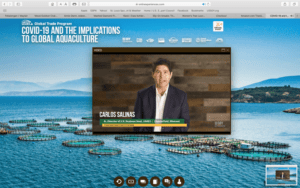 "Sustainability is a common thread among different segments," Salinas said. "Buyers around the world recognize the sustainable attributes of U.S. Soy and that our farmers exemplify sustainability."
He explained that the U.S. Soy Sustainability Assurance Protocol (SSAP) is an important component as platform certification and certification criteria will continue to become more stringent.
"The SSAP is already accepted as a certified source within the Best Aquaculture Practices (BAP) Feedmill Standard," he said. "By June 2022, BAP-certified feedmills will require at least 50% of all soy and soymeal ingredients to be derived from certified sources. U.S. farmers are glad they can provide volume supply of these sustainable ingredients for aquafeeds."
Sutter closed the event reinforcing the availability of U.S. soy products for the aquaculture industry. "We're open for business," he said. "Our commitment is to continue adapting to the environment and to make sure we're moving forward and serving you."