USSEC CEO Jim Sutter joined the World Aquaculture Society (WAS2021) annual meeting in Merida, Mexico on May 25-27, where he shared the sustainable solutions offered by U.S. Soy to address some of the challenges facing the global aquaculture industry.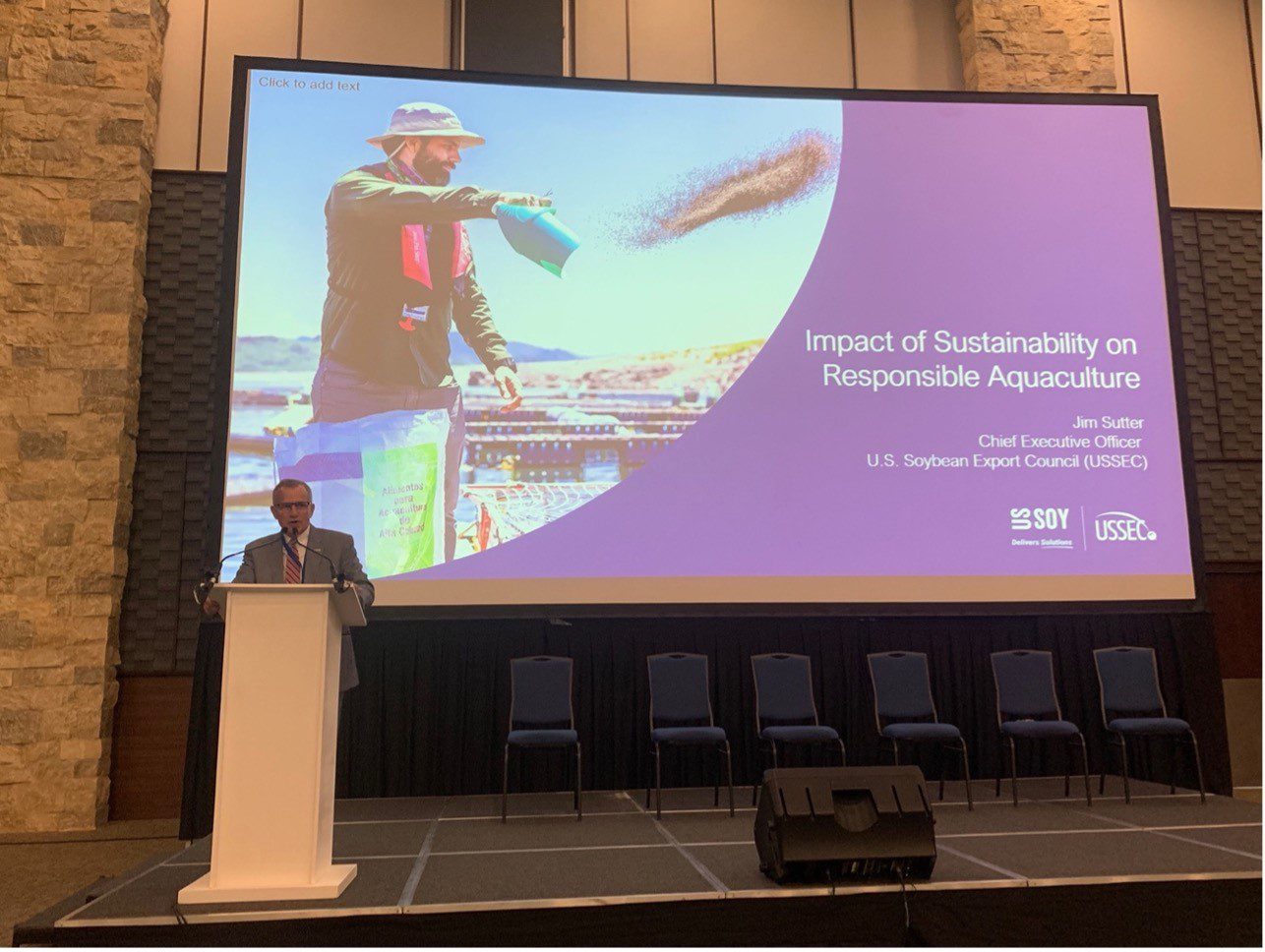 Attended by more than 1,000 people in the city of Merida, WAS2021 brought together experts from around the world who exchanged knowledge and expertise in technology and innovation in aquaculture.
During the meeting, Sutter met with representatives from the Colombian Aquaculture Producers Association (Fedeacua), the Mexican Council for the Promotion of Fishery and Aquaculture Products (Comepesca), and the Ecuadorian National Chamber of Aquaculture to discuss the benefits that U.S. Soy could provide to their local industries.
Cesar Pinzon, Executive Director, Fedeacua, said, "USSEC has been a key strategic partner for Colombian aquaculture, as it has become a great source of collaboration and technical assistance to improve our industry's productivity, sanitary standards, and technology.  As a result, our exports –driven primarily by tilapia – have grown rapidly to reach nearly $100 million in 2021 and are expected to quadruple over the next five years."
In a keynote address, Sutter said that seafood or fish produced globally by aquaculture now exceeds wild catch, making sustainable aquaculture increasingly critical to global food security. The Food and Agriculture Organization (FAO) indicates that by 2030, a 12.8% increase in aquaculture products will be required to meet growing global demand for seafood consumption – equivalent to an extra 20 million metric tons.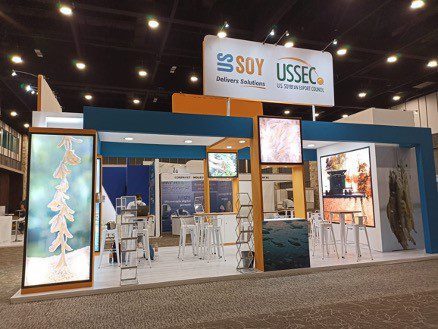 Sutter said aquaculture can play an important role in delivering food and nutrition security for the Americas region, with sustainable protein essential for both the aquaculture and aquafeed industry.
He underscored the solutions U.S. Soy delivers to address these challenges through soy-optimized aquaculture feed, championing technology adoption for In-Pond Raceway System (IPRS), and providing training and capacity building through the USSEC global network of Soy Excellence Centers (SECs).
"U.S. Soy is also a source of protein for the aquaculture and aquafeed industry and can support the growth of the aquaculture industry in Latin America," Sutter said. "U.S. Soy enables nutrition, food security, environmental sustainability, and helps improve livelihoods through its commitment to sustainability and the United Nations (U.N.) Sustainability Goals. And, critically, U.S. Soy has the lowest carbon footprint compared to soy from other origins."
Numerous industry members also approached USSEC at WAS2021 for networking, business meetings and research on IPRS technology as well as to discuss the programs that USSEC develops in support of the global aquaculture industry.
Carlos Salinas, Americas Regional Director, USSEC, said, "Aquaculture remains a significant growth pillar for U.S. Soy.  Alltech's Agri Food Outlook reported an 8.9% growth in aquafeed production in 2021. We can no longer ignore the value of sustainable and efficient feed production to meet this future growth. USSEC's team of experts has been supporting the global aquaculture industry to elevate the industry to a higher level in sustainability, efficiency and profitability. We are thankful to the World Aquaculture Society for this great event in Merida that allows the industry to meet and learn from each other. These events will help use better meet the challenges of growing aquaculture demand."
This article was partially funded by U.S. Soy farmers, their soy checkoff, and the soy value chain.