A familiar proverb says that if you give people fish, they will soon be hungry again, but if you teach people to fish, they will be fed for a lifetime. While the statement's origin is uncertain, the U.S. Soybean Export Council (USSEC) has embraced the principle of teaching others to produce fish with its commitment to the global aquaculture industry.
"Aquaculture has vast potential to help meet growing global nutritional needs as an affordable, sustainable source of rapidly grown protein," says Colby Pinkstone, senior director for USSEC. "We partner with the aquaculture supply chain in established and emerging markets to share innovation and improve capabilities in this industry, which is expanding quickly."
The Food and Agriculture Organization of the United Nations (FAO) expects aquaculture production to increase nearly one-third from 2018 to 2030. With that growth comes the need for sustainable feedstuff and technology, as well as industry leadership.
Pinkstone believes U.S. Soy effectively delivers all three, with support from the soy checkoff. As a sustainable feed solution, soy protein can be a digestible protein and nutrient source for many aquaculture species.
"U.S. Soy is an excellent ingredient choice for aquafeed," she says. "It provides a scientifically determined nutrient profile and verified sustainability. Soy is a more sustainable and cost-effective protein option than fishmeal, comprised of harvested baitfish like wild anchovies and sardines."
Sustainable Technology Training
Pinkstone says USSEC successfully shares sustainable technology with aquaculture producers around the world that will help meet growing demand.
"We led development of , which increases freshwater fish production with the same amount of water," she explains. "According to Auburn University research, IPRS allows for the intensification of freshwater fish aquaculture by allowing higher fish populations to thrive in continuously circulating water. Waste is removed from the system, allowing the water to be reused and the nutrients to be recycled as fertilizer. It also incorporates use of U.S. Soy as part of feed rations."
Since USSEC first introduced IPRS in 2013, its use has spread. USSEC provides technical service and education to give aquaculture producers in-depth knowledge of the technology and encourage its adoption, and soy checkoff funding helps make this possible.
This training makes a difference. For example, the first IPRS in the Philippines was installed in October 2021. It was delivering positive results within six months, according to a company who adopted it.
"In 2020, the Philippines reported that 59 million of their people suffered from food insecurity, the highest number in Southeast Asia," Pinkstone says. "IPRS technology advances food security by providing access to affordable, local, high-quality protein."
She adds that IPRS technology adoption is also rapidly growing among Latin American aquaculture producers and in other regions. Nearly 9,000 systems using IPRS technology have been installed in at least 18 countries.
In addition, USSEC provides training on other sustainable feed issues, like high U.S. Soy inclusion rates and use of acoustic feeders.
Ongoing Industry Leadership
"USSEC also demonstrates commitment to the aquaculture industry through our consistent leadership and support," Pinkstone adds. "We sponsor and participate in events to share the results of our research and efforts to improve the sustainability of aquaculture."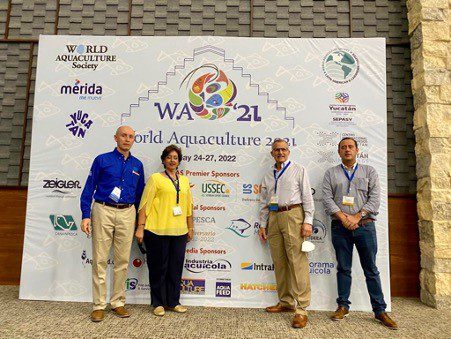 For example, Jim Sutter, USSEC CEO, delivered a keynote address at the World Aquaculture Society 2021 annual meeting.  More than 1,000 industry professionals from over 70 countries gathered in Merida, Mexico, in late May 2022 for the meeting. USSEC participation in educational sessions, the tradeshow and other event sponsorship showed support for sustainable growth of global aquaculture.
In late September 2022, USSEC will participate in Aquaculture Europe 2022, held in Rimini, Italy. Then in early October, Sutter will represent USSEC on a panel about the environmental impact of aquaculture at the Global Outlook for Aquaculture Leadership event in Seatle, Washington, U.S.A. At events like these, USSEC highlights IPRS, the latest in sustainable aquafeed research and best practices.
"Our commitment to aquaculture goes beyond the industry," Pinkstone says. "We will feature IPRS as part of U.S. Soy participation in the World Food Prize Borlaug Dialogue in mid-October. We firmly believe this technology is key to more efficient, sustainable use of resources while producing more high-quality fish products to feed a hungry world."
The combination of sustainable feed solutions, technology and leadership from USSEC is helping the global aquaculture industry reach its potential, according to Pinkstone.
"U.S. Soy drives innovation and enhanced capabilities to support the rapid growth of aquaculture, which is becoming a primary provider of animal protein," she says. "At the same time, USSEC is promoting a preference for U.S. Soy as a high-quality, consistent protein source for aquafeed."
–This article was funded by U.S. soybean farmers, their checkoff and the soy value chain.