The U.S. Department of Agriculture (USDA) issued its monthly supply and demand estimates on Thursday, July 11. In the report, there were a handful of adjustments to the agency's U.S. soybean outlook. In its 2018/19 U.S. projections, USDA lowered its forecast of domestic soybean crushings by 41,000 tonnes from June to 56.74 million tonnes. This reduction has come as U.S. soybean processing rates have fallen below last year's levels in recent months. Flooding along major U.S. riverways were blamed for falling rates in May, but the magnitude of potential rebounds in June are likely to be limited as soybean processors typically slow crush in the summer months to undergo seasonal maintenance. In addition to reducing projected crushings, USDA also lowered its projection for soybean seed usage in the current marketing year following reduced planting ideas published in the agency's June 28 Acreage report. More than offsetting these reductions, however, was an increase of 1.116 million tonnes in the residual use forecast to 1.960 million tonnes. This increase came following smaller than expected June 1 soybean stocks reporting in the quarterly Grain Stocks report also published on June 28. This usage category is a residual field that mostly adjusts for changes in quarterly stocks estimates not explained by other known sources of demand. The net impact of the changes to the agency's old-crop U.S. soybean balance sheet saw projected carryout stocks lowered by about 544,000 tonnes from June to 28.56 million tonnes.
Changes to USDA's new-crop U.S. soybean balance sheet in addition to the larger projected carry in were centered around output. USDA maintained the June 28 planted and harvested area estimates for the 2019 U.S. soybean crop, but trimmed its yield projection to 3.26 tonnes per hectare compared to 3.47 tonnes per hectare realized in 2018/19. As a result, projected U.S. soybean output was reduced by 8.31 million tonnes from June to 104.64 million. The size of the 2019 U.S. soybean crop will remain a moving target as the government collects follow-up planting information from farmers due to the delayed plantings seen in many key growing areas throughout the U.S. Midwest this planting campaign and as the summer weather pushes plants further along in development. These acreage numbers will be reflected by USDA, along with updated yield ideas, in its August production update scheduled for release on August 12.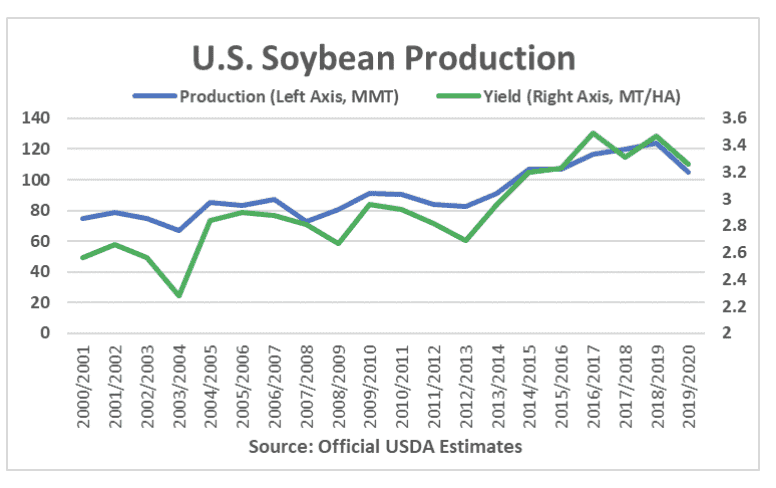 Partially offsetting the lower supplies on the demand side of its balances was a reduction in projected exports totaling 2.04 million tonnes. Net of all the changes, USDA projects that U.S. soybean ending stocks will decline by 6.93 million tonnes from the current marketing year in 2019/20 at 21.63 million tonnes. This is down 6.82 million tonnes from June, but would remain well above the third-lowest ending stocks level in history of 15.6 million tonnes at the end of 2006/07. While the fundamental outlook is tightening somewhat from record levels seen in 2018/19, USDA still projects that U.S. farmers will see prices fall $0.10 per bushel from the current marketing year to $8.40 in 2019/20.