Throughout the 2021 growing season, USSOY.org will provide regular Ground Work updates from several U.S. soybean farmers around the country. Follow their updates, #GroundWork2021, to learn about their farms and commitment to producing high-quality soy.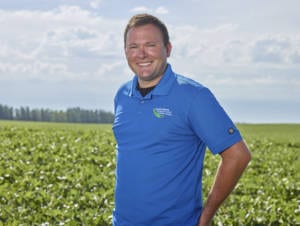 First-generation farmer Matt Gast grows soybeans and corn near Valley City, North Dakota, on the Northern Plains of the U.S. He is based about 95 km, or 60 miles, west of Fargo, North Dakota, and about 250 km, or 155 miles, south of the Canadian border.
Though he is relatively new to agriculture, he understands small business.
"My father and grandfather are in the construction business," he says. "I studied construction management and engineering in college, but after a couple internships and a year or so in the family construction business, I decided I wanted to try something different."
That's when he connected with his business partner, who is also his former father-in-law.
"I was intrigued by the risks that farmers take," Matt says. "They work hard, but so many things are out of their control, like the weather, prices, market demand and more."
Despite having no background in agriculture, he joined the farm as a partner 12 years ago. And he hasn't looked back.
"I love that no two days are ever the same," he says.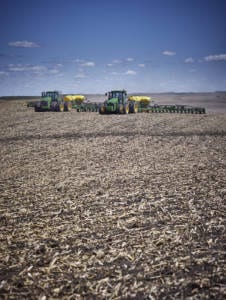 Together, he and his business partner manage about 9,700 hectares, or 24,000 acres. Their fields stretch across an area that is about 90 km, or 55 miles, north to south, and nearly 50 km, or 30 miles, east to west. They employ 6 to 7 full-time employees, and they add another 4 or 5 employees as seasonal help when needed.
His commitment to the agriculture industry is reinforced by his involvement in the industry. He volunteered to serve on the North Dakota Soybean Council when a local representative was needed, and he eventually became the organization's secretary. He was appointed to the United Soybean Board last fall.
"I appreciate having a voice in the direction the industry is taking," he says. "I like being involved in efforts to find new buyers, new uses and new markets for our soybeans. And I enjoy seeing the end results of what our products provide to our customers."
Most of his soybeans are delivered from the field to local elevators, where they are shipped by rail to the U.S. Pacific Northwest for export. North Dakota exports 72% of its soybeans.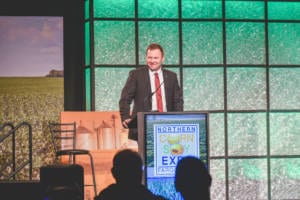 "New markets are important to farmers in this area," he explains. "And I have seen first-hand the value the quality of our soybeans can offer to customers. While I was on a trade mission in India, they received a shipment of soybeans from my region, and the potential customers raved about the quality."
He also takes pride in the sustainability and efficiency of U.S. agriculture. His farm relies on variable rate technology to provide just what crops need, where they need it. He notes that the size and scale of their equipment supports their sustainability, because it ensures efficiency, especially important given the short growing season in his region.
"We take care of our land, because without that, we don't have anything," he says. "We rely on research and technology to help us continuously improve the quality and sustainability of the products we supply to meet customer needs."
Those concepts are important, as he wants to ensure the farm's longevity for his three sons, Jackson, age 11; Bentley, 9; and Easton, 4.
Matt will share regular updates about his farm on USSOY.org throughout the 2021 growing season.