USSEC participated in the inaugural U.S. Department of Agriculture (USDA) Agribusiness Trade Mission to Taiwan, which took place April 21 to 26, 2019. Taiwan saw significant growth in the purchase of U.S. soybeans in 2018, and the trade mission offered opportunities to enhance growth in soy and all other agricultural markets. Foreign Agricultural Service (FAS) administrator Ken Isley led the mission, in which more than 49 U.S. agribusinesses and farm organizations participated.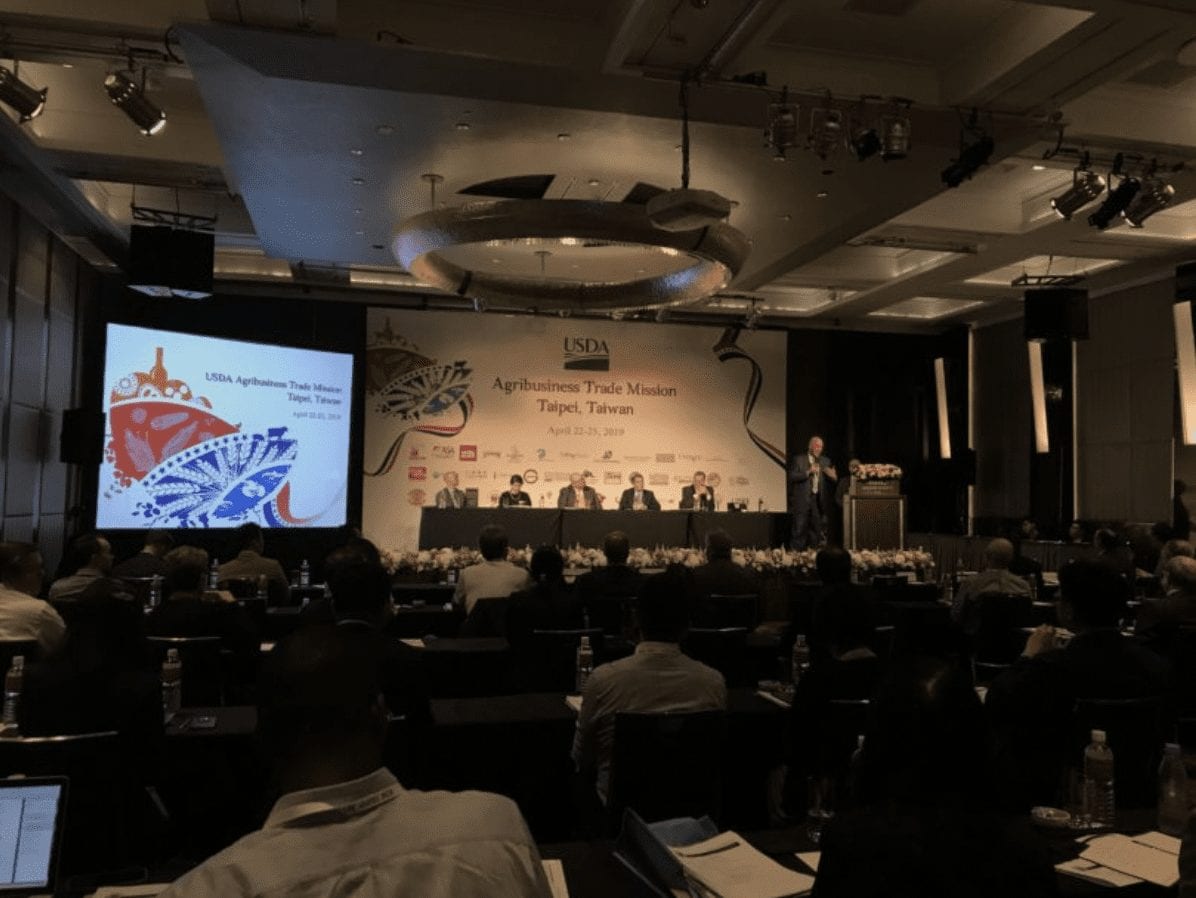 American Soybean Association (ASA) director Pam Snelson and Minnesota Soybean Research & Promotion Council CEO Tom Slunecka traveled to Taipei to take part in this mission, in which USSEC Regional Director – Greater China Xiaoping Zhang and Taiwan Director Julian Lin also played key roles. The USSEC trade team visited the Ministry of Foreign Affairs (MOFA), Taiwan Vegetable Oil Manufacturers' Association (TVOA), and six major crushers and importers. Three local crushers accepted the 2019 Leaders in Advancing U.S.-Taiwan Agricultural Cooperation Awards.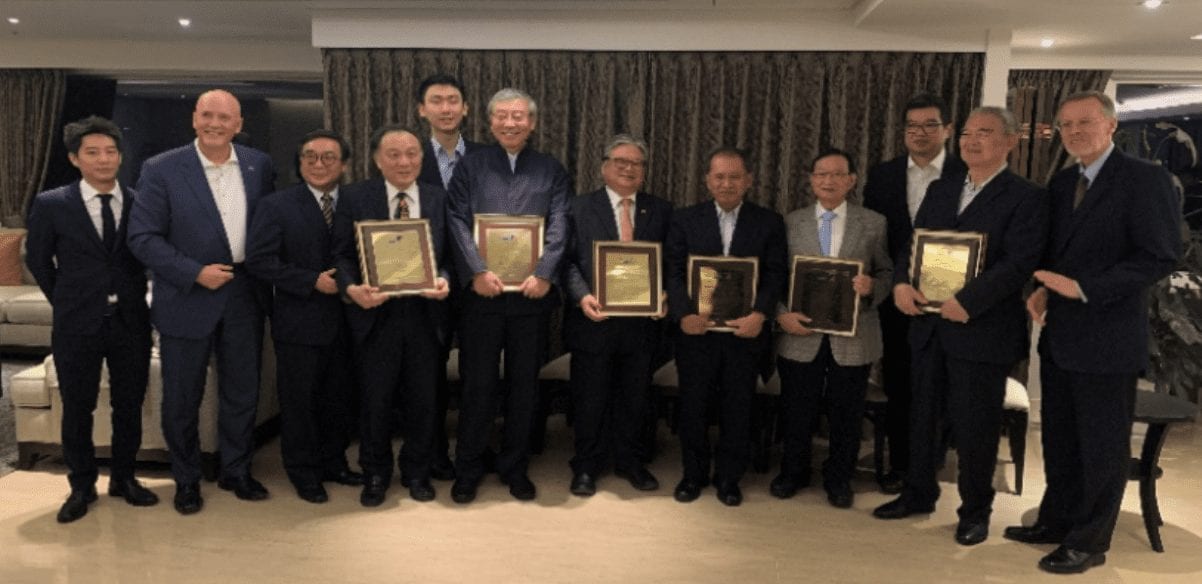 USSEC also assisted USSEC members Clarkson Grains and Minnesota Soybean Research & Promotion Council and ATM member Hang-Tung trading company to arrange more than ten one–on-one meetings over the course of the week.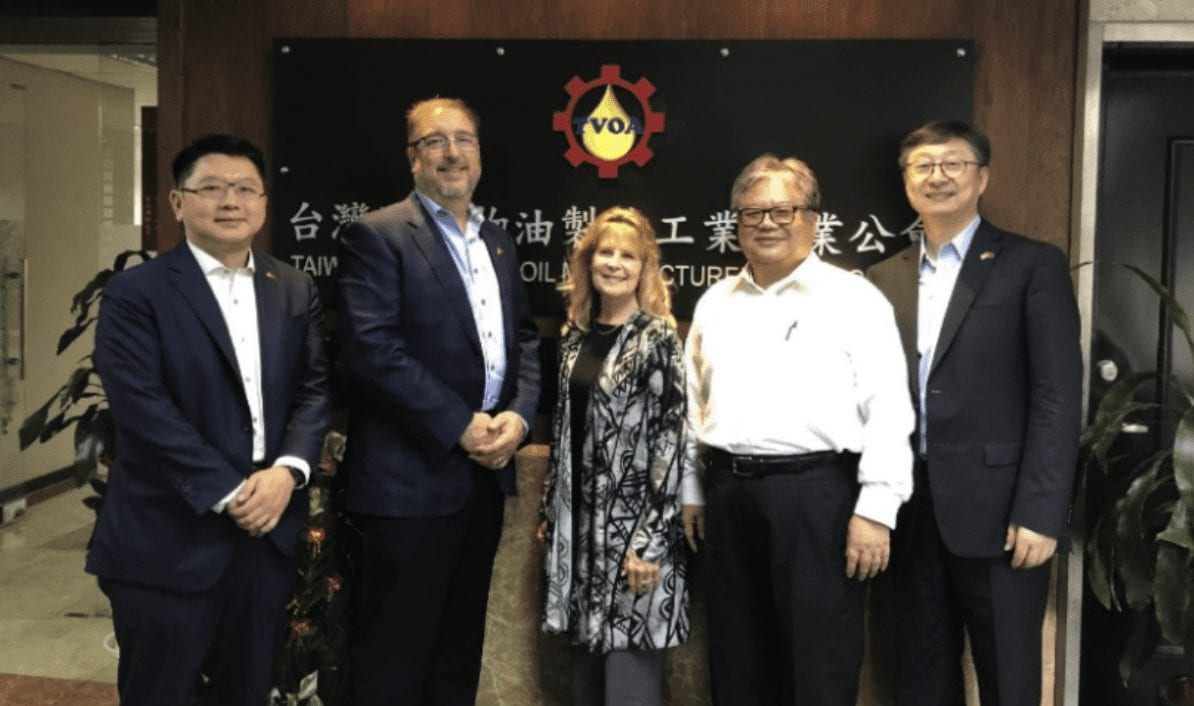 During a series of meetings with customers and stakeholders, Mr. Zhang and Mr. Lin highlighted the U.S. soy industry's 40 years of providing technical services to Taiwan and explained how U.S. Soy currently supports Taiwanese customers through a team of USSEC consultants who serve as boots on the ground in the region.
Ms. Jarnie Hsin, Senior Assistant Vice President of Commodities Trading Dept. of Great Wall Enterprises Co., Ltd. presents Taiwan soy market updates to the visiting U.S. soy industry representatives.
The U.S. soy delegation took part in three days of meetings. At least four local crushers are interested in high oleic soybean oil. All are aware of the U.S. advantage in essential amino acids (EAA), but asked for USSEC's assistance in communicating this to their downstream customers, feed millers and swine farms.
During a meeting with the management of Taisun, Formosa, and FoodChina, and Mr. Hung and Mr. Lin of TVOA, the customers reiterated that they are well aware of and educated on the U.S. advantages of EAA, the U.S. Soy Sustainability Assurance Protocol (SSAP), and high oleic soybeans and soybean oil. These organizations also expressed their interest to work with USSEC on educational programs to their customers' feed millers and livestock farmers regarding EAA and SSAP. Taisun is planning to explore the high oleic soybean oil market with samples provided by USSEC. Formosa showed strong interest in high oleic soybeans and soybean oil as well and, on the promotion of EAA, suggested that USSEC engage universities and government agencies to advocate for reviewing and possibly changing the current mandatory standard of the minimum level of crude protein in soybean meal to the EAA-based standard, although this will take some time. FoodChina, a major soybean trader serving mostly smaller feed millers and farmers, believes these small players should be educated on EAA and pledged support for USSEC programs in this area.
The U.S. soy group traveled to Tainan to visit DaChan Great Wall and TTET Union. DaChan, as Taiwan's biggest feed producer and integrator, is quite knowledgeable of EAA levels in animal nutrition, and showed interest in collaborating with USSEC to collect EAA data from soybeans of different origins. DaChan is also one of the shareholders of the leading crusher TTET, producing soybean meal for its own animal production and soybean oil for the hotel, restaurant, and institution (HRI) segment. They showed great interest in high oleic soybean oil for frying as a response to the challenge of soybean oil by cheaper palm in recent years. They were also interested in Omega-3 enriched soybeans for producing full fat soy for layers to differentiate their products, together with SSAP certification. TTET believes education for feed millers and animal farmers is critical in the promotion of EAA as a new method to evaluate soy quality. Mr. Zhang and Mr. Lin noted that their bagged 43 percent pro soybean meal and selected soybeans for food use are labeled with the SSAP logo. At TTET, the U.S. soy delegation also saw soy containers being unloaded.
The U.S. soy industry team also had a meeting with CropLife companies, including Bayer, Corteva, BASF and Syngenta, where the issue of reducing maximum residue level (MRL) on glysphosate for soybeans was discussed. To address such proposed MRL reduction issue, the U.S. soy industry team requested a meeting with Administrator Isley and expressed industry concerns. FAS and the Agriculture Section of American Institute in Taiwan have been maintaining communications with the Taiwan government agencies and will continue to work with U.S. industry including USSEC and CropLife companies to ensure continued market access for U.S. Soy.
Taiwan imports all of its soybean needs for its 23 million consumers. In 2018, the U.S. enjoyed an 86 percent market share.