The 2022 Americas U.S. Agricultural Cooperators Conference, held in Lima, Peru, on September 7-8, marked another successful year for the United States Soybean Export Council (USSEC), U.S. Soy, and fellow U.S. Agricultural Cooperators U.S. Grains Council, U.S. Wheat Associates, and USA Rice Federation.  This event brought together over a hundred of the Americas region's most representative animal, feed, and food industry members to celebrate a continued and successful partnership with American farmers and exporters, which is increasingly based on shared values and plays a critical role in navigating these ever-changing times.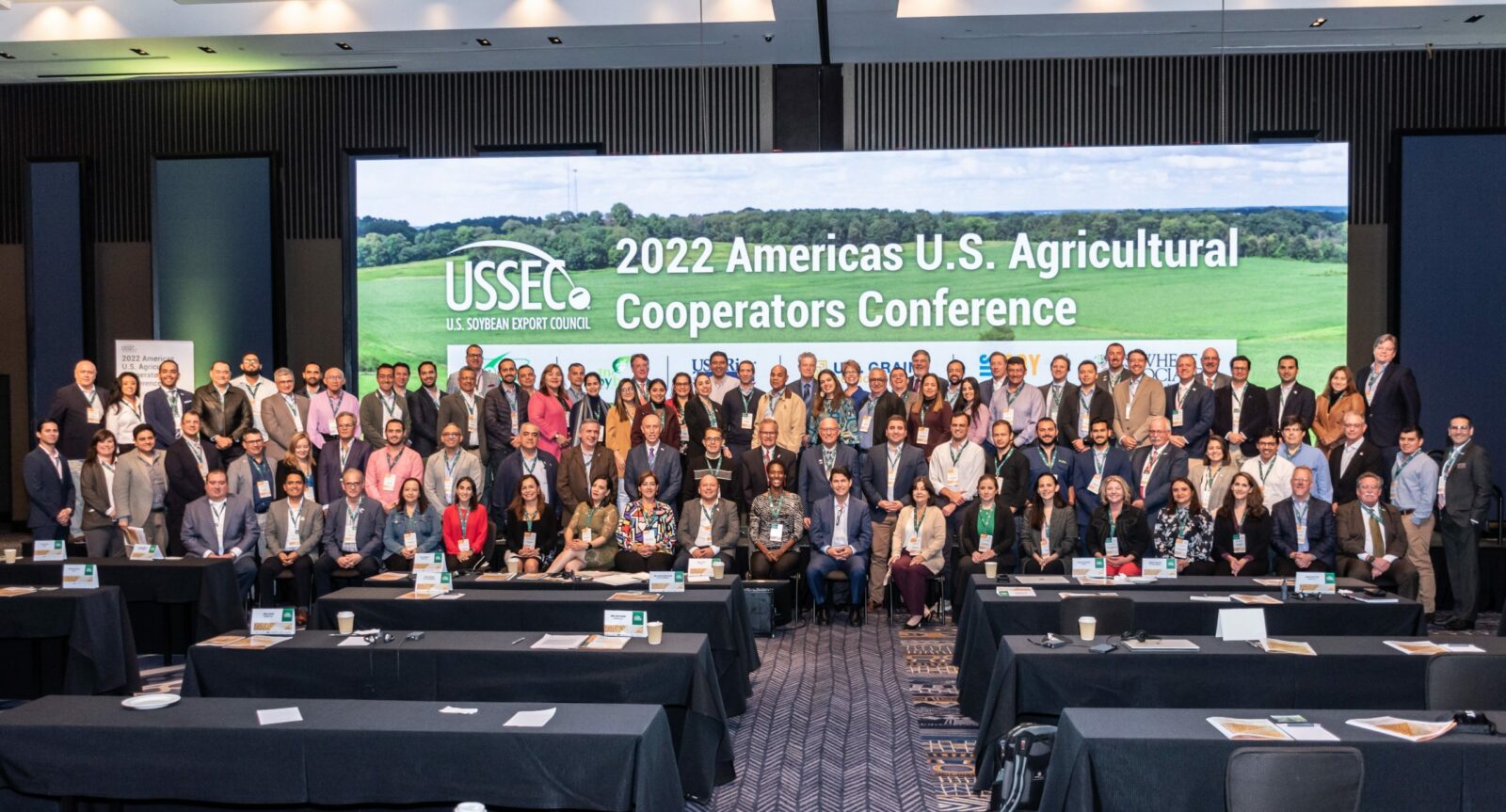 THE AMERICAS REGION: A KEY DESTINATION FOR U.S. SOY
The Americas region is the largest customer of total U.S. food and agricultural exports, reaching nearly 85.4 million metric tons, worth nearly $74.7 billion, in 2021. This region was the destination of nearly 40% of global shipments of U.S. food and agricultural in 2021. In a similar manner, the Americas region plays a significant role for U.S. Soy producers and exporters, as it is the second largest destination for shipments of U.S. soybeans, soybean meal, and soybean oil exports, after Greater China, exceeding 14 million metric tons in 2021. Notably, in welcoming attendees at the Americas U.S. Agricultural Cooperators Conference, USSEC CEO Jim Sutter noted: "The Americas region is home to seven of the world's top 10 U.S. soybean meal markets, making the 2022 Americas U.S. Agricultural Cooperators Conference an ideal place for USSEC and U.S. soybean growers to provide insights on the quality, reliability, and sustainability of U.S. Soy. These opportunities are critically important to our continued partnership with Americas customers as we face today's challenges together and create solutions collaboratively."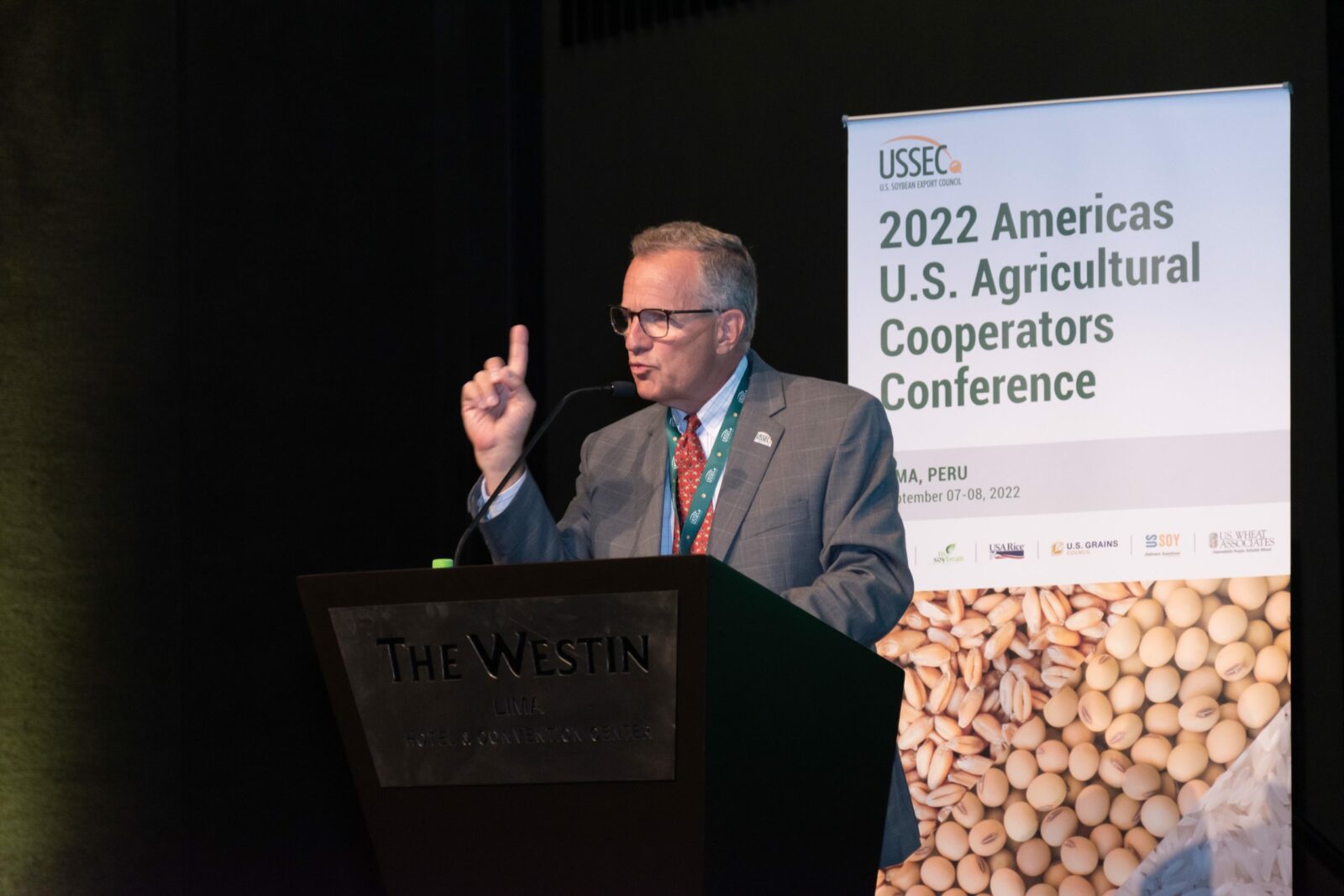 Latin America, in particular, has become a top destination for U.S. Soy exports. Rising population, poverty reduction (recently overshadowed by Covid-19), and a growing middle class have resulted in increased livestock production and meat consumption over the years. According to the recently released OECD-FAO Agricultural Outlook 2022-2031, agricultural and fish production in the region is projected to expand by 14% over the next decade. Nearly 40% of this growth will stem from livestock and fish production. As for meat consumption, the region averages 61 kg per-capita per year, almost double the average world level. Notably, countries like Peru, Colombia, and Mexico, for example, have experienced significant growth in meat consumption in recent years. The OECD-FAO estimates that over the past decade, Colombia's pork and chicken meat per-capita consumption grew 82% and 40%, respectively.  Similarly, Peru's chicken and pork meat consumption grew 41% and 33%, respectively, while Mexico's chicken meat consumption hiked nearly 20%. Additionally, official GATS/Census trade data through September 2022 indicated that U.S. soybeans and soybean meal shipments to the Americas region for the 21/22 marketing year totaled 6.6 and 7.1 million metric tons, respectively, up 10% and 9% compared to the 20/21 marketing year. In short, market conditions in the Americas region are well set for USSEC to continue working closely with poultry, pork, aquaculture, and feed producers across the region to drive further demand for U.S. Soy.  Conference attendees heard it loud and clear, USSEC is determined to continue partnering with the Americas region to grow together.
AN ANNUAL CELEBRATION OF GROWING PARTNERSHIP
The 2022 Americas U.S. Agricultural Cooperators Conference's program, with support from the soy checkoff, featured talks and panels on agricultural outlook, innovation, commodity stocks and pricing, climate conditions, meat consumption in the region, and sustainability, which allowed attendees to learn and analyze different topics and trends around global trade of soy, rice, corn, and wheat. Furthermore, over the course of two days, customers of U.S. Soy including animal and feed producers actively engaged among themselves and deepened their relationship with USSEC and U.S. Soy industry members.  These were well represented by USSEC leadership and U.S. Soy grower leaders Doug Winter (USSEC Chairman of the Board), Stan Born (USSEC Vice Chairman of the Board), Adam Guetter, Mike McCranie, Lance Rezac, Joel Schreurs, Joe Stoller, and Bob Suver.  Excitedly, Stan Born noted: "This was one of the best conferences I have had the pleasure to attend. The lineup of professional presenters and their content were top drawer and delivered a comprehensive overview of the market, the challenges, and the opportunity. The Americas team did an excellent job of execution, making this a relaxed but productive and educational conference. Attendee feedback expressed during networking breaks was completely positive." Likewise, Ms. Ana Maria Trelles, General Manager at Peru's Swine Producers Association, points out: "We're grateful for the continued work with USSEC and the opportunities to host us at events held nationally and internationally, which greatly contribute to the development and growth of Peru's swine industry, a growing destination of U.S. Soy in the region."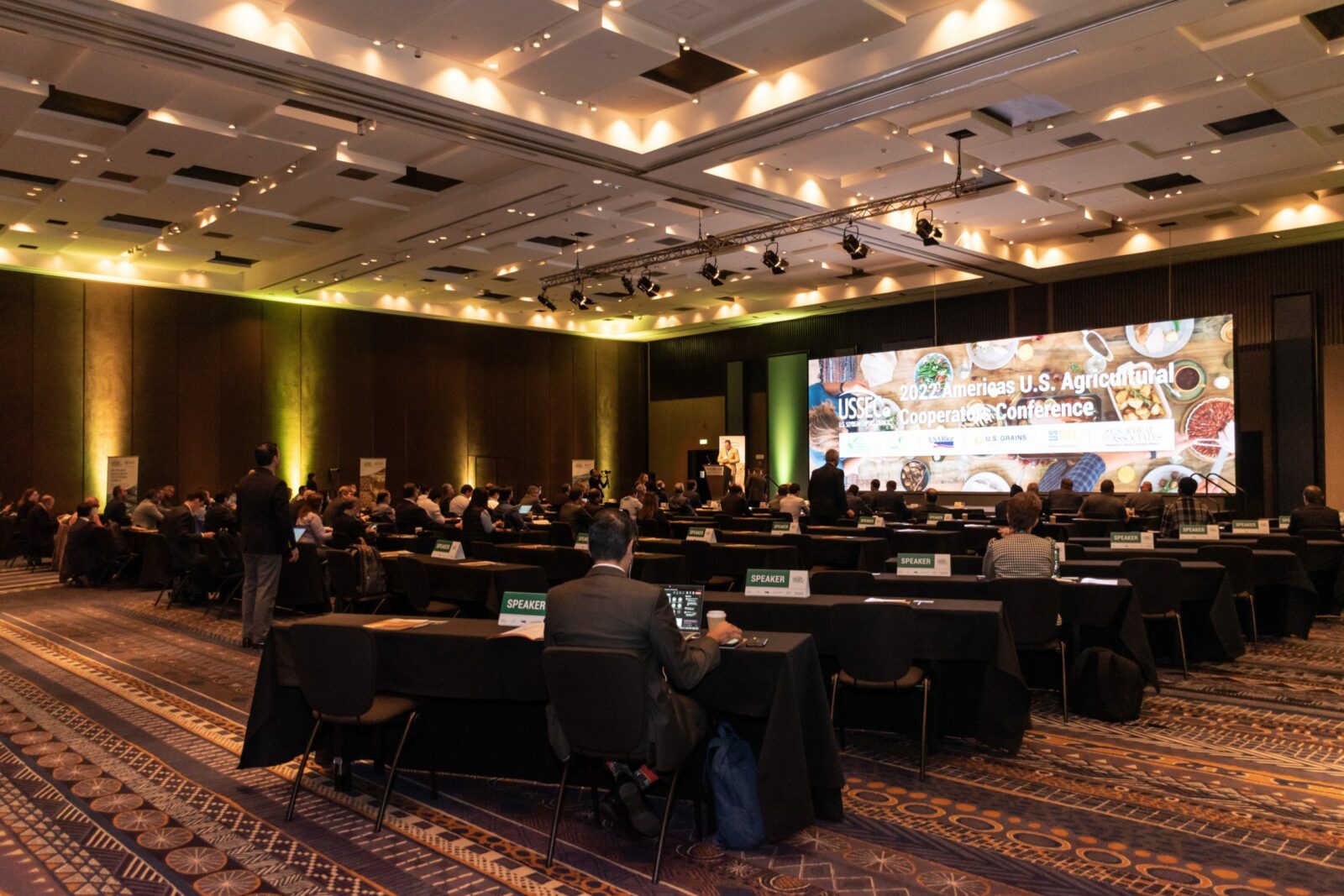 Notably, the Conference's setting and program also prompted a valuable exchange of experiences and information among attending industry representatives, who were reminded that some of their most pressing operations and strategy challenges stemmed from global and regional current trends and dynamics. Sitting in the audience was Mr. Roberto Obando, Executive Director at Costa Rica's Feed Manufacturers Association. He notes: "USSEC events' moving locations throughout the region and the diverse backgrounds of attendees which include technical experts, shippers, traders, and others, have allowed me to make better informed decisions as a leader of my organization.  Learning from and exchanging experiences with industry colleagues from across the region is both refreshing and insightful and ultimately contributes to a more prosperous Costa Rica, a growing trade partner for the United States."
GOING BEYOND TRADE: SHARING VALUES
The success of the 2022 U.S. Agricultural Cooperators Conference is a testament to the intimate relationship USSEC has built over the years with the region's most important animal and feed production's enterprises, which is increasingly driven by shared values and objectives.  Commitment, collaboration, pride, innovation, resilience, sustainability, and trust were some of the words used by attending regional partners to describe their excitement about the evolving relationship with the U.S. Soy industry.  While the quality, reliability, and sustainability of U.S. Soy are still well regarded by customers and partners throughout the Americas region, shared values are increasingly acknowledged as a driver for further growth in a region that is more and more confronted with nutrition and food security challenges.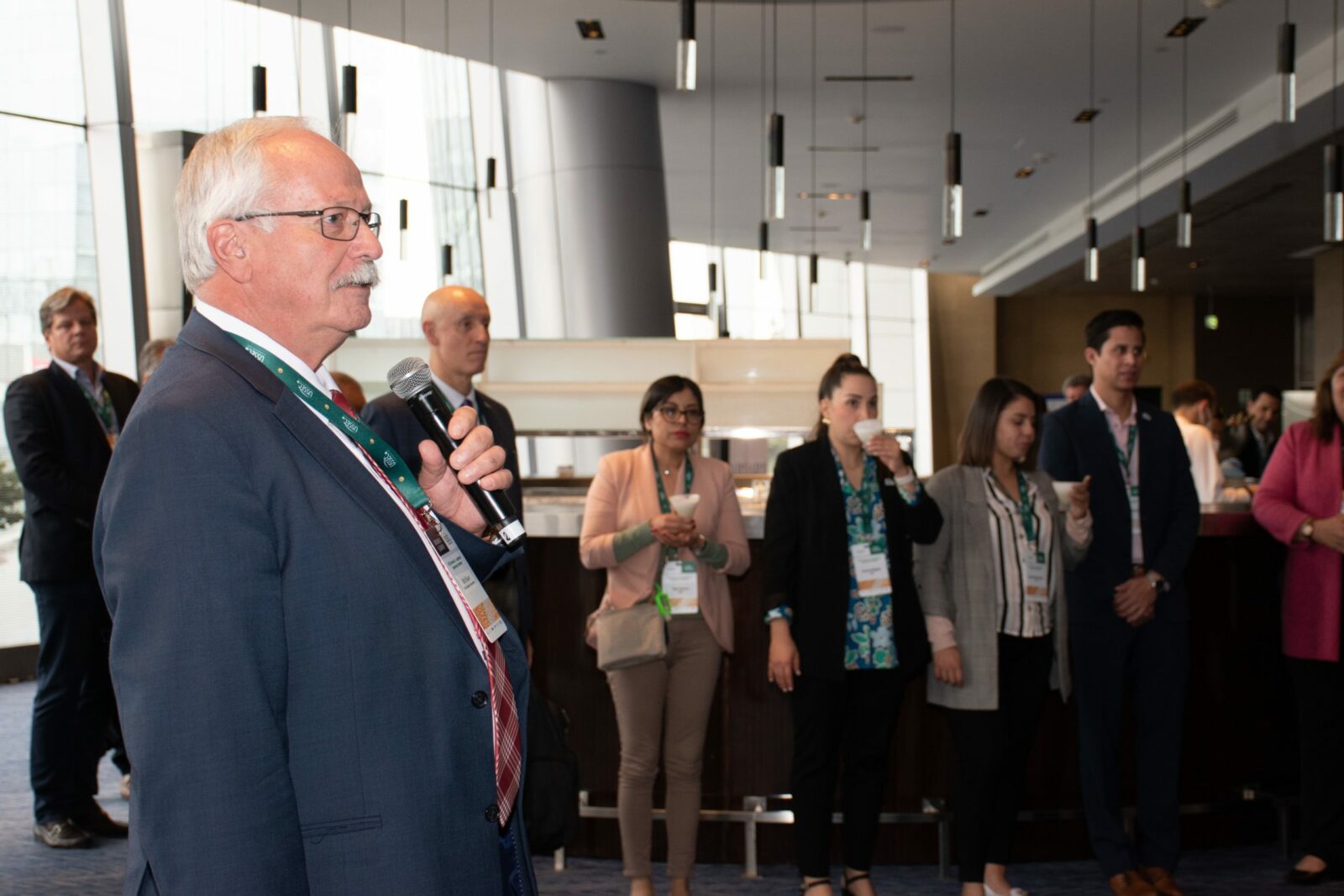 Owing to the committed work of USSEC leadership and representatives advocating for U.S. Soy among key customers in the Americas over the years, U.S. Soy and USSEC are considered well trusted and reliable partners.  In the attendance was Ms. Diana Espin, Executive Director of Conave (Ecuador's Poultry Producers Association Executive Director), who highlighted trust and commitment to excellence as shared values between U.S. Soy farmers and regional partners like herself.  "Conave is a 27-year-old association that represents nearly 85% of Ecuador's poultry producers.  We treasure the technical and trade assistance we have received over the years, but also all the values behind U.S. Soy, particularly trust and transparency.  These values and our relationship with USSEC will serve as a springboard for greater consumption of chicken meat in Ecuador and the beginning of exports," Espin noted.
The Conference's audience also include Mr. Alejandro Valdes, President of leading Mexican feed manufacturers association ANFACA, who further highlighted the values behind shipments of U.S. Soy to the region. "We are grateful for our relationship with USSEC and U.S. Soy farmers, which really is based on values that we both share, such as honor, collaboration, and commitment to excellence. Attending this Conference allowed us to hear and see directly from U.S. farmers about how these values are reflected in their agricultural practices, generation after generation," Valdes underlined. Remarkably, during the Conference, Valdes delivered ANFACA official letters to USSEC CEO Jim Sutter and Americas Regional Director Carlos Salinas, inviting USSEC to join ANFACA's technical advisory committee and inviting Carlos Salinas to join ANFACA as an honorary member.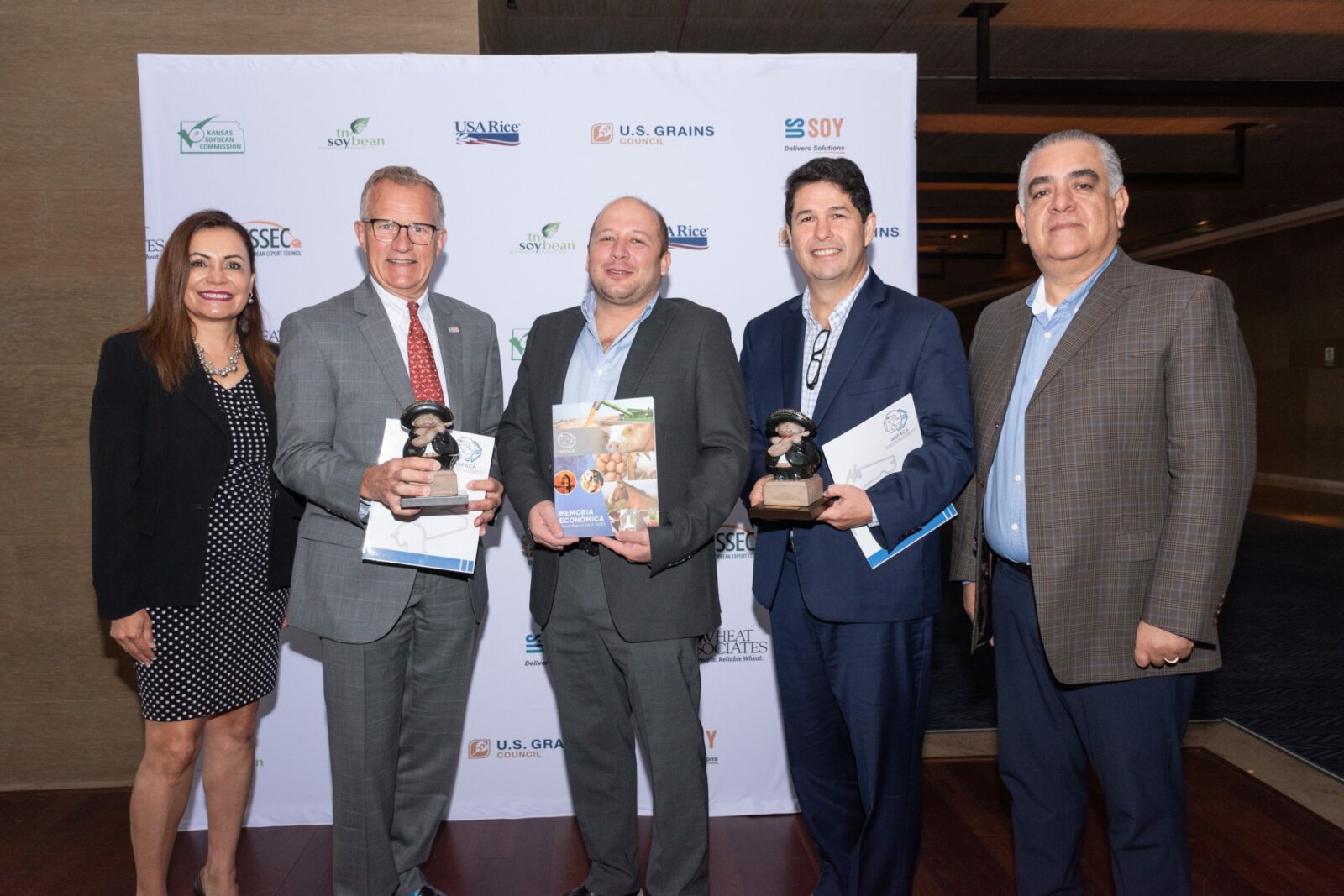 Moreover, sustainability was highlighted at the U.S. Agricultural Cooperators Conference.  As one of the most biodiverse regions in the world, the Latin America and Caribbean region is experiencing a rapidly increasing number of sustainability-conscious consumers; and this is a perfect match for American farmers, who are not just talking about sustainability, but rather "walking the walk" toward sustainable agriculture.  It has been reported that in the U.S., cropland acres have decreased by 21.3 million hectares since 1982, while forest land has increased by 2.1 million hectares. Also, in the last 40 years U.S. Soy farmers have improved land use efficiency by 48% per bushel, irrigation water use efficiency by 60% per bushel, and greenhouse gas emissions efficiency by 43% per bushel.
The Americas U.S. Agricultural Cooperators Conference marked another successful year for USSEC and U.S. Soy in the Americas, a region well poised for further growth. The solutions USSEC and U.S. Soy deliver to address the region's industry's most pressing challenges were also acknowledged throughout the event.  From USSEC and U.S. Soy's Soy Excellence Center (SEC) of the Americas to the In-Pond Raceway System (IPRS), the Nutrient Value Calculator, and the countless trade and technical training, partners attending the conference unanimously praised USSEC's steadfast commitment to providing value to the region's poultry, swine, aquaculture, oil, and feed manufacturing sectors.
In wrapping up this year's Conference and commenting on the events planned for 2023 to exiting attendees, Carlos Salinas, USSEC Americas Regional Director strongly remarked: "When you buy U.S. Soy, you are not only buying the product itself, but rather the many things that come with it, such as sustainable agriculture, the hard work of a long line of American farmers and values, streamlined logistics, innovative technologies, productive land, among many other valuable elements. Quite importantly as well, you are enjoying the continued support of USSEC's team and extended assistance to help your organization succeed, one shipment of U.S. Soy at a time."
This article is partially funded by U.S. Soy farmers, their checkoff and the soy value chain.