As the demand for soy protein derivatives continues to increase around the world, new questions are being asked about the feasibility of product sources. Food processors and manufacturers, especially those in Indonesia and Taiwan, have plenty of possibilities, when it comes to soy and soy protein derivatives – but they can count on U.S. soy for a reliable, sustainably-sourced product.
When buying ingredients and additives, food processors and manufacturers must consider a number of critical factors, and the decisions they make can have dramatic impacts on the quality of the items they produce – and ultimately on the success of their operations.
For example, soy protein derivatives can be purchased from many countries and even a wider range of suppliers. But that long list of options also represents vast differences in the quality and integrity of the soy products as well as the dependable performance of the sellers.
"Food companies definitely have to care about the quality of their ingredients and food safety," says Marypat Corbett, marketing director of human nutrition/oil for the U.S. Soybean Export Council (USSEC). "And that's part of what we call the U.S. Soy Advantage. Food manufacturers anywhere in the world know that they can trust U.S. soy ingredients to have the consistently high quality and the functional properties they desire, and to be the sustainably sourced food ingredient that their consumers expect. Our buyers also know they can depend on us for the assurance of reliable delivery and year-round product availability."
Increasing Global Demand
Concerns about the source and quality of soy derivatives have become a bigger issue in recent years because of the exploding growth in global soy consumption – especially outside of the United States. Increased awareness of the nutritional benefits of soy protein and the corresponding demand for soy-based products have sent many food processers scrambling to find the soy protein supplies they need.
In 2015, the worldwide market for all soy food products was estimated to be worth $39.9 billion; within that, the segment for soy protein derivatives was valued at $7.5 billion. Based on current industry projections and a CAGR (Calculated Annual Growth Rate) of nearly 9 percent, the global soy protein derivatives market is expected to reach $11.4 billion by 20201.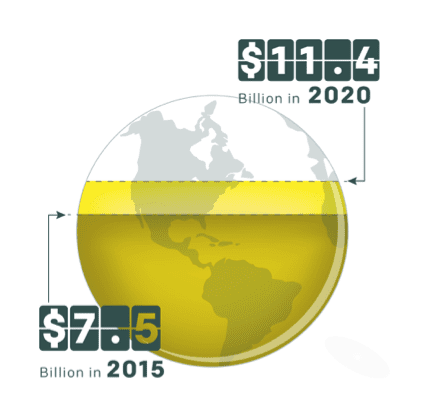 "Peoples' food-buying habits are going well beyond the traditional decisions of taste, price and convenience," Corbett adds. "U.S. consumers aren't the only ones who expect a lot more information about the food they eat. In developed countries around the world, more people are interested in food safety and health, and they want to know where their food ingredients are coming from."
"Consumer preferences are driving demand for protein," says Chris Zora, business manager, soy isolates, for Archer Daniels Midland Company's WILD Flavors and Specialty Ingredients business unit. "Our food and beverage customers look for innovative ingredients as they develop new products that support growing health and wellness trends around the world."
Soy-based protein is well-known for its many health benefits, which helps to explain the phenomenal expansion in the market for soy derivatives. According to the U.S. Food and Drug Administration, 25 grams of soy protein in a person's daily diet can lower total blood cholesterol and low-density lipoprotein levels.2
The Importance of Quality
As often happens with commodity products, any sustained upturn in consumer demand will inevitably attract new suppliers to the market. Hoping to quickly take advantage of unfulfilled opportunities, some soy protein derivative providers might compromise on the integrity of their processes to get products into the supply chain as soon as possible.
"That's exactly what we're seeing now in a few places in South Asia," Corbett says. "Rather than invest in new processing equipment, some of these suppliers are running very old machinery that hasn't been maintained very well. In a few instances over there, we've actually had customers tell us they occasionally have their own equipment maintenance issues caused by metal filings found in the soy flour they get from those local suppliers."
In a classic case of you-get-what-you-pay-for, some food manufacturers might base their soy purchasing decisions strictly on price or expedience, which can put them at the risk of compromising the quality and safety of their finished products.
"Fortunately, our customers are very savvy, and they know they have to be willing to pay more for high quality and consistency," agrees Anita Florido, international soy flour sales and product manager at CHS, Inc. "It only takes one bad experience with a low-quality food product to make someone resolve not to let it happen again."
USSEC's Corbett described a situation with one of the largest bakers in the Middle East, and how he discovered the competitive advantages of adding U.S. soy flour to his flatbreads, cakes and cookies.
"This man is now obsessed with getting only the best soy flour," she explains. "Besides being confident about our ingredient quality and safety, he's found that the superior U.S. soy flour improves the texture, moisture and freshness of his products. Also, wheat flour interruptions can be an issue in his country, but we give him the assurance of availability with our soy flour."
Corbett went on to say that as a result of his use of high-quality soy flour, the man's company has enhanced its reputation for exceptional products, and his baking business has expanded significantly in the region.
As a leading exporter of quality soy protein derivatives, the U.S. soy industry is justifiably proud of its high standards. Other countries are constantly trying to threaten that position and claim to have comparable products, but U.S. soy protein clearly offers many distinct advantages – as more and more global food processors are coming to realize.
"We've met export customers who bought their soy products based on low prices and then regretted it," says Florido. "They came to us later, almost crying, and said, 'We wish we would have gone to you first.'"
Sources: