High-quality protein goes hand-in-hand with increasing standards of living around the world. As incomes rise, so does demand for nutritious protein.
"Consumers need every form of protein that is available, including meat and poultry, to meet global nutrition needs," says Charles Hall, director of animal and aquaculture nutrition meal for the U.S. Soybean Export Council (USSEC). "This nourishment needs to be produced sustainably to preserve our resources."
Hall believes U.S. Soy plays an essential role in meeting demand for high-quality protein in a sustainable manner. U.S. soybean farmers use knowledge and technology to maintain or increase yields while using fewer resources and caring for their land, continuously improving sustainability.
"In many regions of the world, U.S. Soy is the preferred protein as a sustainable nutrient source in animal feed," he says. "In turn, these animals supply high-quality protein that people demand to improve their diets."
Hall notes that education, tools, technical expertise and market development facilitated by USSEC, with support from the soy checkoff, all contribute to the preference for U.S. soybean meal. Animal nutritionists around the world learn how U.S. Soy meets their needs and fits into continuously improving production practices.
Educational Opportunities
"Growing protein consumption fuels the need for well-trained, knowledgeable technical professionals in feed and livestock," Hall explains. "USSEC provides professional development and training for that workforce in many emerging markets."
For example, the Asia Soy Excellence Center for Animal Protein, based in Thailand, offers basic short courses in key topics. More than 100 participants from 11 countries have completed the course in poultry since it became available last year. In just a couple months, 125 people from 10 countries completed the feed milling course. Represented markets include Bangladesh, India, Indonesia, Malaysia, Myanmar, Nepal, Pakistan, the Philippines, Sri Langa, Thailand and Vietnam.
In late April 2022, 30 professionals representing Latin American customers of U.S. Soy attended a technical seminar focused on feed and animal production. Kansas State University, in the U.S. Midwest, hosted the three-day seminar. Topics included ingredient variability control, feed processing and safety, amino acid nutrition, gut health optimization, biosecurity, sustainable production and more.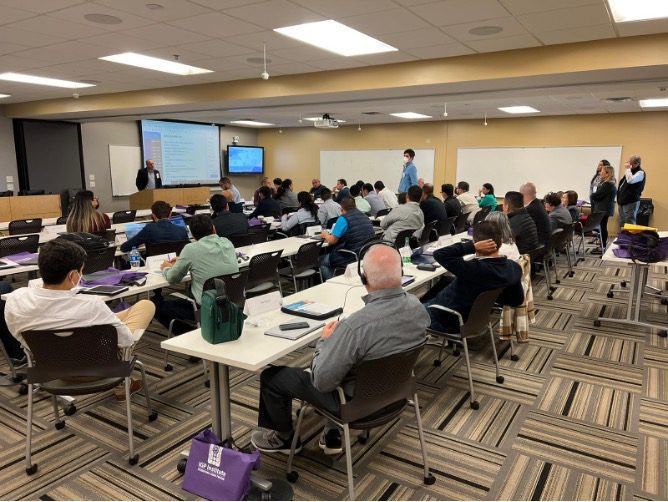 "Educating nutritionists, veterinarians, animal producers and feed manufacturers helps them improve their operation and drives demand for U.S. soybean meal," Hal l adds. "This assistance has proven effective in promoting U.S. Soy among animal production stakeholders."
He points out that in early June, shipments of U.S. soybean meal to Colombia, Venezuela and Ecuador for the 2021-22 marketing year were running 26%, 34% and 14% respectively ahead of the previous year, according to USDA reports.
Then in mid-May, USSEC hosted its annual Dairy Nutrition Conference for the Middle East and North Africa region in Jordan. Nearly 100 participants from 12 countries, including Algeria, Egypt, Jordan, Morocco, Saudi Arabia and Tunisia, learned more about how U.S. Soy can benefit dairy operations in the region. The conference shared expertise to improve dairy production and animal health.
"Five of the participating countries represent the fastest-growing feed industry in the world," Hall says. "Their professionals benefit from understanding the added value of soy products in animal feed and the advantages of U.S. Soy's nutrient content, consistency, sustainability, reliability and quality."
Soy Nutrient Value Calculator
Innovative tools enable customers to make research-based, data-driven purchasing decisions. USSEC developed the Nutrient Value Calculator to do just that, highlighting the advantages of U.S. Soy. Based on data about the quality of soybean meal of U.S. and other origins from feed mills in different parts of the world, this tool evaluates the optimal nutritional value and cost for animal feed formulations with soy from different origins as an ingredient.
"This technology provides confidence in feed formulations and ingredient purchasing decisions," Hall says. "The calculator breaks down profits from soy for each country of origin, and research shows those relative differences matter in terms of bottom line."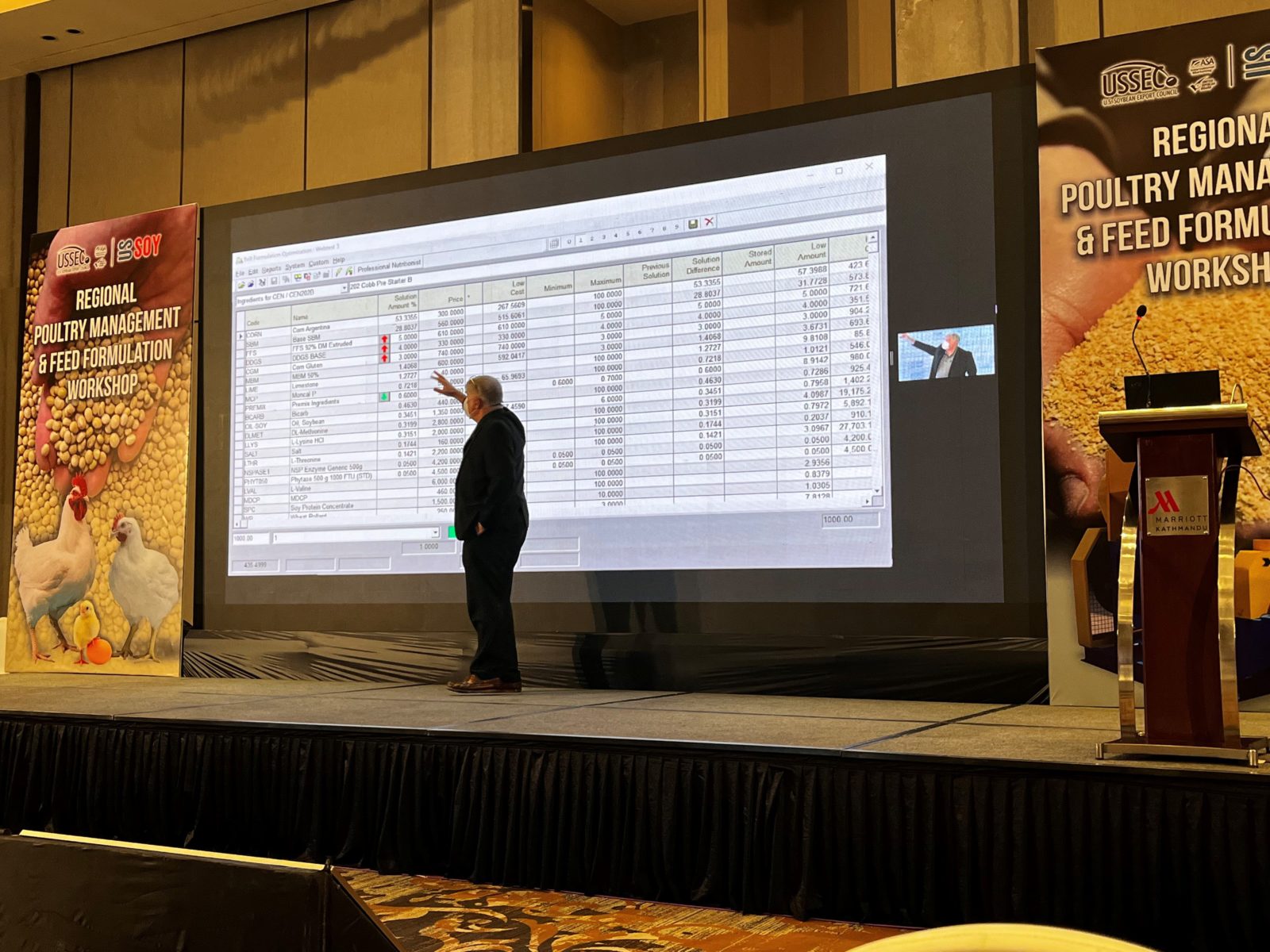 Customers appreciate this tool. For example, USSEC introduced the Nutrient Value Calculator to nutritional experts from Bangladesh, India, Nepal, Pakistan and Sri Lanka at a hybrid workshop in Kathmandu, Nepal, as the region reopened to gatherings. Following the event, 98% of the in-person and virtual audiences agreed that the event was relevant, a good use of time and worthy of recommendation to others.
Partnerships and Technical Support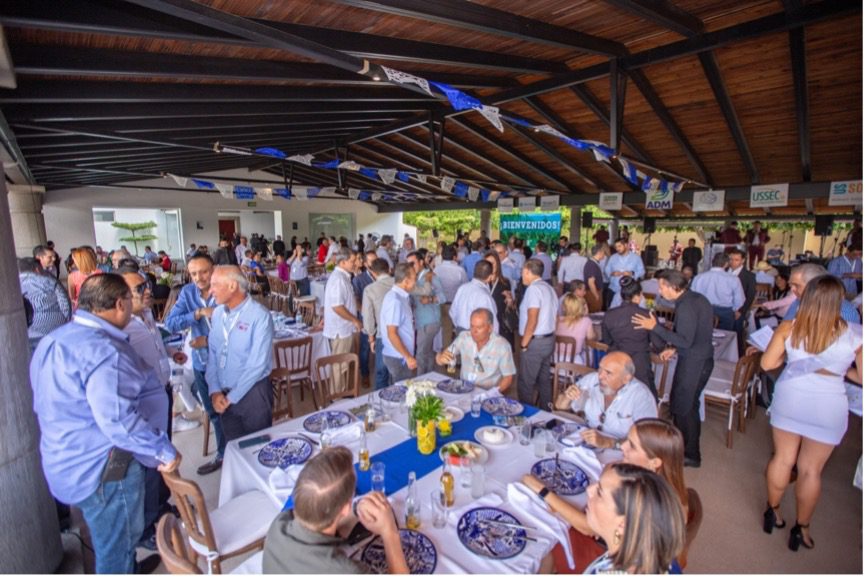 USSEC fosters relationships with animal nutrition customers, focused on helping them improve. U.S. Soy is key to their growth and progress.
In Mexico, U.S. Soy participates in the Association of Animal Feed Manufacturers (ANFACA), connecting with members at events like their annual industry luncheon. Monthly online technical sessions, trade and hedging courses and technical management training all help these customers build capacity.
"Technical assistance that addresses operational issues for livestock producers also strengthens our relationships with customers," Hall says. "This technical support serves as an avenue to share the value of U.S. soybean meal."
For example, in the Dominican Republic, on-site meetings and technical workshops contribute to consistent demand for U.S. Soy. Domestic pork production has been hindered by myriad factors, putting pressure on the poultry industry to boost production. Broiler and egg producers have received USSEC technical assistance on disease management and other production practices. At the same time, USSEC has worked with pork producers to improve their operations.
"Despite price and sanitary challenges in the Dominican swine sector, demand for U.S. Soy has trended 2% higher than last year," Hall reports.
Market Development
Demand for U.S. Soy as a sustainable feed ingredient is growing in both expansion and emerging markets, thanks in part to USSEC efforts.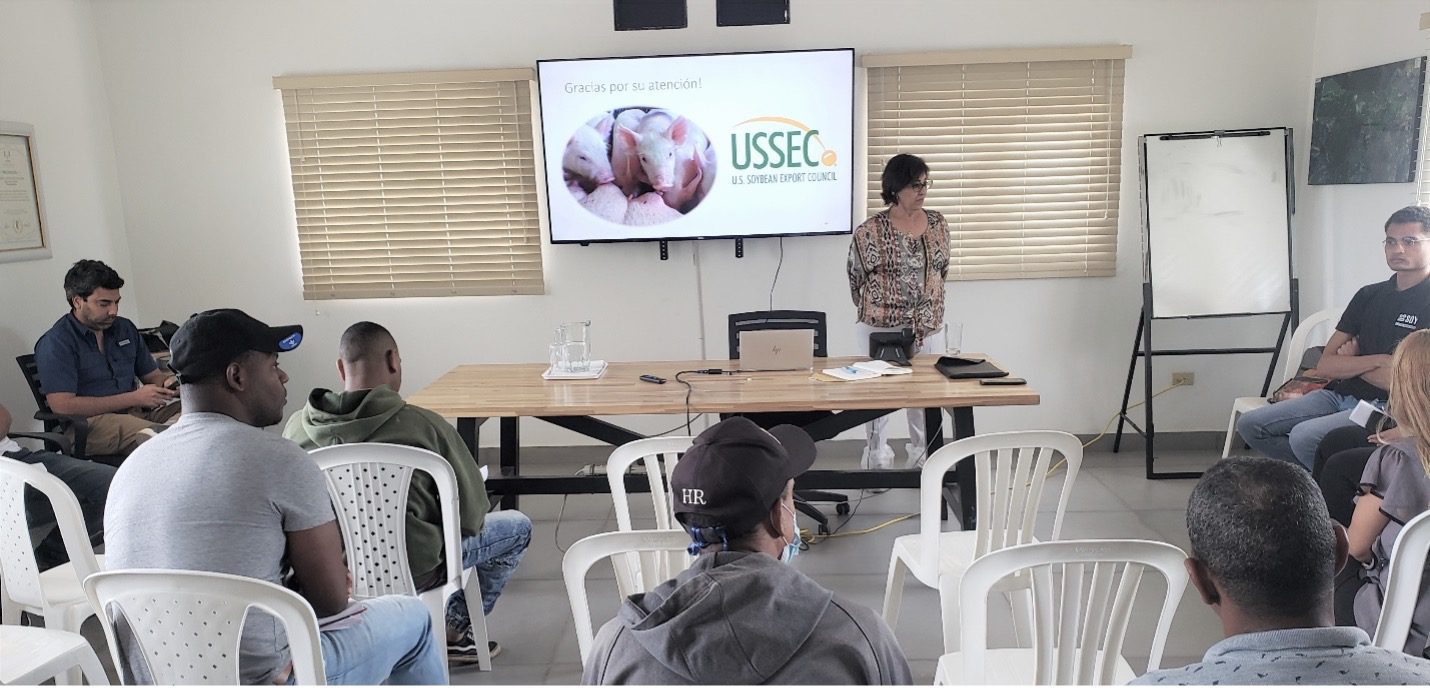 For example, Chinese livestock and poultry producers demonstrate growing interest in fermented soybean meal and full-fat soybean meal as animal feed supplements. Based on data from China's Ministry of Agriculture and Rural Affairs, their annual demand for full-fat soybean meal has reached nearly 4 million metric tons. They also use about 500,000 metric tons of fermented soybean meal each year.
"Fermented soy bridges a price gap between fishmeal, soy protein concentrate and regular soybean meal," Hall explains. "It fits well in feeds for baby pigs, lactating sows and baby chicks."
Promotional and educational programs from USSEC highlight the economic benefits of using sustainable U.S. Soy, certified by the Soybean Sustainability Assurance Protocol (SSAP). As a result, two companies producing full-fat and full-fat fermented soybean meal import more than 11,000 tons of U.S. Soy each month with SSAP certificates.
Record soybean meal prices in India, an emerging market, compelled poultry producers and feed millers to petition their government for relief. As a result, India temporarily allowed the import of transgenic soybean meal, including meal originating in the U.S.
Collaboration between USSEC, the U.S. Department of Agriculture (USDA) and industry partners solved phytosanitary certificate issues. This allowed U.S. farmers to help feed poultry throughout India with more affordable prices.
"India represents a top-five feed market in the world," Hall says. "Its growing middle class continuously demands more and more protein, and our Right to Protein campaign, which started in 2019, drew attention to the nutritional need for that protein."
He adds that the U.S. is ready to respond to future opportunities to provide soybean meal to India.
This combination of education, tools, technical support, market development and other USSEC efforts support livestock and poultry producers around the world, according to Hall. They take advantage of the value and sustainability of U.S. soybean meal to meet the growing demand for all types of high-quality protein.
-This article was funded by U.S. soybean farmers, their checkoff and the soy value chain