The United States Environmental Protection Agency (EPA) issued its final annual volume standards for U.S. biofuel production in late November. These standards establish the Renewable Fuel Standards (RFS) for the following year. For biomass-based diesel, which encompasses soybean oil and other fats and oils as feedstocks, the guidelines include a two-year time horizon in order to capture a 14-month lead-time.
The 2019 target was unchanged from proposed levels at 2.1 billion gallons, while the target for 2020 was increased nearly 16 percent to reach 2.43 billion gallons. These levels were unchanged from the initial proposals that were previously announced earlier this past summer. The table that follows was issued by the EPA and shows that biomass-based diesel levels have been steadily increasing since taking a blip lower in 2011. While the biofuel community may be disappointed to see targets remain unchanged for 2019, they are likely pleased to that the established targets are expected to see a stronger increase in 2020.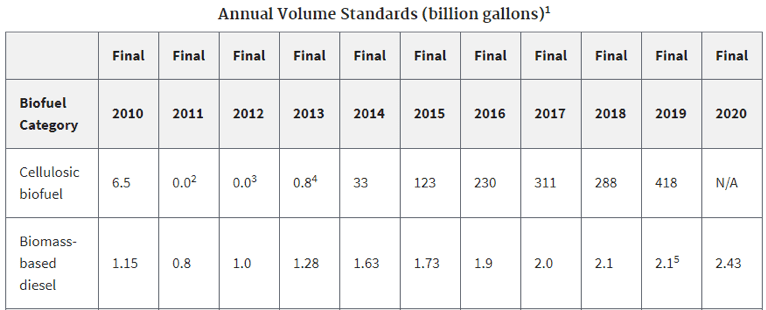 The proposed levels suggest that domestic consumption of fats and oils will continue their rise seen in recent years. The largest benefactor in the years ahead is expected to be soybean oil. Biodiesel feedstock data compiled by the U.S. Energy Information Administration's Monthly Biodiesel Production Report shows that soybean oil is by far the top feedstock for U.S. biodiesel production ahead of both canola and corn oils. The most recent data released for September shows that soybean usage increased 2 percent in 2017 and has risen by the same amount in the first nine months of 2018. Actual growth in 2018 may top expectations as industry sources indicate strong demand from the biodiesel industry heading into 2019. While the latest mandates suggest growing soybean oil demand from the biodiesel sector, crush rates in the U.S. are expected to remain strong enough in the months ahead to keep the U.S. soybean oil market well supplied into the future.