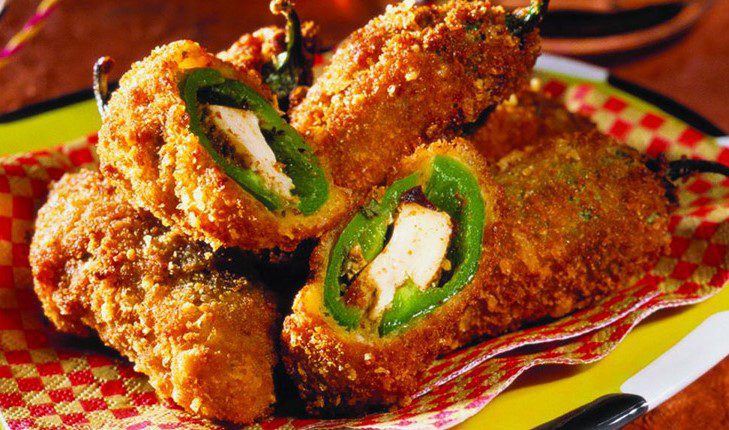 Ingredients
8 ounces Firm tofu
24 Fresh jalapeno peppers, 2, 1/2 to 3-inch size
1 1⁄4 ounce Taco seasoning mix, prepared
2 cups Flour
4 Eggs, beaten
1⁄4 cup Water
1 1⁄2 cup Dry bread crumbs
1⁄2 cup Parmesan cheese, grated
Soybean oil (vegetable oil,) as needed
Salt
Pepper
Instructions
Cut tofu into 2 x 1/2 x 1/2- inch strips. Place tofu on a thickness of several paper towels on a cutting board and position board on a slant to allow excess liquid to drip off. Sprinkle with salt and pepper.
Wash peppers. Use plastic gloves to avoid retaining the hot flavor on your fingers. Slit the pepper lengthwise up both sides, leaving the stem intact. Remove seeds.
Roll tofu strips in taco seasoning. Place into pepper; press pepper together. Roll pepper in flour.
Beat eggs and water together. Mix bread crumbs, cheese, 1 teaspoon salt and 1/4 teaspoon pepper together.
Holding the stem of each floured pepper, dip into egg mixture and then into crumb mixture to coat entire surface; repeat to get a nice coating. Place on waxed paper-lined pan and refrigerate until ready to use.
Deep-fry at 375°F 2 to 5 minutes or until browned. Drain and serve hot.