Our crops, including our food-grade soybeans, look good right now, though we're on the short side of getting rain. Our area of Minnesota, in the upper U.S. Midwest, is dry, but the crops aren't suffering — yet. We just keep hoping for the next rain.
The combination of a wet early spring that delayed planting despite good planting conditions and cool weather after planting means that many of our crops are slightly behind average. But, heat throughout June helped them catch up.
The foodbeans started flowering in mid-July, and they are currently at the R2 growth stage. We scout these fields every week or week-and-a-half to make sure we protect their quality all season.
After planting, we focused on scouting for weeds. Besides stealing yield, weeds can also affect the seed coat of soybeans when they are harvested, staining them. We raise light-tan soybeans with a clear hilum, so the color will be consistent. Weed stains don't impact the soybean content or the quality of the products they are made into, but the stain color does show up in tofu or soy milk. That's not acceptable for our customers who make soy foods or the customers they serve.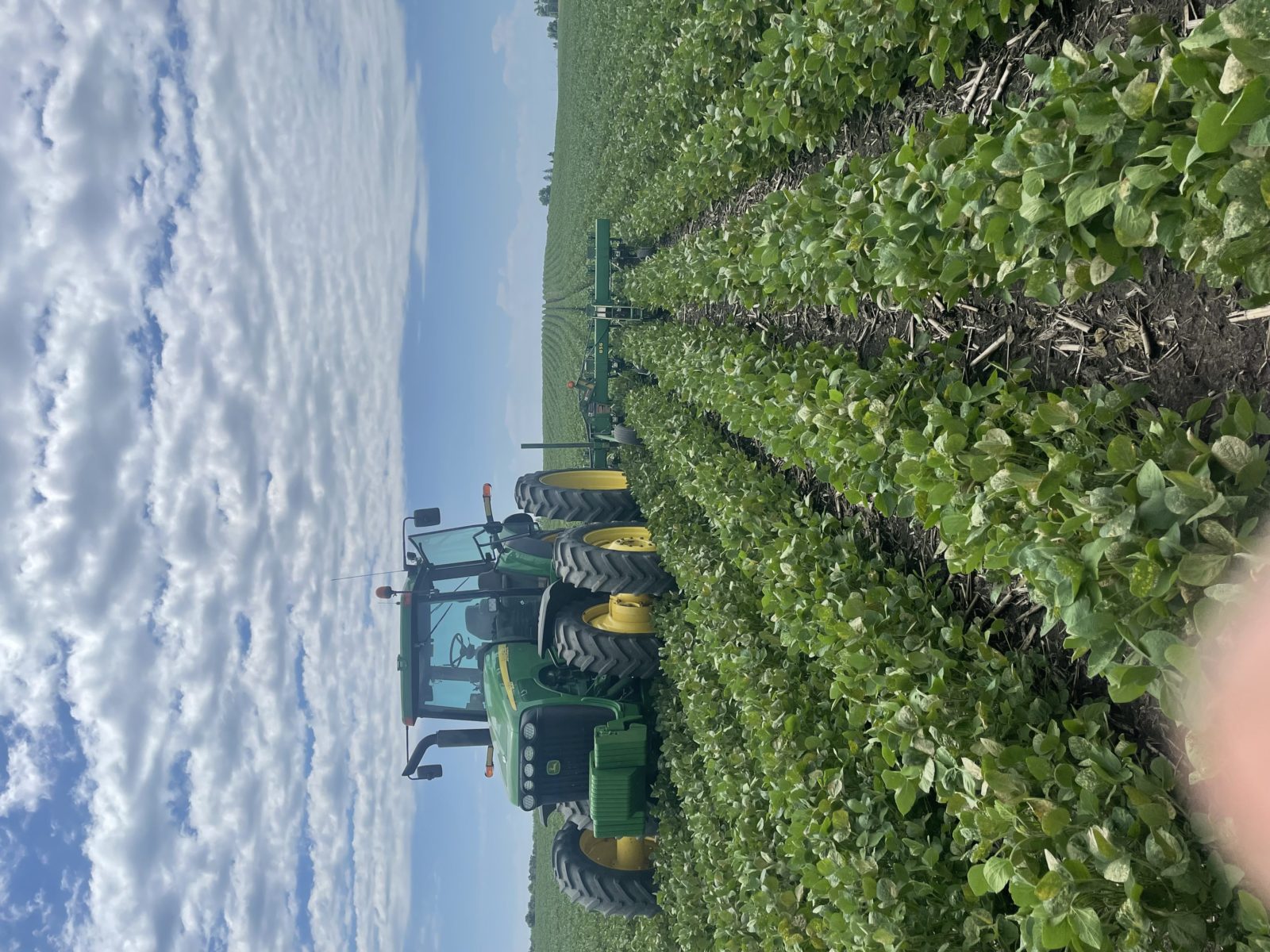 Throughout June we applied herbicides to control weeds. The hardest weed we have to control is giant ragweed. By early July, we had weed-free fields, but we continue to scout for them. We plant our foodbeans in wide rows so we can cultivate, or use tillage, to control weeds later in the season as needed, which we have been doing.
This season, we are participating in a private company's trial to learn if applying sulfur in-season will improve the yield and quality of foodbeans. In mid-July, we spread dry, granular ammonium sulfate, or AMS, on a 91-hectare, or 225-acre, field, leaving untreated test strips for comparison. While scouting, we will monitor this field. At harvest, these soybeans will be tested for any yield or quality improvements. We will test general protein content, specific amino acid content and much more. Some research has shown that sulfur can benefit soybeans, and this trial will help us and the company we are working with learn more about sulfur response in our region.
Soon, we will also apply fungicide to our soybeans. This application not only protects them from disease, but it also improves plant health so the soybeans stay green longer, delaying maturity. This lets the plants take advantage of late-season rains to improve pod fill and bean size and weight right before harvest.
We also scout for insects. Soybean aphids and spider mites, which start becoming a problem in late July, are the biggest threats to soybeans in our region. However, we don't treat our crops with insecticide unless the insect pressure reaches the recommended threshold. We do this to prevent unneeded treatments and limit the potential for insects to develop resistance, while also protecting crop yield and quality.
At the same time, we've been caring for our commodity soybeans. Weed control is easier in these fields because we have more herbicide options, but we are still diligent. We grow many of these soybeans for seed companies, who will sell them as seed to other farmers next year. Similar to food companies, seed companies prefer not to have weed stains on soybean seed coats.
We planted many commodity soybean fields before our food-grade soybeans, so we are applying fungicides to these fields first, to provide the same benefits.
Our corn will start tasseling soon. It is also a little behind average in growth, but our heat has caused it to make progress catching up to average. During the early tassel stage, we will hire an airplane to apply fungicide to our corn. The disease protection and plant health response in corn provides benefits much like what we see in soybeans.
While the 2022 crop is growing in our fields, we've been delivering the 2021 crop to customers. This month, we finished delivering corn and commodity soybeans for export to a grain terminal on the Mississippi River, about 55 km, or 35 miles, away.
My sons and I are also updating our on-farm grain handling system, doing much of the work ourselves. We are moving a few storage bins, increasing the space we have to store crops short-term before they are dried to contain the right amount of moisture for long-term storage, updating conveyor belts to load and unload semitrucks, and more. This is a major project that will help us get ready for fall. It will also improve our ability to protect grain quality as we get our soybeans and corn to customers for years to come.
And, we are waiting for the next rain that will keep all our crops growing well this season.