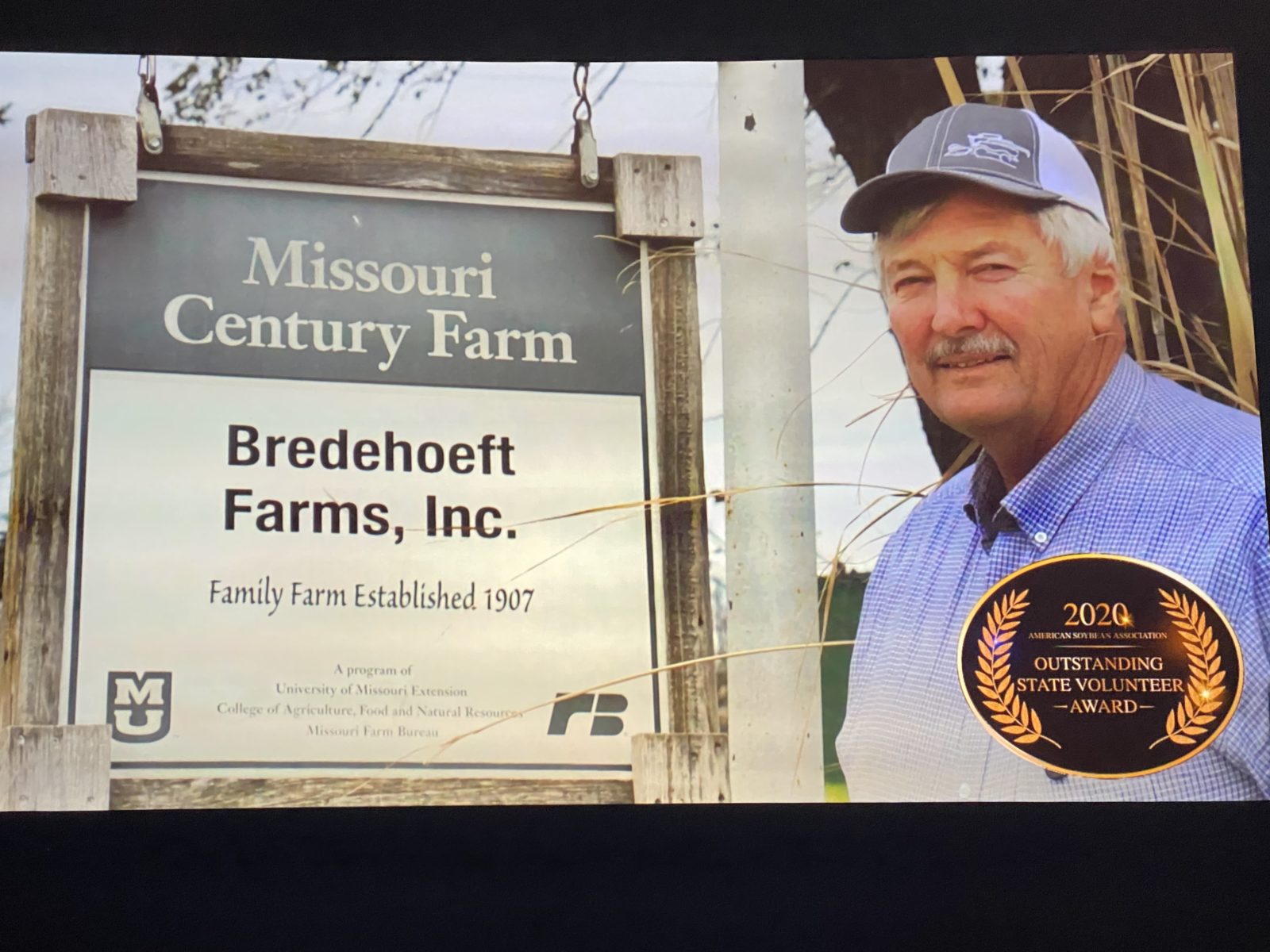 Throughout the 2022 growing season, USSOY.org will provide regular Ground Work updates from several U.S. soybean farmers around the country. Follow their updates, #GroundWork2022, to learn about their farms and commitment to producing a reliable, sustainable supply of high-quality soy.
Innovation and long-term commitment have built the family farm run by Neal Bredehoeft, his two brothers and his nephew. Neal's grandparents purchased the original farm near Alma, Missouri, in 1907.
"We are proud to be a century farm," Neal says. "We farm the land our grandparents bought more than 100 years ago and land our parents bought more than 50 years ago. We have been very conscious of preserving our soil and water, and our yields are continuously getting better."
Neal returned to the farm when he graduated from college in 1974, a decision matched by his brothers Gene and Clark. Neal and his wife Kathy raised two daughters, Lorie and Lacey. They chose careers outside the agriculture industry, though they are raising their children, Neal and Kathy's four grandchildren, nearby. However, Clark's son Jordan joined the family farm about eight years ago.
Located in the rolling hills of Missouri in the U.S. Midwest, the farm is about 105 km, or 65 miles, east of Kansas City, Missouri, and roughly 320 km, or about 200 miles, west of St. Louis. Today, the family raises soybeans and corn on about 1,050 hectares, or 2,600 acres. Their fields are within an area that is about 10 km by 24 km, or 6 miles by 15 miles.
"We were in pork production, but we made the decision to exit that business in 2008," Neal says. "Now, we contract those buildings to a local pork producer that uses them to house pigs. My nephew Jordan now manages this relationship and cares for the pigs."
The farm's location gives them the flexibility to efficiently deliver their soybeans and corn to different markets, depending on demand.
The Bredehoefts have delivered soybeans via truck to a crushing facility in Kansas City. From there, soy products can be effectively delivered to domestic and international customers.
They also deliver soybeans via truck to a river terminal on the Mississippi River near St. Louis. These soybeans travel by barge to ports on the Gulf of Mexico, where they can be exported around the world. An area trucking company delivers the Bredehoefts' soybeans, and then the trucks bring steel coils from a production company in the St. Louis area back to a regional factory. Soybeans have become a key part of a transportation loop that that improves efficiency for multiple industries.
A grain storage elevator just 11 km, or 7 miles, from their farm includes a train shuttle-loader facility. Here, 110-car shuttles efficiently loaded with either soybeans or corn to be shipped to domestic customers or exported via rail to customers in Mexico.
The Bredehoefts also have the option to truck their corn to two ethanol plants, two feed mills or a poultry layer farm all within about 55 km, or 35 miles, of their farm.
"Because of these transportation options, we have the opportunity to sell both our soybeans and corn into the markets where they are most needed," Neal explains. "At the same time, our customers have the option to procure the commodities they need in a variety of ways to get the most value possible."
Neal believes that a history of innovation allows them to produce quality, sustainable crops to deliver to all these markets. His dad began terracing their fields in the mid-1950s to reduce soil erosion. He and his brothers began no-tilling in the early 1990s, and since 1995, they have been 100% no-till, not disturbing or stirring up the soil. By 2015, they were incorporating cover crops into their rotation. His nephew Jordan now leads their efforts to plant cover crops following corn and before soybeans.
"Without these efforts, erosion would be a major issue," he says. "Now, the first thing we do with fields we are farming for the first time is to implement soil conservation practices that haven't already been put in place."
Precision agriculture technology also supports their ability to reliably deliver sustainable crops.
"We keep up on the latest technology in all areas," Neal continues. "It adds value in many ways. For example, it ensures that we don't over- or under-apply any inputs. But technology also adds value for customers, because we can connect with customers around the world in real time, and we can show them how we are doing the right things for our crops and our resources."
Neal's enduring commitment to agriculture goes beyond the family farm to the industry. He served as a Missouri Soybean Association board member in various capacities for over 30 years. He is a past board member and president for the American Soybean Association, and he currently sits on the United Soybean Board.
"I feel it's important to give back to the industry that supports us," he says.
Throughout 2022, Neal will provide regular updates on USSOY.org describing how his farm produces and delivers quality, sustainable soy to local and global customers.