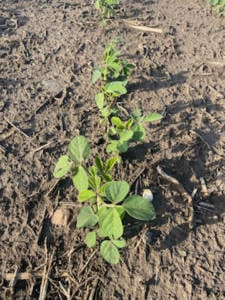 This year, we finished planting all our fields – both soybeans and corn – by May 27, roughly two weeks earlier than average. It's also the earliest we've been finished with every acre in recent years. We hope that planting early will provide a greater top-end yield potential.
All our corn and soybeans have emerged, and overall, they look good early this season.
However, a frost the last week of May damaged some of our emerged soybeans. We replanted about 81 hectares, or 200 acres, of soybeans by June 1. That late-May frost was followed by a week of record-setting heat the first week of June, with local high temperatures of more than 32 to 37°C, or 90 to 100°F.
With these large temperature fluctuations, we need rain to help the crops continue growing. Our state, North Dakota, in the Northern Plains of the U.S., has been very dry. Some farmers west of us have reported digging deeper than 12.7 cm, or 5 inches, into the soil and finding no moisture.
We are fortunate, as we farm in a pocket of the state that has gotten some moisture. During the last half of May, all our fields received between 2.5 and 8 cm, or 1 to 3 inches, of rain. And we got a bit more in early June. However, the intense heat means that we could use more rain soon, and our neighbors throughout North Dakota outside our area need it even more.
We also finished all our tillage and applying early herbicides to corn and soybeans by early June. With our crops successfully planted, we have a bit of time to fix equipment and prepare for the next stage of fieldwork. We continue delivering last year's corn crop to local ethanol plants, as well.
In a few weeks, we will begin spraying a second application of herbicide to control weeds in our soybeans. Because of the lack of rain during much of planting, some of the pre-emergence herbicides we used last month were not effectively activated to control weeds. That may allow for heavier weed pressure in some fields, and we will likely make the second herbicide application to those fields, first. Factors like planting date, weed pressure and current weather and wind will dictate when each soybean field gets that application, as not all our fields will be ready for it at the same time.
While 2021 planting went well, we now depend on the weather to help our crop realize its yield and quality potential.