Throughout the 2021 growing season, USSOY.org will provide regular Ground Work updates from several U.S. soybean farmers around the country. Follow their updates, #GroundWork2021, to learn about their farms and commitment to producing high-quality soy.
Wendy Yeager raises soybeans, cotton, peanuts, grain sorghum and wheat in the heart of the Black Belt, near Orrville, Alabama, in the southern U.S. Though she is a fourth-generation farmer, she and her husband established their own operation in west-central Alabama, known as Bell Place Farm.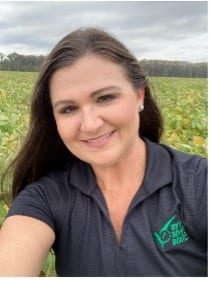 "I grew up on a farm in south Alabama, Stacey Farms, which my parents and younger brother run today," Wendy says. "Although I originally wanted to be a veterinarian, I instead earned a master's degree in ruminant nutrition. I worked for Cargill Animal Nutrition after I graduated from college. I soon found myself relying on my faith to bring me where I am today, and I wouldn't trade this journey or my career for anything in the world."
She married her husband Jamie, who was advising farmers in his first job fresh out of college with the Alabama Cooperative Extension Service for Auburn University. Jamie grew up on a pig and cattle farm.
"We both commuted an hour or more to work in the opposite direction," Wendy remembers. "I enjoyed my job, but we had grueling schedules. I started thinking about other job options, but I wasn't sure what to do."
In the winter of 2006, an area farmer asked her to consider possibly helping him market his winter wheat crop that year. After much thought and consideration, and for various reasons, she quit her job, and within a month, the farmer unexpectedly passed away. Wendy helped his widow harvest and market the crop. And then she and her husband accepted the opportunity to buy part of the farm ground and equipment and to take over some of their land leases.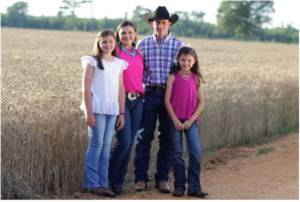 "I began farming, and a few years later we were able to buy additional ground right next to that land, which included the house we now live in," she says.
Today Wendy runs Bell Place Farm which includes more than 430 hectares, or more than 1,000 acres. Jamie has now moved to work as the director of the Auburn University Black Belt Research and Extension Center, an Alabama Agriculture Experiment Station focused on cattle, forage and crop variety research, which is just 20 km, or 12 miles, from the farm. They have two daughters, Casey, 13, and Lillian, 11.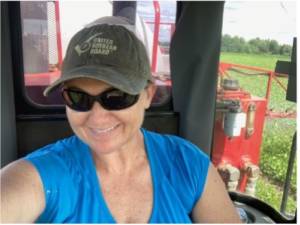 "Jamie farms for Auburn, and I farm for us," Wendy laughs. "With his past experience working with farmers and now with research trials, he makes many of the input decisions for the farm. He also handles a majority of our equipment maintenance, because he's very handy and mechanical. With my experience at Cargill, I handle all our crop marketing, in addition to the day-to-day work. Though Jamie does take time off to help plant and harvest – I can't run two pieces of equipment at once!"
Their production system includes both full-season and double-crop soybeans, cotton and grain sorghum, along with peanuts and winter wheat. Some fields have been continuous no-till, with no disturbance of the soil, for more than 10 years, while other fields and crops require some tillage.
The farm is located in central Alabama, about 240 km, or 150 miles, north of Mobile, Alabama, a Gulf of Mexico port, or about 105 km, or 65 miles, west of Montgomery, the state capital. Because of the location, Wendy markets the crops to a variety of places:
The soybeans go to a river terminal and crushing facility nearly 300 km, or 185 miles, north, where they can be exported whole or processed into meal and oil. The 2020 crop was delivered in early February.
The cotton goes to a gin about 95 km, or 60 miles, west, or another gin 240 km, or 150 miles west of us. From there, the marketing association determines where it goes, likely to U.S. textile mills.
The peanuts ship directly from our farm to a buying point about 225 km, or 140 miles, south. From there, based on quality, they are sent to a shelling facility where they are either pressed for oil, or the highest quality peanuts become peanut butter, candy, flavored varieties of nuts and other tasty treats.
The grain sorghum goes to a feed mill nearly 280 km, or 170 miles, northeast, to be used in poultry feed.
The wheat used to be sold to a flour mill just down the street from the soybean processor, about nearly 300 km, or 185 miles, away for human consumption. But in the past couple years, local farmers have bought the wheat out of the field for feed or cover crops, simplifying marketing and logistics.
Wendy has gotten involved in the industry to build and nurture relationships with other farmers and the links in the supply chains. She has also taken advantage of leadership training and other opportunities to build her skills.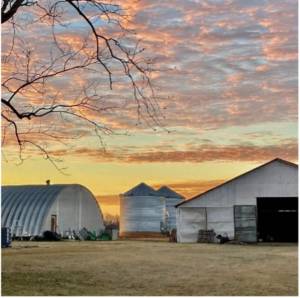 "Being involved in organizations like the Alabama Farmers Federation, the Alabama Corn and Soybean Association and the United Soybean Board allows me to learn from others," she says. "And it provides opportunities to share my work as a farmer. I love helping others understand agriculture."
In fact, Bell Place Farm hosted local school field trips in the past for students and their parents to learn about the variety of crops they grow.
"I am proud of what we do as U.S. farmers," Wendy says. "I do everything I can to grow top-quality crops, and I'm not alone. Our goal is to grow safe food and feed products very efficiently. Together, we provide a consistent supply of high-quality crops like soybeans to our customers. I didn't expect my career to look like it does today, but I am doing what I have been called to do. I love playing a role in supplying food, feed and fiber to people everywhere."
Wendy will share regular updates about her farm on USSOY.org throughout the 2021 growing season. Learn even more by following her on Facebook, Bell Place Farms LLC, or on Instagram, @wsyeager, where she posts photos and videos of her work and welcomes questions.