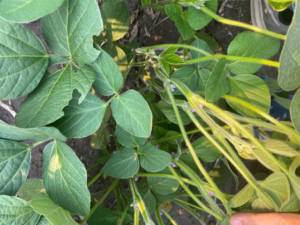 While some areas of the U.S., including my state, are way too dry, other areas of the country are way too wet. But in my area of southeast North Dakota, in the Northern Plains of the U.S., moisture conditions are just right – or as close as they can get.
During the past few weeks, our fields have typically gotten about 1.2 cm., or .5 inches, of rain twice a week, the perfect amount of moisture for the current hot growing conditions. The soils currently have enough moisture to support soybean growth until August, and to support corn growth through tasseling. I have talked to many soybean farmers around the country, and I know we are fortunate to have such good conditions right now.
The soybeans started flowering in late June, and they should be able to continue flowering for several weeks, indicating high yield potential. We have been making the second herbicide application in soybean fields as they are needed. So far, only about 15% of our soybean acres have needed to be sprayed because weeds started competing with the crop. We are scouting for insect pests, like soybean aphids, and by mid-July, we will be applying the second round of herbicide in the rest of our soybean fields, adding insecticide only if and where it is needed.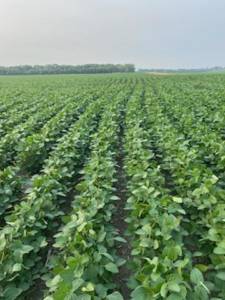 The corn is growing well, too. By the first of July, it was more than 1.8 m, or 6 feet, tall, and with hot weather and plenty of moisture, it will keep growing taller.
Ideal growing conditions have made our job on the farm a bit easier this year. The past two years, very wet spring weather prevented us from planting all our fields, so we had unplanted ground that had to be worked through the summer to manage weeds. My business partner, our employees and I put in long days throughout those summers to manage unplanted fields.
This year, planting all our fields required very, very long days in the spring, but now we can all relax a bit as we watch the crop grow. We've been able to give our employees more time off than they were able to take the last two years.
We have been making herbicide applications just as needed, maintaining and repairing equipment, and delivering last year's corn crop to local ethanol plants. I am also attending industry meetings, including a few meetings being held in-person for the first time in more than a year. I am also taking my boys on a summer lake vacation.
Soybean and corn prices have been increasing, and our crop is looking really good so far. Hopefully our weather continues to cooperate, allowing our crop to reach its yield and quality potential.