In-Pond Raceway System (IPRS) technology utilizing U.S. Soy as aquafeed was introduced in both southern and northern Vietnam in 2016, attracting great attention to freshwater fish farms in northern Vietnam. To date, there have been over 140 cells already constructed in Hải Dương, Hưng Yên, Bắc Ninh, Hà Nội, Bắc Giang, Thanh Hóa, and Nghệ An provinces.
In 2015 and 2016, the U.S. Soybean Export Council (USSEC) organized tours for Vietnamese farmers to visit Shanghai and Jiangsu, China so that Vietnamese fish farmers could see the successful implementation of IPRS technology. After these visits, however, many Vietnamese "early adopter" farmers who built IPRS systems were not constructing and/or applying the IPRS technology package correctly. This led to a dangerous situation where a high technology production method was being implemented incorrectly, leading to initial failures due to lack of experience.
In 2017, the Missouri Soybean Merchandising Council (MSMC) sponsored a project suggested by USSEC to construct a Gold Standard IPRS in Vietnam. This helped Vietnamese farmers easily access how to construct and operate IPRS in Vietnamese conditions.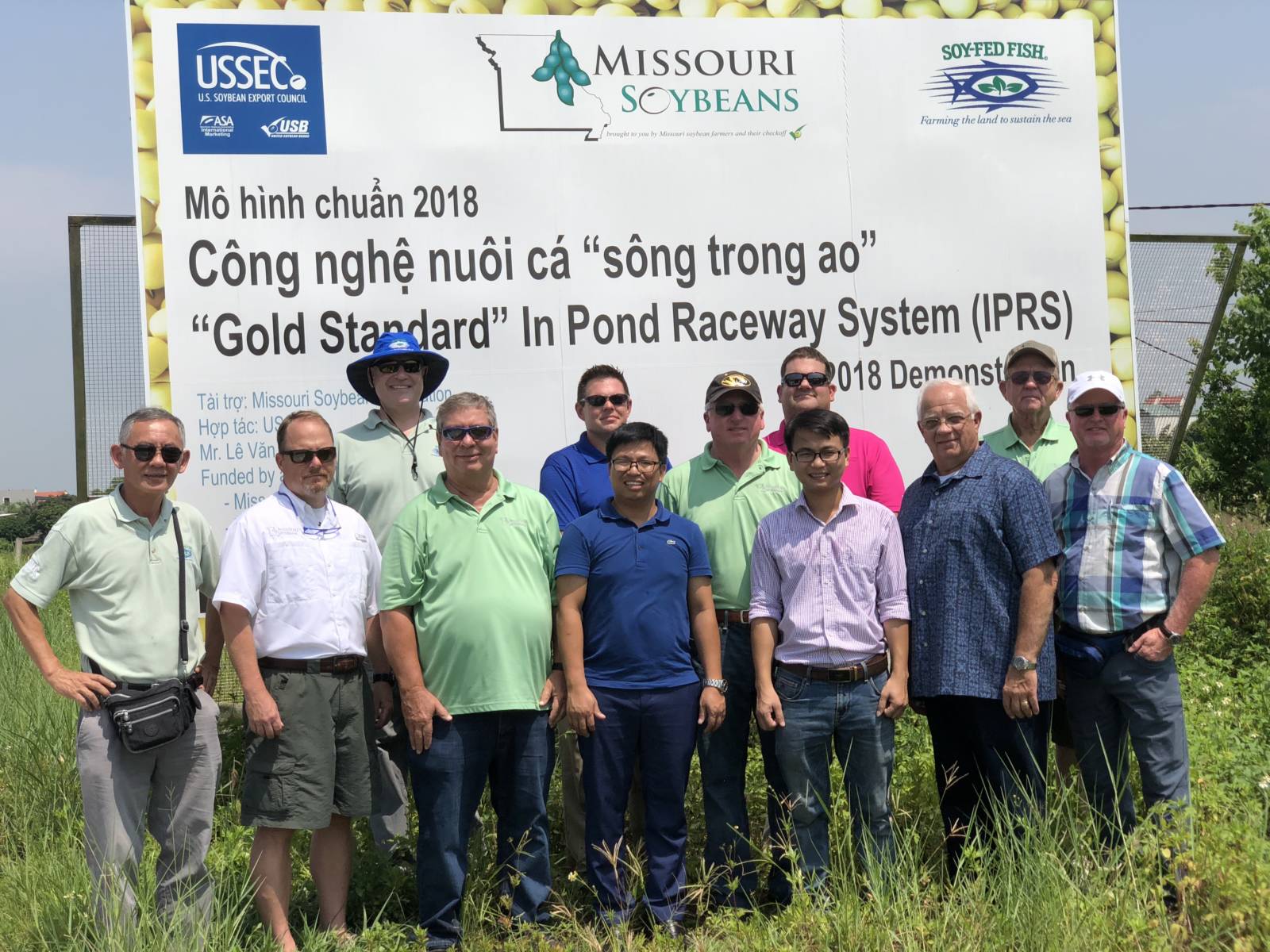 In March 2017, USSEC's Aquaculture Program Technical Contractor, Lukas Manomaitis, Vietnam Technical Manager Võ Hoàng Nguyên, together with USSEC consultant and Auburn University College of Aquaculture professor Dr. Jesse Chappell, an IPRS expert, visited different sites in Hải Dương, Hưng Yên, Thanh Hóa, and Bắc Giang provinces to select an appropriate location and reliable farm cooperator to construct a Gold Standard IPRS with following criteria:
Accessibility: a location that farmers can easily access with suitable conference facilities
Technical requirements: a location where IPRS technical requirements can be adapted – water depth, electricity, farm equipment, and targeted species
People: Opinion leader, dependable, honest, unbiased, friendly, public spirited, open to learn, and ready to share
Lê Văn Việt was determined to be the most reliable cooperator to host the Gold Standard IPRS in Hải Dương province for training and demonstration purposes. An existing pond size of 1 ha large and 2 meters deep (2 ha2or 20,000m3) was used to construct an IPRS raceway with 2 cells of 30 x 5 x 2 m (culture area of 25 x 5 x 2 m, or 250m3). With technical advice from USSEC, construction was finished in December 2017. It was ready to stock fish in February 2018 (after the Tết new year holidays in Vietnam).
A feeding demonstration in grass carp had been conducted to demonstrate the USSEC feed-based IPRS methodology protocols for grass carp (Ctenopharyngodon idella). Pellet feed used in this project was USSEC-formulated feed with U.S. Soy products (soybean meal and soy lecithin) manufactured by Cargill Hưng Yên, a feed company that has heavily contributed to USSEC's IPRS program in northern Vietnam.
Việt says that USSEC-formulated feed gives good growth rates and has a pellet color that is attractive to fish. "Traditionally" he says, "farmers need extra grass to feed grass carp, but with the U.S. Soy-based feed, it's not necessary."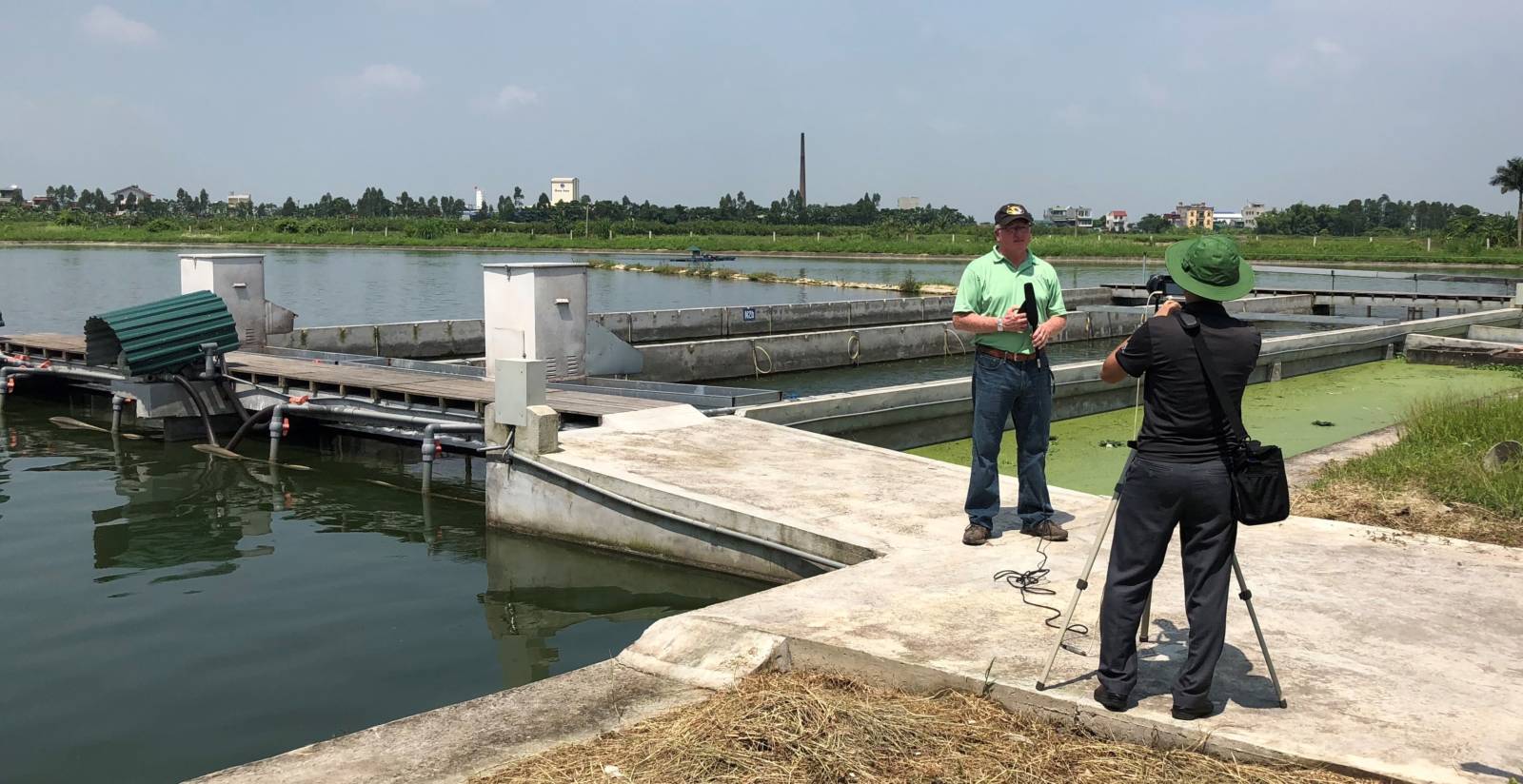 Vietnamese farmers can visit the Gold Standard IPRS to learn IPRS application in detail and a practical way. This site is a good farm facility to demonstrate the performance of U.S. Soy products in Vietnamese IPRS farming conditions.
Since 2018, Việt reports that the Gold Standard IPRS has received over 50 groups of visitors with more than 10 guests per group. "These large groups came with appointments," he says. "Other individual visitors with no appointment came every day."
"IPRS is a good solution for environmental issues – the fish waste is processed within the pond and no waste goes out because there's no exchange of water," says Việt. "We have healthy fish living in flowing water with high dissolved oxygen."
I'm proud to be a pioneer with this modern culture technology."
This story was co-written with Lukas Manomaitis, USSEC Aquaculture Program Lead Technical Consultant – Southeast Asia.