The U.S. Soybean Export Council (USSEC) provides information about trends that create a demand for U.S.-grown soybeans. Soyfoods meet anticipated global needs for protein in a sustainable way and are on track to play an increasingly larger role in world cuisines.
Traveling has helped to educate and enlighten global citizens about the versatility of soyfoods, providing this writer with the opportunity to dine with culinary specialists and soy enthusiasts around the world. Although travel has been curtailed during the COVID-19 pandemic, a world of flavors is still open to us through soyfoods, many of which are easily found in stores around the globe. The following food trends show promise for the growth of soyfoods, soy ingredients, and U.S. proteins.
Protein in the a.m.: According to Datassential, reinventing breakfast options is one of this year's food micro trends in the U.S., with expanded ideas about morning proteins.[1] In Japan, the morning meal is a time for eating lots of vegetables, along with a burst of protein from natto or perhaps a tofu souffle that incorporates an egg and steamed vegetables.
Miso, the amazing seasoning: In Japan, miso is traditionally served as a soup, but it is also used in sauces and seasonings. Currently, it is being featured in new ways around the world. In the U.S., Japanese umami flavors are now among the top flavor trends.[2]  For this writer, my travels have exposed me to a variety of creative condiment ideas that I've brought home with me, such as the idea of using daikon instead of ketchup on burgers and stirring miso into mayonnaise.
Masako Tateishi, USSEC's Director for Human Utilization in Japan, says, "A typical way of using miso is to marinate pork, chicken, salmon and redfish. Also, a teaspoon of miso can be added to cooking sake with honey or sugar to stir fry pork, chicken, or seafood. Miso also goes with eggplant, green peppers, cabbage and mushrooms."
Creating communal broth featuring U.S. proteins: An unforgettable favorite Japanese restaurant experience was a phenomenal fondue-like shabu shabu meal that gave new meaning to melting pot cuisine. The Japanese hot pot style of cooking at the table involves simmering foods in water instead of dipping them in cheese or cooking them in oil. (There's no double-dipping.) My dining companions and I created a communal broth with the ingredients we chose. The laughter we shared and the flavors we created with shabu shabu remain one of my fondest food memories.
Shabu shabu also demonstrates how U.S. proteins can work together. Consider the combination of firm tofu with thinly sliced beef, chicken or seafood, complementing each other. The broth is further enhanced by a combination of flavors from vegetables such as mushrooms, bok choy, and snow peas.
Highlighting tofu as a creative palette: What could be more conducive to culinary experimentation than a neutral-flavored protein that takes on the flavors of sauces, other proteins such as meats, or even sweets? Tateishi has shared some of her favorite tofu recipe suggestions with me, such as tofu sauce made with olive oil, salt, lemon, miso and natto. She also mentions a tofu master at Tokyo's Hotel, Gracery Ginza, who marinates tofu in olive oil and serves it atop fresh salad.
One memorable menu at an all-tofu restaurant meal in Japan included fried-tofu, soymilk skin, tofu cheesecake, and tofu tiramisu. Elsewhere, tofu desserts, such as silken tofu with cocoa and powdered sugar, and silken tofu combined with lemon curd have been delicious and enjoyable. Silken tofu provides 5.8 grams of protein per 84 grams; extra-firm water-packed tofu has 8 grams of protein for 85 grams, or 3 ounces.[3]
Tapping into versatile tempeh:  Tempeh (sometimes spelled tempe), a traditional Indonesian food, is poised to come into its own globally, bringing nutrition and culinary advantages with it. The global tempeh market is projected to reach $5.8 billion by 2026.[4] In 2018, Asia, including Southeast Asia, accounted for 96 percent of the tempeh market share. By 2026, the Asia Pacific market is expected to account for a 77.6 percent market share, with China, South Korea, and Australia expected to drive the market.[5] Not only is tempeh high in protein—one cup, or 166 grams, offers 33.7 grams of protein[6]—it is also a fermented food with a firm, meaty texture. Dady Maskar, USSEC Indonesia Technical Consultant—Human Utilization, offers typical, regional recipe ideas for tempeh:
Tempeh Goreng is marinated in garlic, coriander, salt and water before it is fried in vegetable (soybean) oil.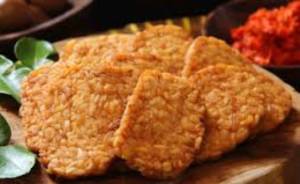 Batter-fried tempeh Mendoan is an Indonesian specialty, flavored with leek, garlic, coriander, galangal and turmeric and served with sambal kecap (a mixture of soy sauce and chilies).
Tempeh bacem is made by boiling tempeh in coconut milk with galangal, salaam leaves (Indian bay leaf), and a spice paste, until the spices and liquid are absorbed. The spice paste combines shallots, garlic, coriander, tamarind, brown sugar, and salt. The boiled, spiced tempeh is then fried in oil and served with green bird's eye chilies.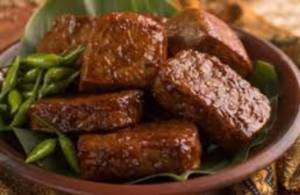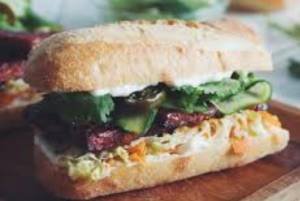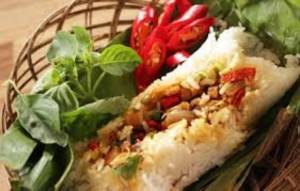 Please click here for recipes: Tempe Recipes and Photos
Soyfoods are not only an integral part of many traditional world cuisines, but they also continue to emerge as a good choice for contemporary trends and food tastes.
References:
[1] Datassential Trendspotting, "Breakfast, Brunch, Brinner Blurred," FoodBytes 2020 Vision, p.9, Issue 72, December 2019.
[2] National Restaurant Association, "What's Hot 2020 Culinary Forecast," 2020. https://restaurant.org/research/reports/foodtrends
[3] US Department of Agriculture, Agricultural Research Service. 2016. Nutrient Data Laboratory. USDA National Nutrient Database for Standard Reference.
[4] SPINS/Plant-based Foods Assn. Year Ended April, 2019
[5] Persistence Market Analysis, 2018
[6] US Department of Agriculture, Agricultural Research Service. 2016. Nutrient Data Laboratory. USDA National Nutrient Database for Standard Reference.