Comfort food, warm and satisfying, fills hearts and stomachs around the world. Those meals include a rich, filling protein. And U.S. soy exports are a part of putting those meals on tables in Japan, South Korea and Taiwan.
When standards of living increase, so does consumption of protein. That's true regardless of culture or cuisine. When Americans' wealth increases, they lean toward a juicy steak or a slab of ribs to add to their potatoes. Halfway around the globe, urban consumers add chicken, pork, beef or fish to favorite rice and noodle dishes as their incomes increase. Those animal proteins not only add flavor, but also additional nutrients for a more satisfying meal.
Increased demand for livestock, poultry and fish in North Asia requires greater amounts of feed, which in turn calls for a greater demand of soybeans. A key feed ingredient, soybean meal supplies high-quality protein, energy and amino acids for livestock, poultry and aquaculture diets. To meet demand, the U.S. sends more than 225 million bushels of soybeans to customers in Japan, South Korea and Taiwan. The soybean checkoff and their international marketing partner, the U.S. Soybean Export Council (USSEC), continue capitalizing on opportunity in this region and make it a priority for their combined efforts.
Future Outlook
The crushing sectors in Japan and Taiwan have increased commodity soybean imports, says Paul Burke, USSEC regional director for North Asia. Taiwan especially remains a strong destination for containerized commodity soybeans.
At the same time, Burke notes several factors threaten to reduce U.S. market share in this region. Issues facing U.S. soy in North Asia include competition from South America, foreign material quality, labeling issues and uncertain U.S. trade policies with China.
Checkoff Investments Build Opportunities
The supply chain in Japan, South Korea and Taiwan crushes U.S. soy to produce soybean meal and food-grade soybean oil. And food processors use U.S. 
soybeans to make soy foods such as tofu. The national and state checkoffs work with every link in the supply chain to improve processes and ensure full value capture from U.S. soy.
"USSEC helps crushers, animal nutritionists, food processors, government officials and industry associations get the most out of U.S. soy," explains Burke. "Our efforts protect U.S. market share and take advantage of new opportunities."
USSEC serves these soybean customers from local market offices in Japan, South Korea and Taiwan. The council oversees and executes programs to grow local demand for U.S. soybeans in the region.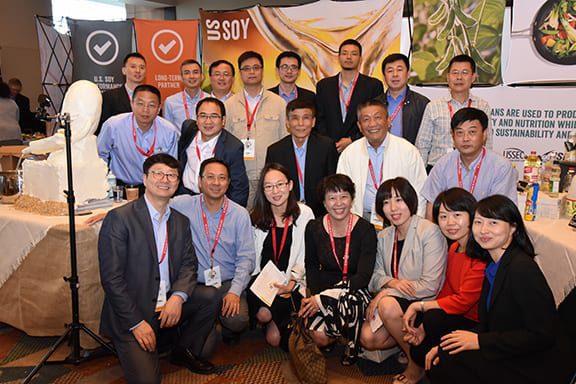 "Our team of directors and representatives monitor market access issues regionally," says Burke. "As 'boots on the ground,' they take the pulse of local markets while building trade relationships and differentiating U.S. soy."
Sustainable U.S. Soy Logo Pilot in Taiwan
One way USSEC differentiates U.S. soy is through our sustainability. For places like Taiwan, sustainability is becoming a priority, and USSEC is responding.
"Our government began to promote sustainability and social responsibility," says You-Jin Feng, formally of Wei-Chuan Foods Corporation in Taiwan. "We want to promote our company's sustainability to our customers."
Feng exemplifies how proving the sustainability of products is moving from a nice idea to an essential practice for many companies. USSEC piloted the Sustainable U.S. Soy logo to companies in Taiwan, with partial funding from the soy checkoff.
"We were the first ones to use the Sustainable U.S. Soy logo on packaging in the world," Feng says. "We really like it. We would like to use more U.S. soybeans to promote our products and show our customers we are environmentally sustainable."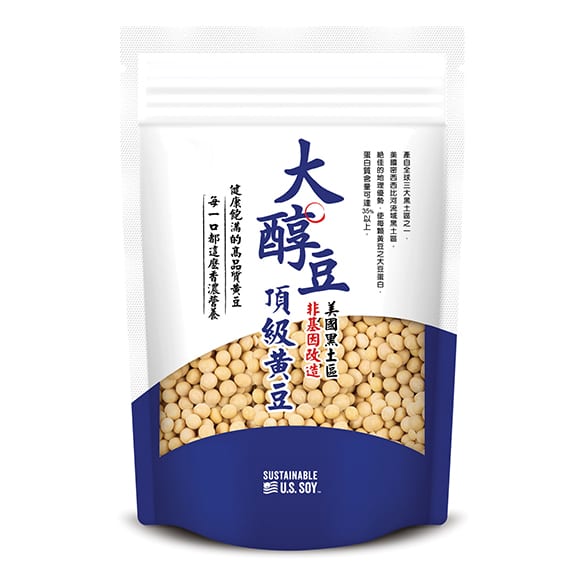 To use the logo and other materials on packaging and advertising, companies sign a sustainability license agreement with USSEC.
"The Sustainable U.S. Soy logo helps companies differentiate their products," says Julian Lin, USSEC Taiwan representative. "It also helps them adhere to corporate sustainability policies and meet supplier guiding principles. Interest is growing, with several companies following the lead of Wei-Chuan Foods."
Lin adds that the logo and support for proving sustainability strengthens preference for U.S. soy with Taiwanese businesses. Since 2015, about 77 million bushels of U.S. Soybean Sustainability Assurance Protocol (SSAP) verified soybeans have been exported to the area.
Burke adds, "Projects like this demonstrate our team's commitment to growing the market share the U.S. claims in this region, which ultimately supports U.S. farmer profitability."