You could smell the sweet smoke of the coconut charcoal wafting from the grill. The protein was on, and judging by the smell, you knew it would be good. Heinz Von Holzen, a celebrated chef from Australia by way of Switzerland now living in Bali, kept watch over the meal while instinctively adding spices and salt to grill the entrees to perfection.
Von Holzen was making signature Balinese cuisine at his Bumbu Bali restaurant, and customers were already flocking into the open-air restaurant in the trendy Nusa Dua district of Bali, Indonesia.
Many of the protein sources Von Holzen works with involve U.S. Soy. The imported soy powers the chicken he grills, the tofu he prepares and the iconic tempeh that keeps customers coming back.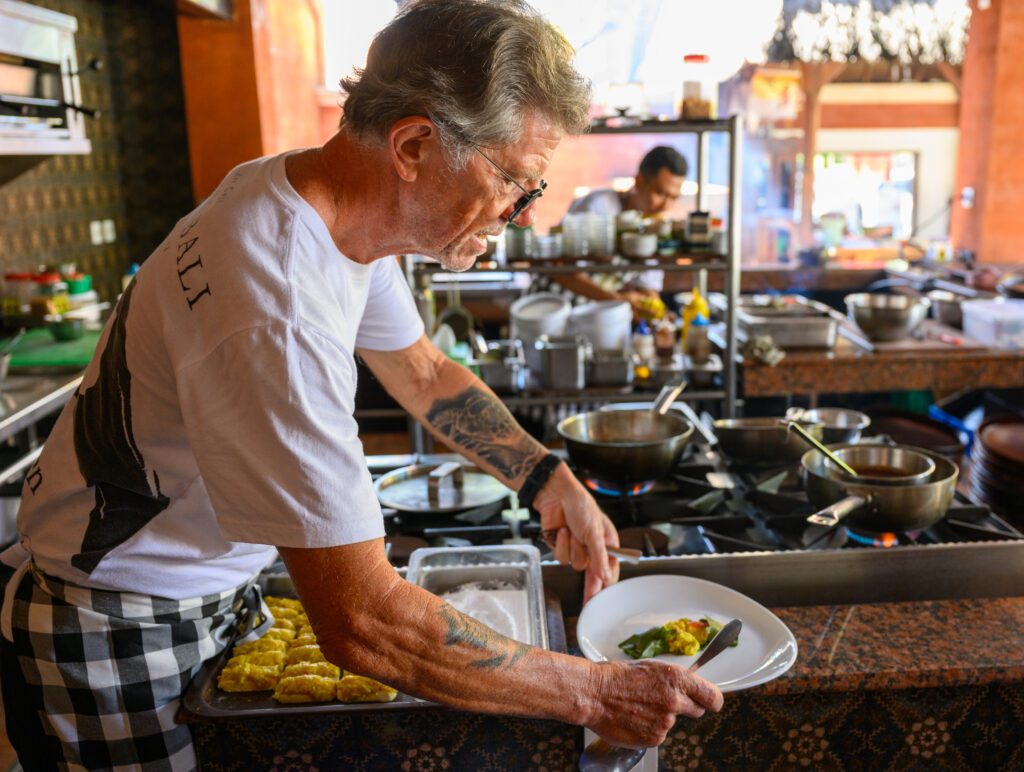 In the States, tempeh is an up-and-coming food slowly sneaking into home kitchens and onto the menus in predominantly urban areas. In Indonesia, it is recognized as a heritage food. It's a functional food with high nutritional benefits, making it a viable solution to help with food security and the nutrition of the Indonesian population. Indonesia is the fourth most populous country (one step behind the U.S.), with 276,679,408 people. Studies show that tempeh is an important food source for the Indonesian population, especially for children and pregnant women. Soy is an important source of complete plant-based protein, providing all nine of the essential amino acids necessary for a healthy diet.
Tempeh is a cake-like substance made from cooked and fermented soybeans. This fermentation helps to break down the phytic acid in soybeans, making the starches in tempeh easier to digest. After fermentation, the soybeans are formed into a patty similar to a veggie burger or a block.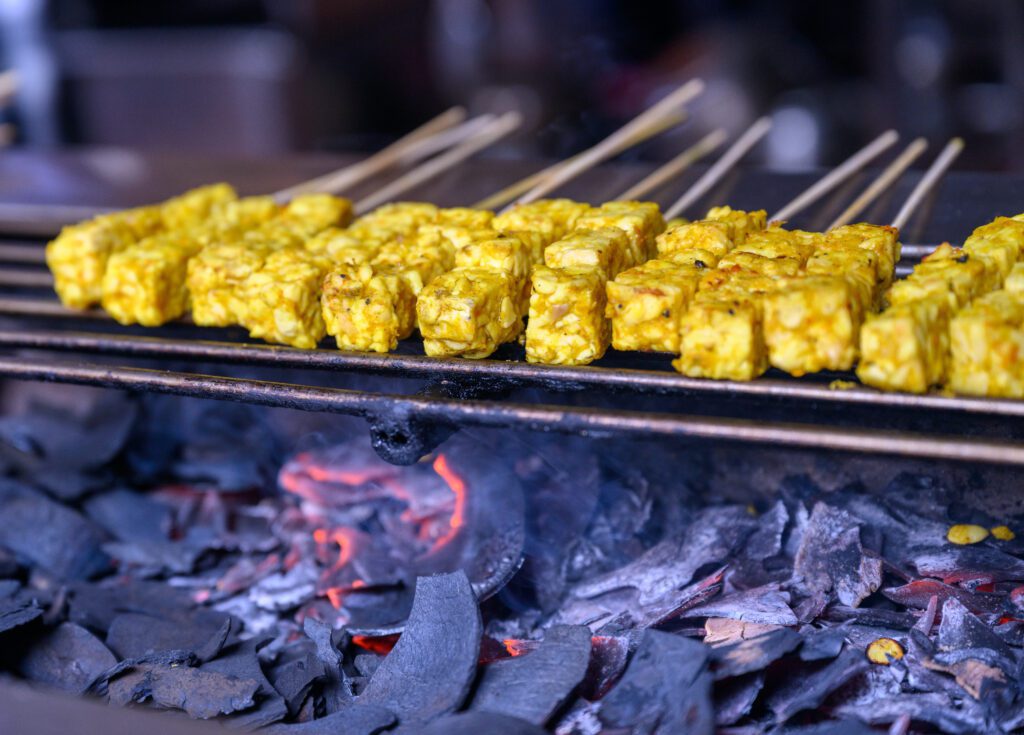 Initially, tempeh was perceived as a low-class food compared to other proteins like eggs, fish and poultry. In recent decades, the attitude toward tempeh has changed. Today it is widely consumed as an inexpensive, nutritious food by people from different socioeconomic classes, rural and urban areas.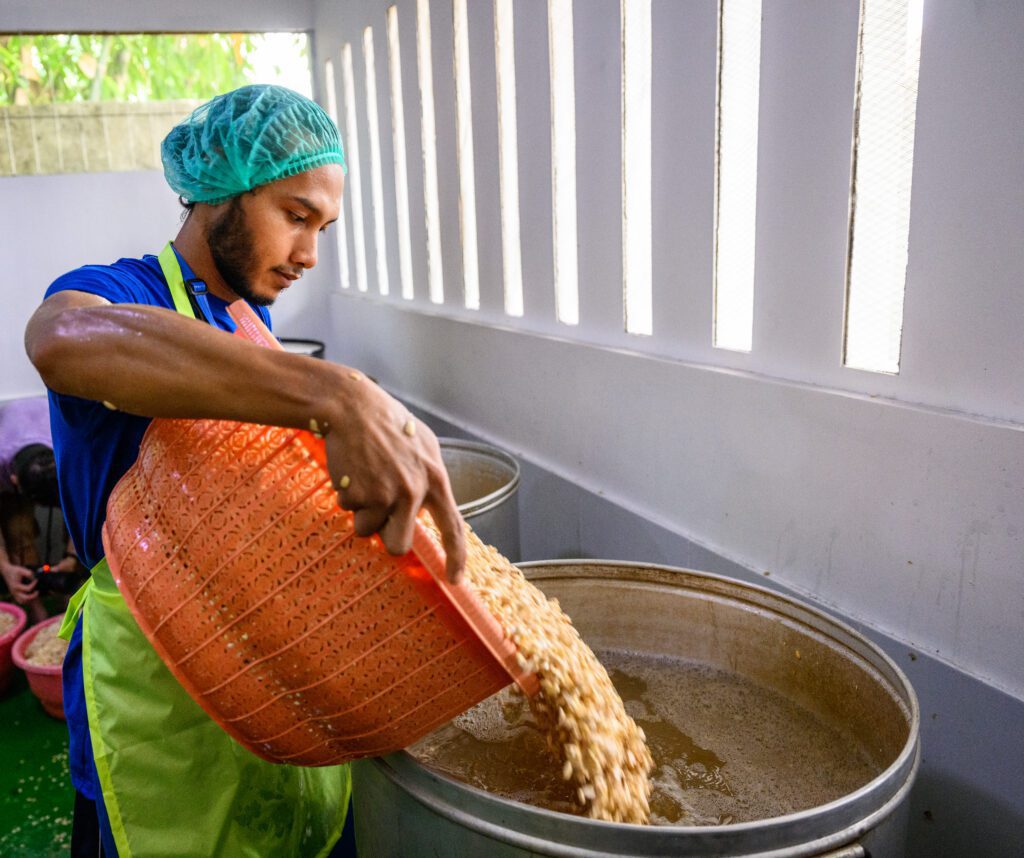 Off a busy street in an unassuming building in Denspar, the Wijaya family, Samsul Guna and his wife Ina Andriani, craft tempeh. The business ferments U.S. Soy using rhizopus, a mold that produces Rumah Tempe (Azaki). Rumah is a popular brand sold at markets and grocery stores on the island. The business employs about 10 people and is one of many that dot the Indonesian islands.
81,000 protein producers can't be wrong
In Indonesia, it is estimated that 81,000 tempeh producers are producing 2.4 million tons of tempeh annually. Tempeh can be traced back to the 16th century in the country. Heritage foods, like tempeh, are a dynamic living product that create social communities and marks cultural differences. Dr. Dadi Maskar, U.S. Soybean Export Council (USSEC) Indonesia, and others in the industry continue to promote tempeh and the U.S. Soy used to make it.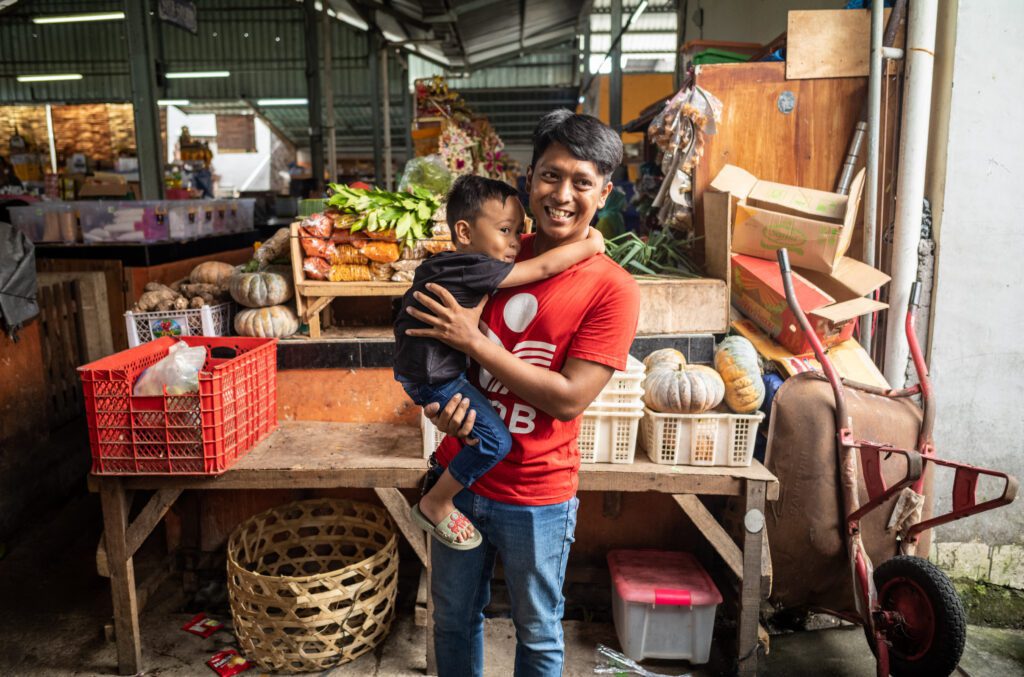 "Tempeh is a people-to-people collaboration between the U.S. and Indonesia," Maskar says. "U.S. Soy is grown by family farmers and tempeh is made by Indonesian families. Indonesian tempeh producers rely on U.S. Soy and prefer it over other origins."
Von Holzen relies on Indonesian tempeh producers to supply protein for his restaurant. The career chef prides himself, for the past 25 years, on creating fresh entrees utilizing tempeh, tofu and other products made from soybeans.
"Every cooking process in Bali starts with putting spices into a stone mortar and then combining it with vegetables and protein," Von Holzen says. "We've always had two, three, four or five different tofu and tempeh dishes on our menu. Tempeh and soybean products are inexpensive and they adjust when you cook them. You can do many, many things with them to give them flavor, to take flavor by frying it, by steaming it, by wrapping it up and by adding soy sauce. You can add many, many different flavors."
He says the price and availability of beef and other proteins on the island have increased the demand for tempeh, making it a staple on lunch and dinner plates across the region.
"You can't afford meat here," he says. "A kilo of beef, for example, is three times the daily wage. Vegetables, people can afford, and tofu and tempeh soybean products are inexpensive."
Passion drives Von Holzen's curiosity to make new entrees for patrons of Bumbu Bali. He believes the passion for great-tasting nutritional food is universal around the globe.
"It's like one dish I prepare, a fresh, silky tofu with vegetable stew on top; it is fantastic, it is phenomenal," he says. "We all know that if you do a dish once, it's on an experimental basis. You need to do it again, again and again, and from the mistakes, you learn as you go. Over a period of time, the recipe gets better and better."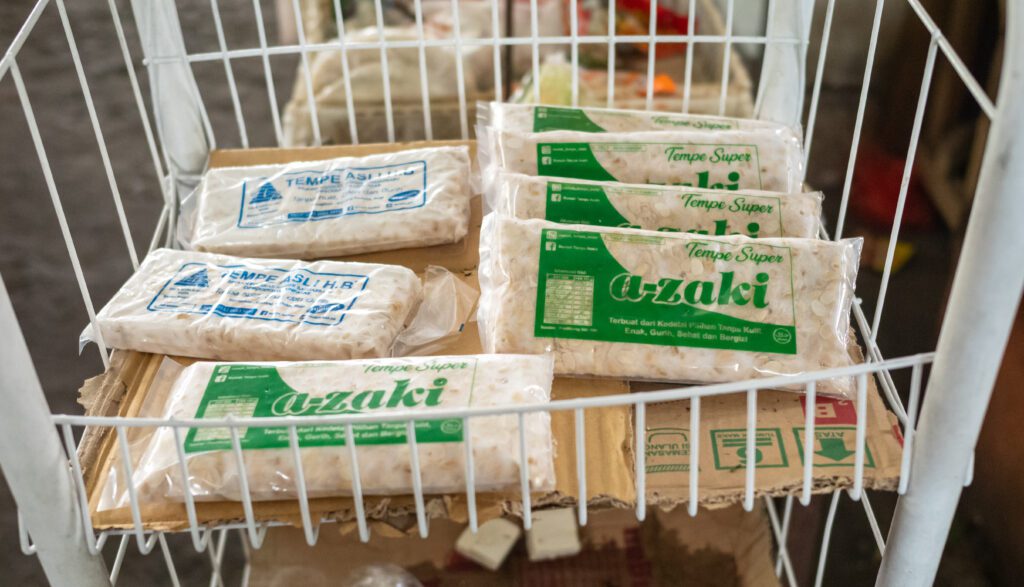 Tempeh may soon take center stage in the U.S.
Linda Funk, Executive Director, The Soyfoods Council and President of Flavorful Insight has dedicated much of her career to promoting U.S. soyfoods. Plant-based proteins have been making headlines in the U.S. lately through magazine articles by Good Housekeeping, in newspaper articles published by the New York Times and supported by Martha Stewart. She says the articles and endorsements are all revisiting soy foods while dispelling the myths surrounding the protein.
"I think the positive thing is plant-based protein foods have given us such an opportunity to talk about soy foods, and really talking about why soy protein is so incredible," Funk says. "In my opinion, it should be the preferred plant protein."
During a recent speaking engagement in Indonesia, Funk sampled multiple tempeh recipes.
"Tempeh is one of those great opportunities," she says. "It's not as well-known in the U.S., but I see more and more being talked about tempeh."
She says that if tempeh is prepared correctly and used in concert with other ingredients on the plate, it is delightful and, best of all, packed with beneficial nutrients.
"I'm big on the tempeh chips," Funk says. "Fifty-five percent of people around the globe want their snacks to be nutritional. The tempeh snacks that have been out for a while are in that trend zone. It's just such a great nutritional piece and tastes delicious."
A quick poll of friends and neighbors in the U.S. asking how they enjoy their tempeh would likely yield blank stares. But Funk believes that tempeh is a product that, in the not-so-distant future, will become widely consumed in the states.
"If you just unwrap it and give people a piece of tempeh, they're not going to say, "Wow, is that delicious." It's realizing how to prepare and use it," she says. "While in Bali, I had sautéed tempeh – the flavor was incredible, and the texture was tender. I hope more people in the U.S. can experience recipes like that."
Maskar agrees that tempeh will soon be a staple in the U.S. and other countries worldwide.
"The customer prefers to choose healthier food for their consumption," Maskar says about eating habits since the pandemic. "I think this is when tempeh can fit within the demand from the customer because tempeh is nutritious and delicious."
Much like the Italian, Mexican and Chinese food you currently enjoy, foods from Indonesia, the Middle East and other parts of the globe will soon be represented on your plate. In many areas, U.S. Soy is the preferred method to power the animal protein used as an ingredient in recipes.
"I can tell you, food is one of those compelling things about cultures, and we can learn a lot from each other through the food culture of the world," Funk says.