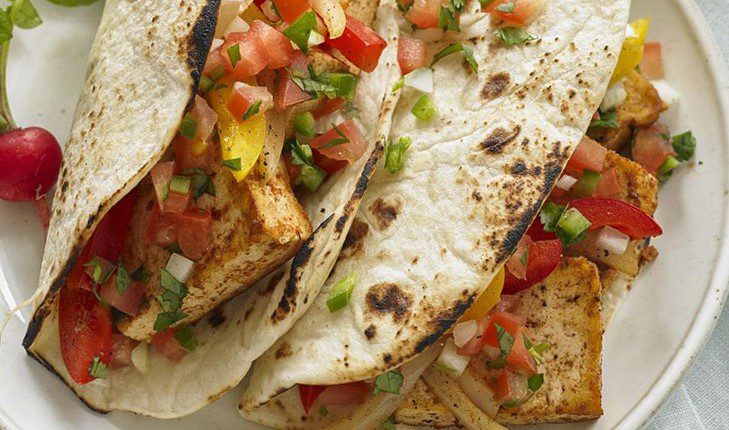 Ingredients
3 tablespoons Fresh lime juice
2 teaspoons Paprika
2 teaspoons Ground cumin
3 cloves Garlic, minced
1 Small jalapeño, seeded, finely diced
1⁄2 teaspoon Salt
12 ounces Tofu, extra firm, drained (1 block)
2 Bell peppers, cored, seeded and sliced
1 Onion, peeled and sliced
2 tablespoons Soybean oil
12 Corn or flour tortillas (heated)
3⁄4 cups Guacamole
3⁄4 cups Pico de gallo, store bought
1⁄2 cup Plain Greek yogurt
Instructions
Combine lime juice, paprika, cumin, minced garlic, jalapeño and salt; set aside.
Cut tofu into twelve, 1x1x3-inch pieces. Place tofu pieces in baking dish; top with marinade. Refrigerate at least one hour or longer, turning tofu occasionally to marinate evenly.
Heat 2 tablespoons soybean oil in large non-stick frying pan over medium high heat. Add tofu, turning frequently, until evenly browned and crisp; remove tofu from pan. Add bell peppers and onions to pan, cook until just soft, about 8 minutes. Gently stir in tofu pieces; remove from pan.
Serve with tortillas, guacamole, salsa and yogurt.