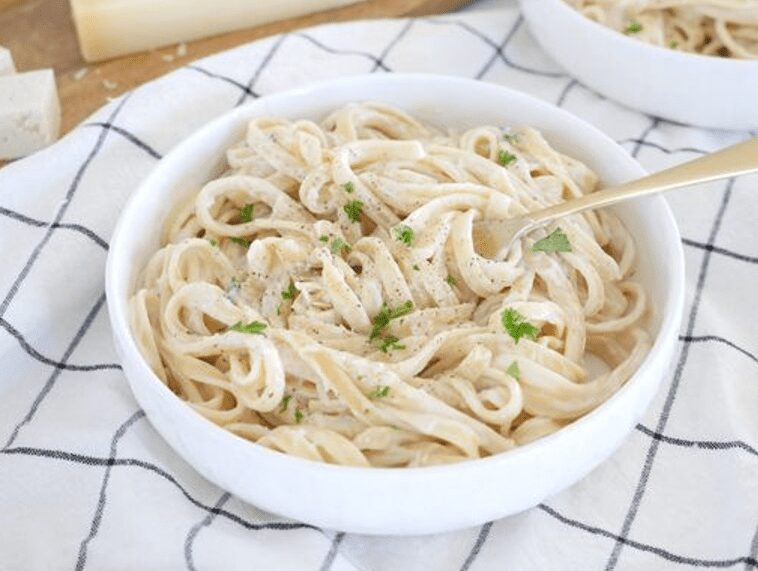 Ingredients
Base:
1 (16-ounce) box of linguine pastaTofu alfredo sauce:

8 ounces silken tofu, cubed
1 tbsp vegetable oil
1 medium yellow onion, chopped
3 cloves garlic, minced
2 cups cauliflower, cut into small florets
½ cup unsweetened soy milk
¼ cup nutritional yeast
½ lemon, juiced
½ tsp salt
¼ tsp pepper
Instructions
Cook the pasta according to package instructions until al dente, then drain and transfer back to the cooking pot.
Steam the cauliflower. Add the cauliflower to a steam basket in a pot with enough water to cover the bottom. Bring the water to a boil and reduce to a simmer. Cover and cook for 7 to 8 minutes or until tender. Set aside.
Heat the oil in a medium skillet over medium-high heat. Add the onion and cook until translucent, about 5 minutes. Add the garlic and continue to sauté for another 30 seconds or until golden and fragrant. Transfer to a food processor with the remaining sauce ingredients and process until smooth, about 60 seconds.
Pour the sauce over the pasta and stir to combine. Heat gently over medium heat, for 3 minutes, stirring often. Serve immediately. Store leftovers in a sealed contain in the refrigerator for up to 3 days.