When transportation infrastructure experiences issues, people pay attention. On a positive note, disruptions provide concrete demonstrations as to how the waterway system impacts farmers' cash prices and/or export business.  The U.S. Soybean Export Council supports increased infrastructure spending because an efficient transportation system directly results in higher cash prices, making the U.S. more competitive.
Recent flooding and ice gorges have damaged some shipping facilities, restricted river traffic, and forced several lock and dam closures. The harsh winter conditions have trapped some barges above the closed locks, reducing barge capacity, preventing efficient loading of grain and soybeans to meet export orders. In addition, The U.S. Coast Guard, due to flood conditions, has reduced barge tow configurations from Cairo, Illinois to the Gulf of Mexico, which reduces tonnage per tow and increases the number of round trips to fill an export order. On the mid-Mississippi River, tow configurations have been reduced to 10 to 15 barges and on the lower Mississippi River, max tow configuration has been reduced from 40 barges to 25 or less. The effective reduction in capacity increases wait times for shippers and increases shipping rates.
Barge freight rates along the Illinois River are up 54 percent from last year and 90 percent from the three-year average for early March. The forward three-month barge rate indicates that barge rates will continue to be above the three-year average rate into summer.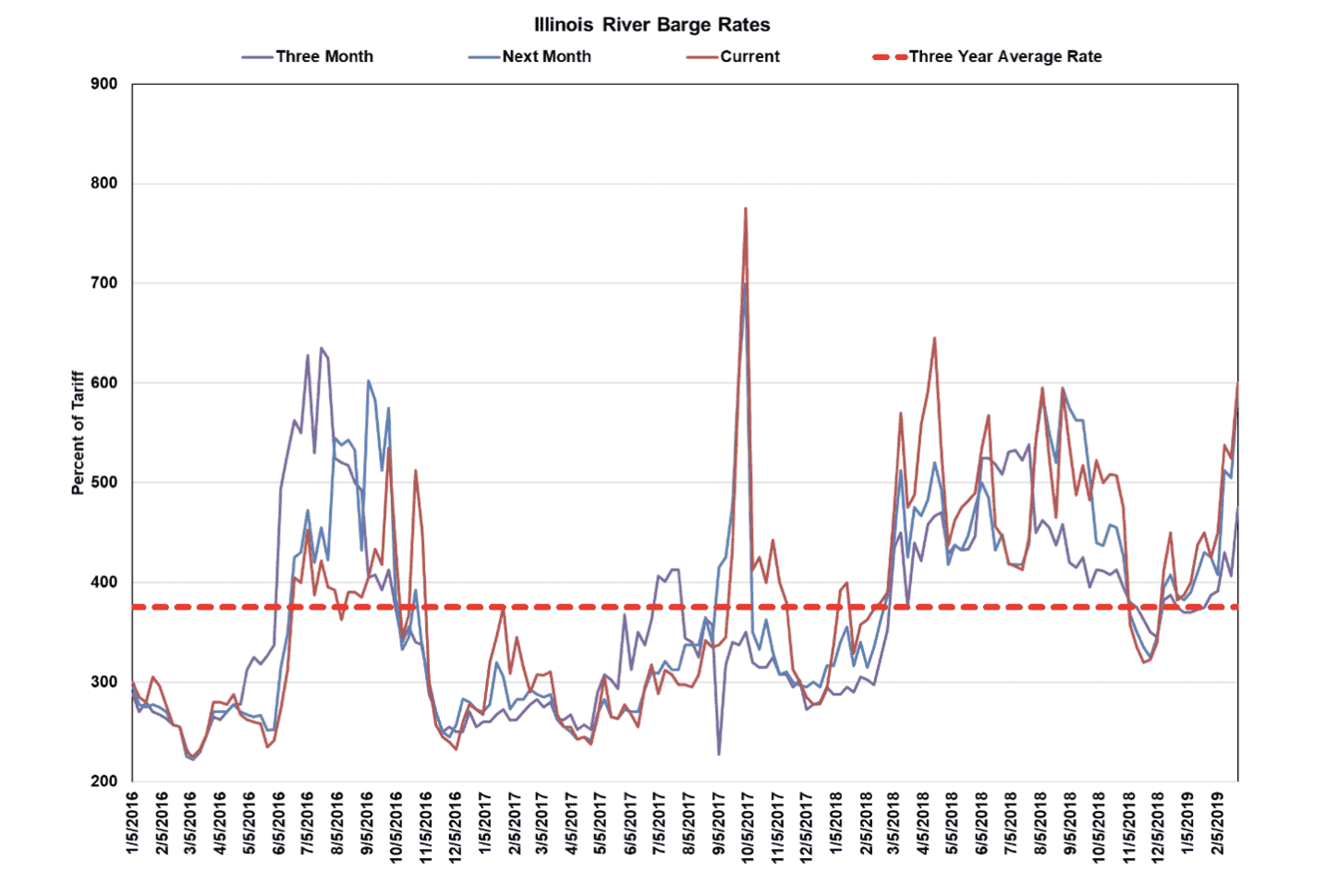 Impacts are also being felt on basis. Interior bids had a spread of 55¢ for corn, 56¢ for soybeans and 85¢ for soft red winter (SRW) wheat for early March. Gulf basis bids are much higher than normal. One person's pain is often another person's gain:  if a farmer lives in an area with a "push" basis bid, there is an opportunity to sell the cash rally even as futures struggle.