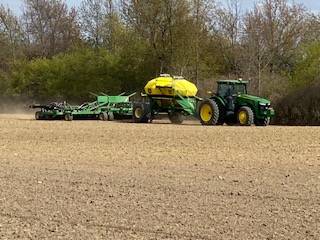 Farmers rely on the weather, but we also must adjust to what the weather allows. We've had to do quite a bit of adapting based on the weather since last fall on our farm in Michigan, in the eastern U.S. Midwest. Our weather station helps us monitor conditions specific to our fields.
In a normal year, we harvest soybeans and corn in the fall, and then plant winter wheat and cover crops. In the spring, we start planting our soybeans as soon as conditions allow in late April, and then plant our corn.
Since fall of 2021, it hasn't been a normal year.
Last fall was wet, which delayed soybean and corn harvest. By the time we finished, we didn't have time to plant a single kernel of wheat or any cover crops. Plus, we had ruts in some of our fields caused by running heavy harvest machinery over wet soils.
That wet weather pattern continued this spring, delaying fieldwork. We need to do more conservation tillage than average to smooth out the ruts left in the field last fall. We use a Degelman, which is a high-speed conservation tillage tool. It is the closest we can get to no-till while still cracking open the surface of the earth to help it dry out. The round blades break open just the top 3.5 to 5 cm, or 1.5 to 2 inches, of the field, smoothing out ruts and knocking down plant matter left from last fall, like corn stalks. With a bit of sun and a breeze, this helps the soil dry out more quickly for planting. This year, we are doing this tillage in both our soybean and corn fields. Both my nephew Brian and I have been running this tool.
Through April and early May, we received rain every few days. We have not really gotten decent windows for planting. With our soil types, it doesn't work to plant when fields are too wet.
The first day we were able to plant was May 13, significantly later than usual. We started planting corn first instead of soybeans, because of the amount of time our hybrids need to mature. To optimize our corn production, we create a variable rate planting prescription for each field that lets us tailor the number of seeds planted in every area of the field based on soil type and yield capacity of the soil.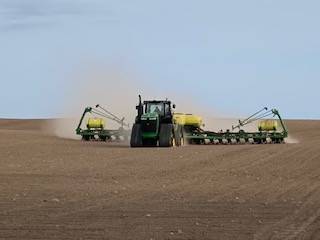 Soybeans are more flexible than corn. Though they often perform best when planted early, they can make up growth more easily than corn. We were able to start planting soybeans on May 24, once we had nearly 70% of our corn planted. Because soybeans branch out to fill in all the space available to them, variable rate seeding like we use in our corn isn't as important here.
We have one corn planter and two soybean seeders. That allows us to plant both crops at the same time or have two people planting soybeans at the same time, depending on what conditions allow. Usually, our two employees run the planter and seeders. They work well together, and they can often keep each other going well into the night when seeding soybeans.
In the spring, I most often run our sprayer to apply herbicides for weed control. This year, I have had to apply glyphosate to burn down weeds and volunteer wheat that grew taller than usual in fields before we were able to plant. I apply a residual herbicide in our soybean fields just before or after they are planted, but before they emerge, to eliminate the weeds that sprout with the crop. We usually make a second herbicide application four to six weeks later, to control any emerged weeds before the soybeans grow large enough to develop a canopy that shades the soil between rows, helping to prevent weed growth.
In corn, I apply a residual herbicide after the corn has emerged. Usually this is the only application needed to manage weeds in our cornfields. Our goal is always to make as few trips over our fields as possible.
It has been a battle. But we are slowly winning, getting our soybeans and corn planted and doing what we can now to protect yield and quality throughout the season.