I can tell that fall is just around the corner, bringing some rain and relief from extreme heat after a very hot, dry summer in our region of the U.S. South. Temperatures have eased to the lower 30s°C, or mid-80s to lower 90s°F. We received about 2.5 cm, or 1 inch, of rain in mid-August, with more in the forecast, that will help our crops finish well.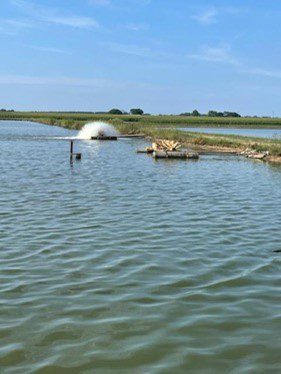 Our soybeans look good. The recent rain, supplemented by irrigation, is helping the individual beans in the pods grow larger and add weight. To protect their quality, we applied protective fungicide and insecticide at the beginning of August. I expect that the soybeans will be ready to harvest about mid-September.
Corn harvest started the second week of August, a week later than usual, due to late planting caused by our wet spring. We are in the middle of picking corn now, so I am often running the combine. The hot, dry conditions in June, when the corn was tasseling, impacted the crop. Though irrigation helped in some fields, corn was stressed in fields without irrigation. Overall, our yields are slightly below average this year.
We live in a region that needs more corn than is produced, so we truck our corn directly from our field to area feed mills. Some of our corn goes to a catfish feed mill just 8 km, or 5 miles, from our farm. We truck all the rest of it to poultry and pig feed mills located 56 to 64 km, or 35 to 40 miles, away.
Much like our soybeans, our cotton is coming along very well. We have applied all the insecticide needed to protect fiber quality and all the plant growth regulator needed to help the crop mature. The rain is helping the bolls to fill out, and our scout predicts that we can start harvesting cotton in mid-September, as well.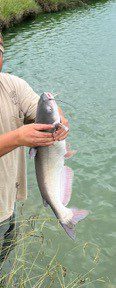 Our catfish grew very well in the warm weather. It was a challenge to balance oxygen levels in warm water, water temperatures and feeding rates throughout the summer. We worked hard to maintain oxygen levels, and we were successful. The catfish ate much more feed than average much of the summer. They currently measure about 30 to 35 cm, or 12 to 14 inches, and they weigh  between 0.8 and 0.9 kg, or 1.75 and 2 pounds.
We have started pulling samples to share with the catfish processors so they can monitor flavor and growth. We expect the catfish to be ready for market within a month, in late September, which is earlier than average.
After September 1, we also expect fall calving to start for our small herd of beef cattle. It's always exciting to welcome baby calves and help care for them.
Our version of fall is in the air in Mississippi. We are just starting to see the results of our long summer of labor. Despite drought conditions, we expect to supply high-quality products to our customers. We look forward to next month, when we will harvest soybeans, cotton and catfish.