Dry weather this fall allowed for an efficient harvest season in our area of Michigan, in the eastern U.S. Midwest. After getting soybean harvest underway in early October, we finished in late October. Then, we switched to harvesting corn and finished that on November 14.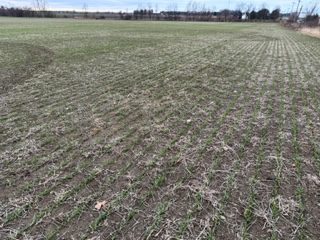 The old timers say, "Rain makes grain," and that's true. Both soybean and corn yields were a bit below average, due to the dry weather we had during the summer. Timely rains helped crop yields more in some of our fields than in others. However, the crop quality was better than average. The test weight for our soybeans was the best that I can recall.
The dry weather also allowed us to plant winter wheat this fall, unlike last year. Wet weather prevented us from planting winter wheat in 2021 and delayed soybean and corn planting last spring. This fall, we planted all the wheat we planned, and then we decided to plant it in a few more fields, for a total of about 526 hectares, or 1,300 acres.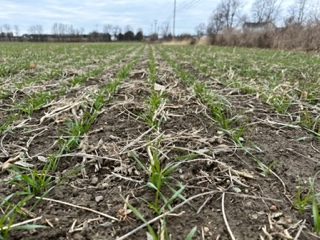 Like our soybeans and corn, we need to control weeds and provide nutrients for winter wheat. To do that, I applied herbicide right after soybeans were harvested, and before the wheat was seeded. Then we included phosphorus in the furrow with the wheat seeds during planting. We finished planting winter wheat on October 24. It emerged well, and it is looking good. We had some snow in mid-November that melted, providing moisture for this crop.
After harvest, our focus shifted to other field work that helps ensure the sustainability of our crops. Every year, we do soil tests on one-third of our acres, and then apply just the fertilizer that the ground needs using variable rate technology.
For fertilizer this fall, we are injecting both dairy and pig manure into the soil. Manure contains lots of organic matter, microbes and nutrients the soil needs. Much of the soybeans and corn we raise goes into animal feed. After they eat that feed, manure allows us to put nutrients back into the ground to create a continuous cycle. We apply the manure on soybean stubble, fields that will be planted to corn next season.
Our minimum-till system for soybeans and corn and no-till system for wheat is another way we protect our soil health. This fall, we have done some deep vertical tillage in areas of fields where we believe we had soil compaction. This ripping creates minimal disturbance on the soil surface, but breaks up layers of compaction deeper in the soil. This was harder than usual this year because the soil was so dry and hard. We needed lots of power to keep the tool in the soil and we had to sharpen it often. We also used the shallow tillage tool we used last spring to smooth out areas where we applied dairy manure.
In fields that will be planted to soybeans next spring, I applied a residual herbicide that will control weeds early next season. This will minimize the competition for water and nutrients as the soybeans we plant next spring emerge and start growing.
Now we are trucking soybeans to a crushing facility in Ithaca, Michigan, about 40 km, or 25 miles, away from our on-farm storage bins. We will continue delivering them through the middle or end of January, depending on the weather.
All this work allows us to continue providing a reliable, quality supply of sustainable soybeans to our customers around the world. I have enjoyed sharing how we do that throughout the 2022 season.