Throughout the 2021 growing season, USSOY.org will provide regular Ground Work updates from several U.S. soybean farmers around the country. Follow their updates, #GroundWork2021, to learn about their farms and commitment to producing high-quality soy.
Daryl Cates raises soybeans, corn, winter wheat and double-crop soybeans along the east bank of the Mississippi River near Columbia, Illinois, just 24 km, or 15 miles, south of downtown St. Louis, Missouri. He is located in the U.S. Midwest, with a river terminal just 8 km, or 5 miles, from his farm.
"I deliver all my crops to the Mississippi River to be exported around the world," he says.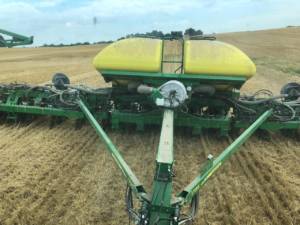 Over time, the farm has grown from a combined 60 hectares, or 150 acres, owned by his grandfather and father, to the more than 605 hectares, or 1,500 acres, Daryl owns and rents today. That ground includes fields as far as 13 km, or 8 miles north of the main farm, 16 km, or 10 miles east, and 24 km, or 15 miles south. But to the west, they have nearby fields separated from the Mississippi River only by a levee.
"Our location on the Mississippi River does mean that flooding is a threat," he says. "Sometimes the decision about if a field is planted to soybeans or corn depends on how high the river is and when that ground is dry enough to plant. When the river flooded in 1993, we moved everything on home farm to higher ground, because if levee had broken, the water would have come up to the roof of the house."
He pays attention to maintaining drainage through grass waterways and ditches, because of his location. He also relies on minimum tillage practices to manage soil type challenges while protecting water quality.
"The challenges of my location are offset by advantages of being near the river," he says. "Many input costs are lower because less transportation is needed to get them to me, and the basis for crop prices in the area is strong because of our ready access to export markets."
While Daryl's commodities have a broad reach, his roots go deep. He farms the same ground his maternal grandfather did. Daryl's father farmed with his father-in-law, moving from land that was converted to a state park to work together even more closely in 1963. His parents still live in the house they built on the main farm. Daryl grew up helping, and he joined his father on the farm full-time in 1980, after graduating from college with a degree in agronomy.
Daryl and an employee run the farm today. His father, who will turn 92 in March, stays involved where he can.
"He picks up parts for us and helps us move equipment between fields during busy season," Daryl says. "He even ran the tractor to do some tillage last fall."
The rest of his family have careers beyond the farm. Daryl's wife, Sandy, works for an insurance company in the St. Louis area. They have three adult children. Their oldest son Drew is a pharmacist in Atlanta, Georgia. Their second son Brett and his wife Stephanie live nearby. Brett is an accountant for CGB, one of the grain handling and export companies in the St. Louis area. Their daughter Megan works in marketing and lives in a nearby St. Louis suburb.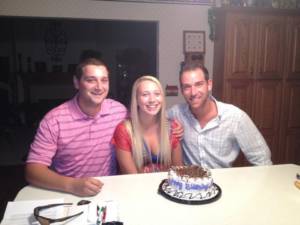 While raising his family and expanding the farm, Daryl also invested time in the agriculture industry. As a young farmer, a neighbor encouraged him to participate in the state soybean board. That led to serving on the first national soybean checkoff board in 1992. He stepped up to serve again at the state level in 2013, which led to his current role as secretary of the American Soybean Association.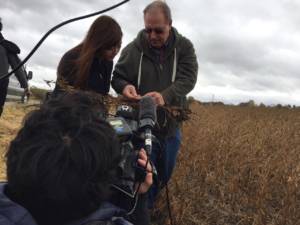 "In the 1980s, we focused on research to help farmers improve," he remembers. "Then we worked on developing new uses for soybeans, like biodiesel. We started seeing a return to farmers for those research investments, and now, a few decades later, we can do even more by developing and maintaining markets for our products."
Global markets impact him directly, because his commodities efficiently move down the Mississippi River to the Gulf of Mexico, where they can easily be sent anywhere in the world. Through his industry involvement, he has visited soybean customers in China, the European Union, Indonesia, Mexico, Taiwan and more.
"I explain how science has helped me reduce the inputs I need to raise a reliable, high-quality supply of soybeans and other crops," he says. "I grow crops in a way that ensures that my land will continue to produce for future generations."
He also has been actively involved in the World Initiative for Soy in Human Health (WISHH), which supports emerging soy markets around the world.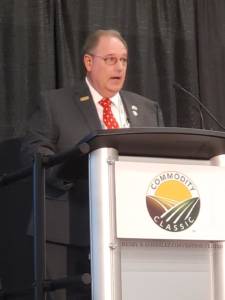 "It has been fascinating to help developing countries learn how soy can add value for their emerging economies," he says. "I've seen our efforts to demonstrate that soy is more than just food for human consumption. For example, it adds value as high-quality poultry or aquaculture feed."
With WISHH, he has visited such potential customers in Cambodia, Ghana, Guatemala and Myanmar, all markets where soy imports from U.S. farms like Daryl's are increasing.
Daryl will share regular updates from his farm on USSOY.org throughout the 2021 growing season.