After a challenging fall and a colder-than-average winter, spring is getting underway in our area of the southern United States.
Our winter wheat is growing after a very challenging start. Starting in late April, I will plant our grain sorghum, followed by our peanuts, then our cotton, and finally our soybeans. Because we are so diversified, we have a complex crop rotation that we strongly believe in, supporting our ability to sustainably raise crops. Our crop rotation helps us control insects, vary herbicide types to fight weed resistance, support soil health, and more. Although I closely watch the markets to monitor crop prices, we primarily base our planting decisions on agronomic factors tied to our crop rotation. Prices are just one factor we use to make planting and crop rotational decisions. For example, soybean prices have been strong, but we still plan to plant about 121 hectares, or 300 acres, of soybeans this year, as fits our crop rotation. Where we plant soybeans largely is determined by a major pest on our farm: the Alabama white-tailed deer.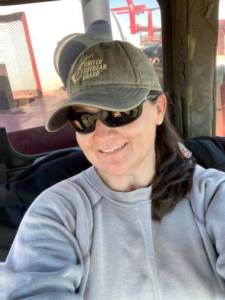 Right now, I am getting ready for planting. Due to weather last fall – a hurricane – I planted our winter wheat a couple of weeks later than we planned. Unfortunately, I did not have time to plant cover crops then, either.
The winter wheat seemed to stay dormant until the first week of March or so, due in part to a winter storm and cold snap that brought rare snow and abnormal below-freezing temperatures to our area. During the week of March 8, as the wheat started growing, I applied liquid nitrogen fertilizer to help it grow well this spring and produce wheat that should be ready to harvest at the beginning of June. The week after the fertilizer application, rain helped incorporate the fertilizer into the field to help the wheat grow even better. My husband, Jamie, and I scouted the wheat. We are beginning to see flag leaves, which is the final leaf that will develop and will provide most of the energy to make grain in the next couple months. Therefore, we will schedule an aerial application late this week of fungicide to protect the flag leaves from diseases.
The week of March 22, I started burndown, or applying herbicide to control all the winter weeds and grasses that grew in the rest of our fields since last fall. We do not want these weeds to compete with the crops we plan to start planting in late April. I used the same ground sprayer rig to apply fertilizer and burndown herbicide. We always clean, or 'flush' it out well between uses.
We also have received the results of grid soil samples for this year. The data from these soil samples, combined with information about the crop we plan to plant in each field, allows us to create a variable-rate fertilizer prescription. We hire a local supplier to apply just the fertilizer needed in specific areas of each field to support the crop that will grow there. They have the equipment and technology that changes the rate of fertilizer applied based on prescription maps. This is one example of our sustainable management of nutrients in our fields.
I am juggling the work that needs to be done in the field this spring along with our daughters' activities, like spring softball and dance classes. Between extracurricular activities, homework, and school projects that arise and simply trying to keep everyone fed and in clean clothes with a halfway presentable house, I never run out of things to do!
As more agreeable weather conditions develop for field maintenance prior to planting, there is plenty of farming to do now, and we will get busier as planting approaches. Planting is by far one of my favorite activities on the farm. We still have a few weeks before I can enjoy seeing those tiny seeds push their way through the earth in search of the sun, but it is exciting to start another growing season.