The National Oilseed Processor Association (NOPA) issued February soybean crush data on Monday, March 16th. According to the data, NOPA member soybean processing in the fifth month of the 2019/20 product (October-September) marketing year totaled 4.526 million tonnes. This was a modest decline from the record January total of 4.815 million tonnes as February included two fewer days. On a daily basis, February processing rates were record large for a second-consecutive month. Cumulative crushings of 23.360 million tonnes are up 2.5% from 22.784 million the same period last year.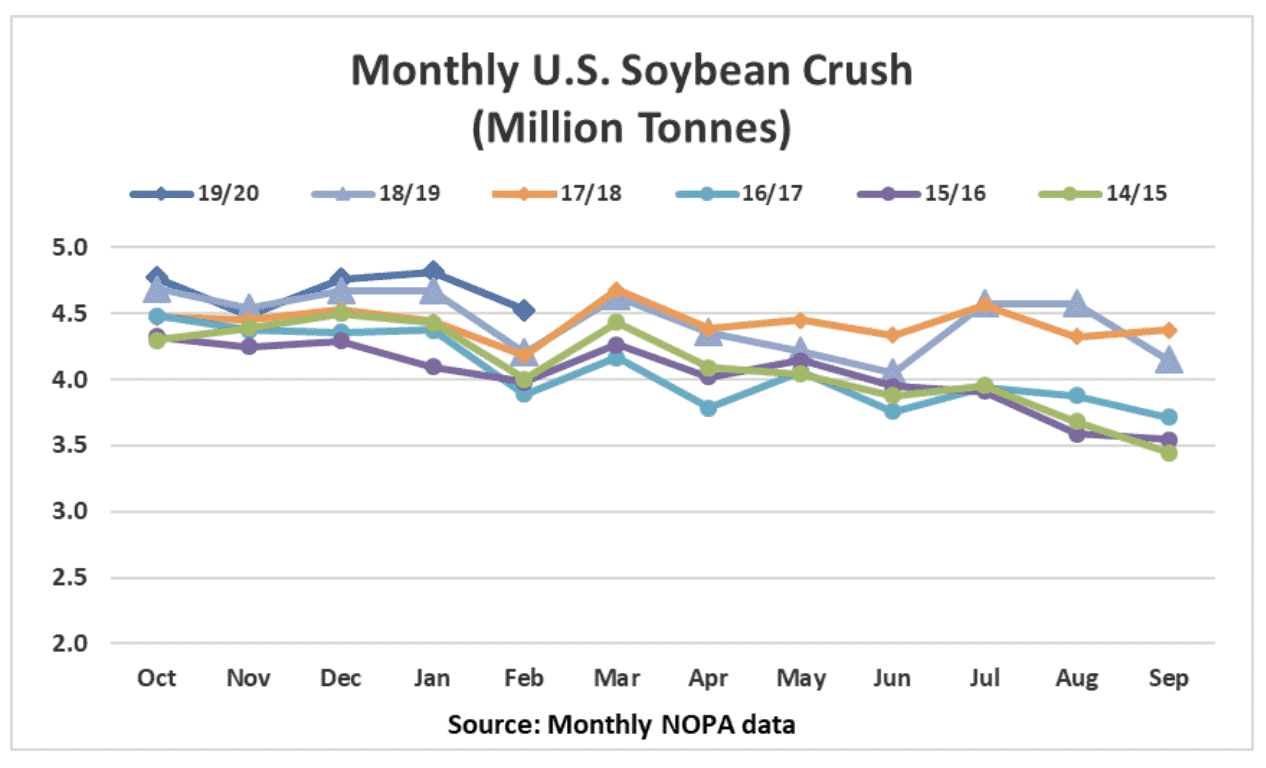 According to analysts' expectations published by Reuters, the trade was looking for crush to come in near 4.489 million tonnes with the highest published guess coming in slightly above the actual crushings at 4.541 million tonnes. Elevated processing levels were expected to have been bolstered by strong demand for soybean products – primarily soybean meal. Foreign demand for U.S. soybean meal has been strong as crush rates in top soybean product exporter Argentina have fallen below previous expectations. Rising export taxes and financial struggles of a top crusher highlight issues that slowed soybean processing rates ahead of the influx of new-crop supplies expected to come to market in the coming month.
USDA's March world supply and demand update highlighted the issues experienced by Argentina when the agency trimmed its 2019/20 domestic crush forecast 1.0 million tonnes to 43.6 million. Despite the reduction this month, USDA's latest figure still represents a modest increase from recent marketing years that experienced a drought-stricken soybean crop in 2017/18 and elevated export demand in 2018/19 as a result of shifting trade dynamics as China turned its attention towards securing additional South American soybean supplies.
These latest monthly figures are expected to help raise expectations for projected U.S. soybean domestic crush figures last pegged by USDA at 57.29 million tonnes in the 2019/20 marketing year. Should crush rates fail to slow seasonally for downtime in the summer months then there is the potential for U.S. crush ideas to have more upside potential, but USDA is unlikely to reflect this anticipation without additional reductions to South American processing rates or increases to domestic feed needs. Even with additional increases to U.S. soybean crush forecasts, there appear to be ample soybean supplies for the U.S. to remain a competitive supplier on the world market.