Federal Grain Inspections Services (FGIS) issued official export data for the week ending January 31 and, thanks to a strong surge the last half of the month, China regained its crown as the top destination for U.S. soybeans. Inspections data pegged shipments inspected for export to China at 1.307 million tonnes in January with 1.171 million tonnes inspected to ship in the last three weeks of the month. As the destination of 30 percent of the total shipments of U.S. soybeans in 2019, China is set to take shipment of nearly 950,000 tonnes more than the second-largest destination of Spain at 358,000 tonnes. Indonesia (302,000 tonnes), Mexico (297,000 tonnes) and Egypt (283,000 tonnes) round out the top five destinations for the first month of 2019. The pie chart that follows shows the top ten destinations, along with a catch-all for other destinations, for January.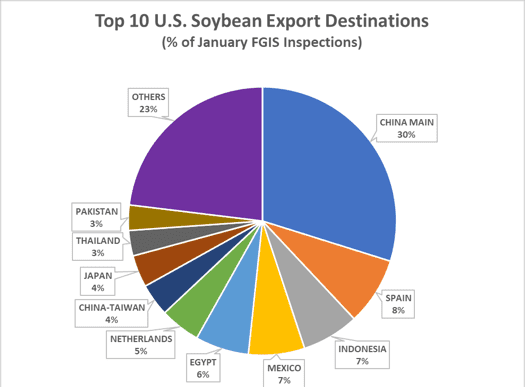 As a means of comparison, inspections data from January 1, 2018 through February 1, 2018 showed that total soybeans inspected for shipment to China totaled 3.179 million tonnes and accounted for 55 percent of the total export volume. Mexico and Thailand were both a distant second at about 280,000 tonnes and were followed by Indonesia (251,000 tonnes), the Netherlands (231,000 tonnes) and Japan (226,000 tonnes) to close out the top five destinations of January 2018.
Diversification is a word that may best describe the U.S. soybean export program thus far in the 2018/19 marketing year. Tireless work by U.S. soybean interests and political forces have helped to penetrate new markets while also deepening relationships with key buyers around the globe. These efforts have helped bring the benefits of U.S. soybeans, and their products, to global consumers.