The Brazilian Supreme Court decision concerning the constitutionally of the Minimum Freight Rate Table (MFRT) in Brazil was postponed until March 10. The MFRT has been in effect since August 2018. The Brazilian Supreme Court wants the carriers and shippers to work out a compromise. Independent truck driver associations have warned that if these mandatory rates are declared unconstitutional, a nationwide strike would be called, and truckers are already putting pressure on the Port of Santos.
"The protest is to show that the drivers are united and that, if we are not served, our strike will continue indefinitely," said Viviani, the president of the Union of Autonomous Highway Transporters of Goods of the Baixada Santista and Vale do Ribeira (SINDICAM).
For historical perspective, in May 2018, Brazilian truckers held a strike that severely hurt Brazilian manufacturing supply chains. To end the strike, the MFRT was established as a base for truck rates. The MFRT allows carriers to charge from 50 to 300% more per trip than pre-MFRT because the truck rate is based on the round-trip cost versus the carrier being responsible for a backhaul. During harvest, deadhead (no freight return trip) moves were common. For lower value products, the increase in truck freight rates has a much larger percentage increase in total product cost at port than high value products. Transportation is already a major issue when shipping soybeans over 1,000 miles to port.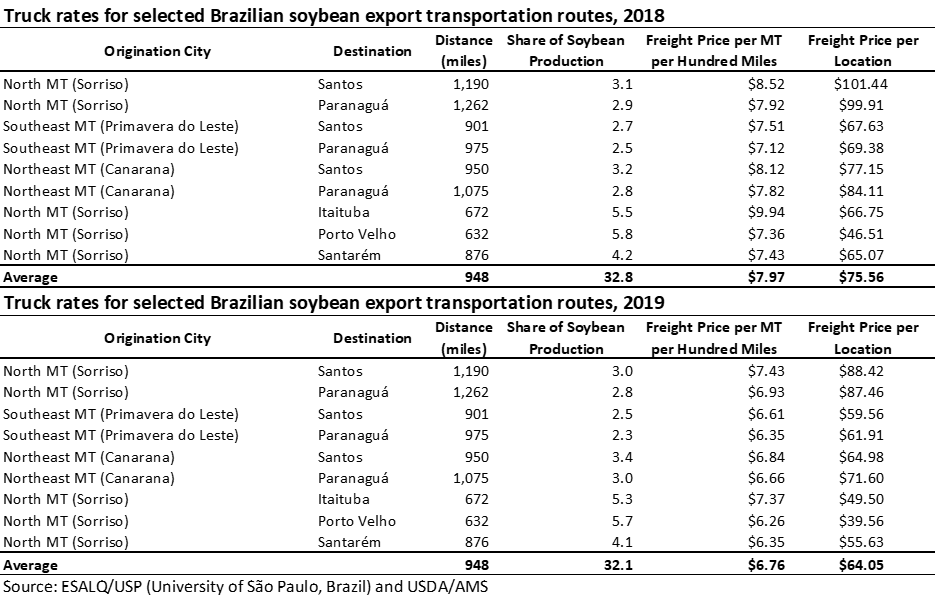 For the rest of the world, the return to the Brazilian farmer determines how many new acres are added, which impacts soybean prices everywhere. For example, if a higher soybean price is required to encourage the Brazilian farmer to plant more acreage that is over 1,000 miles from port, the U.S. farmer stands to make more money with a higher MFRT. Obviously, with the Brazilian corn and soybean crop size continually increasing, the importance of the MFRT is also increasing.