The National Oilseed Processors Association (NOPA) published their member soybean crush, production and stocks totals for March on April 15th. NOPA, which typically represents about 94-95% of the U.S. soybean industry, surprised analysts when March crushings topped expectations at a new record of 4.936 million tonnes in the month. According to estimates compiled by Thompson Reuters, the trade had been looking for crushings to have ranged between 4.490 million and 4.887 million tonnes. Soybean crushings totaling 159,240 tonnes per day in March were up slightly from the previous record pace from February. The continued strength in processing rates coincided with the peak in financial crush margins calculated based on respective futures prices for soybeans, soybean meal and soybean oil traded on the Chicago Mercantile Exchange (CME). Since the end of March, however, those margins have eroded considerably bringing into question whether the recent torrid pace can continue into the summer months.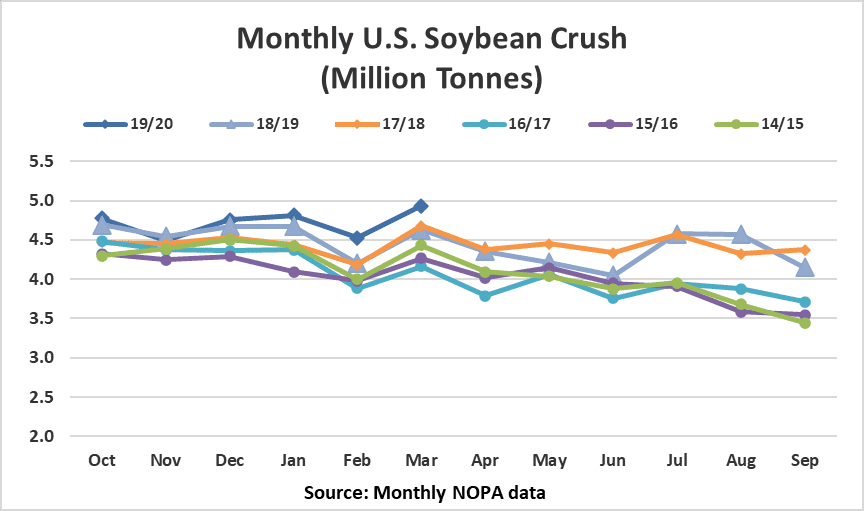 According to NOPA, cumulative crushings for the first half of the soybean product marketing year (October-September) totaled 28.297 million tonnes. This represents an increase of 3.2% from the same period last year and compares with the U.S. Department of Agriculture's (USDA) April World Agricultural Supply and Demand Estimates (WASDE) forecast, which was revised higher to rise 1.6% above 2018/19. An impressive feat for the 2019/20 marketing year has been a string of five record NOPA crush estimates in the first six months of the marketing year with only November falling short of its respective previous monthly record. 
Looking ahead to the coming months, processors' response to the shutdown from COVID-19, which began in earnest in the U.S. the final weeks of March, will be a crucial factor in determining expectations for the 2019/20 marketing year. Since the shelter-in-place orders took effect, the movement of U.S. soybeans and soybean products has been relatively unhindered but there have been reported closings in some livestock processing facilities that have resulted in lower livestock prices at the farmgate. As a result, there is uncertainty as to domestic feed demand for soybean meal entering the summer months when U.S. soybean product exports typically take a backseat to new-crop South American supplies. Traders will look to crush margin levels for any indications that the market may be signaling either for increased domestic crushings, or the need to move additional soybeans to ports for foreign shipments.