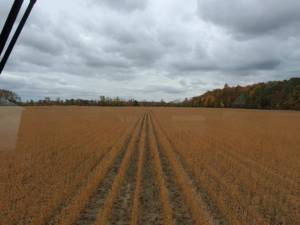 After nearly a year of planning, preparing and working, October 10 arrived – my son's wedding day. He and fiancé got married on the farm.
We couldn't have scripted a better day for the wedding. The year of preparation for this day paid off, allowing me to sneak out to cut a few soybeans the morning of the wedding. I hope their life together is as grand as the dawning sun the morning of their wedding, filled with the excitement of the excitement and wonderment of the fireworks at the end of the night.
It was a relatively small wedding, with only a few more than 100 guests. My new daughter-in-law Abby and her family are not familiar with farming and agriculture. The pasture full of quiet cattle that came up to the fence, horses in the arena, several tractors and an old barn made for a lot of photo opportunities for all the guests. Coupled with a very large tent, this all made it easy to adhere to current Indiana social distancing guidelines.
Most of our invited guests attended, but there were several farmers who didn't make it, as they opted to harvest instead. And I understood completely. In fact, I could see two combines cutting soybeans during the wedding.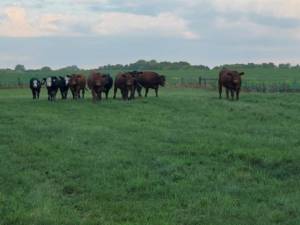 In fact, I worked ahead on wedding preparation enough that I had time to open up a few soybean fields in the days before the wedding. Throughout the U.S., we plant our fields with rows around the perimeter of the field called end rows or headlands. These rows allow us to turn our machinery around at either end of the long rows often seen in our pictures. If you look closely, you can see a strip of harvested soybeans behind the couple (and the cattle). This helped me to efficiently harvest all my soybeans and do some much-needed catch up the following week.
I finished harvesting my soybeans on October 17, and they all tested 10 to 13% moisture, regardless of planting date. As a farmer, I am always hoping for better yields, but due to the lack of rainfall in August when it was needed, I am satisfied with the outcome. Anytime you finish above your average, it's a good thing.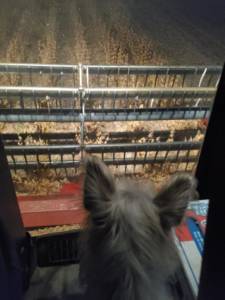 Fall has been perfect up to this point. The corn still had a moisture content too high to harvest when I finished cutting soybeans. Before the wedding, I shelled a few acres of corn to feed my calves and test the moisture and found that it still tested 30%. By October 21, the corn had dried to 18% moisture, so I am ready to start harvesting the 2020 crop.
Cover cropping has started on my farm. Currently, I have cereal rye planted on about half my harvested soybean acres. To seed the cereal rye, I broadcast it, mixing it with a small amount of fertilizer used as a carrier. As soon as I finished those acres, it started to rain, which drove the seed into the ground, making for a perfect stand provided all the settings were correct. Any mistakes will show as soon as the cover crop emerges.
I hope to find time to spot spray some late-season weeds that have popped up in the rest of my harvested soybean fields before seeding those cover crops. Those weeds would compete with the cover crop while it is getting established. However, in my experience, the cover crop does an excellent job controlling weeds like marestail the following spring. Managing the weeds now will make it easier next spring.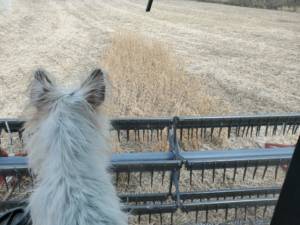 Delivery of cattle to local meat processors has begun. Because of the COVID-19 pandemic, small local meat plants are booked through 2021, but I have appointments to deliver cattle in October, November, December and April of 2021.
Farming is never "done." I can come into the house at night completely caught up, and wake up with so much to do I don't know where to start. Sure my "yield monitor" feels the same way. She works night and day, as you can see, computing bushels harvested divided by acres covered. She's paying particularly close attention to the final few soybeans for the 2020 season (right). I expect her to have the final results soon…
Wedding Photos