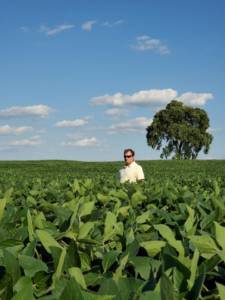 Like I said in my last update, what a difference a few days can make. But now it's been days without rain.
The hot, dry, overcast weather has been hard on crops in my area, with less than 4 cm, or 1.5 inches, of rain in the past month or so. However, my crops have held up surprisingly well so far, for having so little moisture. Another of the many benefits of no-till is keeping the soil structure in place with residue and organic material on top to help retain soil moisture and keep it from evaporating.
My soybeans continue to look pretty good, despite the lack of rain, and they are doing noticeably better than neighboring soybean fields managed with conventional tillage this season. Pods have started to set, and I scout my soybeans every couple days.
I have found patches of marestail and ragweed that escaped my weed control program. I don't want these weeds to go to seed and create bigger problems for next year and beyond, but some of my soybeans are chest-high, and running my sprayer through the fields at this stage would do more damage than the weeds. So, I have been using my 7.5-liter, or 2-gallon, hand-held sprayer to spot-treat the weed patches I have found with herbicide. Most of the patches are just .4 to .6 hectares, or 1 to 1.5 acres, in size, so I can walk them in the evenings when it's cooler.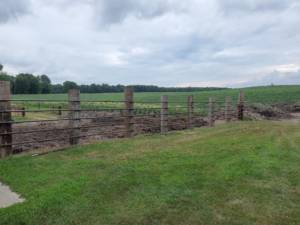 The only insect pressure I have seen has been Japanese beetles in my soybeans, but the populations aren't high enough to need to be treated. I am keeping an eye on them, though.
All my corn except the last field planted has tasseled. Looking at the weather, the forecast temperatures and overcast weather have me hopeful for reasonable pollination.
In early July, I made my second cutting of hay. The quality was exceptional, but the yields were only about 50% of my typical second cutting, in part because of the weather. This cutting was baled as small rectangular bales. I typically try to cut hay every 4 weeks, or 28 days, but weather conditions and pressure from leafhoppers that chew on the plants and dry them out may impact my schedule. Though I hope to cut hay again in early August, the dry weather means the yield will likely be just 40 or 50% of my average for third cutting.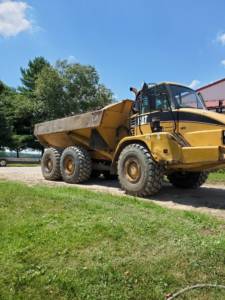 My feeder cattle are doing well, and I recently moved them to my back pasture. While my cattle live in my pastures, I feed them grain to raise them to full market weight, but the cattle also have the ability to forage in the pasture as much as they want.
My latest project has been creating an intensive feeding pad for the cattle, and that is being funded through the Environmental Quality Incentives Program, or EQIP, a government program that helps farmers like me make this type of improvement to our farms. For a few years, I've wanted to create this graded, firm spot to feed my cattle. The feeding pad is made of crushed limestone, keeping them out of the mud that always accompanies northeast Indiana's winters.  This will improve their comfort while eating, make it easier for me and my equipment during the winter, and allow me to better collect, store and manage their manure to fertilize other fields.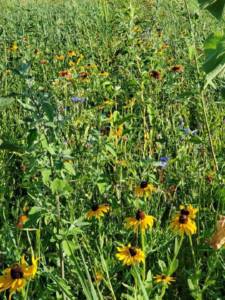 I am placing the feeding pad next to my barn, in an area that needed to be raised. And that requires dirt. This summer, a neighbor about 2.4 km, or 1.5 miles, away from me had a .8-hectare, or 2-acre, pond dug on his property. I know the men handling the construction – in fact, their little brothers helped bale my second cutting of hay. When I drove by and saw the project, I asked what they were doing with the dirt being dug out for the pond. They didn't have a plan, so they allowed me to haul the dirt (28 loads) to the low spot in my pasture for just my labor. That was a pretty good deal for me, and a way for me to prepare the spot for my intensive feeding pad.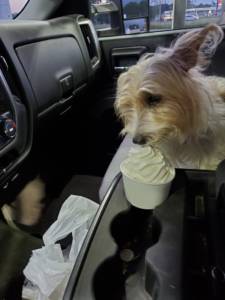 Though the crops – including the pastures – could use rain, the pollinator habitat I've planted this spring really took off. I appreciate the compliments on the flowers from the neighbors, and I know it's just one more way I can improve my farm, as well as the environment.
Of course, during a hot, dry summer, no day is complete until all the help gets ice cream.