Jamestown, North Dakota, farmer Tony Wagner was already committed to farming in a sustainable way when he got an eye opener that cemented the importance of protecting the soil.
Several years ago, Wagner was removing an old fence from a field that had a 4- to 6-foot tall berm of soil around it that had built up over the decades. The dirt, what Wagner called "blow sand," extended about 60 to 80 feet from the fencerow. Wagner started removing the soil with a scraper in an effort to smooth the field. When he got down a couple of feet, he made a surprising discovery.
"Another fence," Wagner says. "So much dirt had blown in, probably since the 1930s, that someone put another fence right on top of the old one because the first fence had been completely covered up by dirt."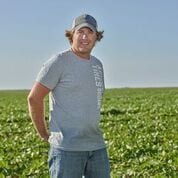 A Different View
At an early age, Wagner knew that farming was for him. He began farming his own property by the eighth grade using his parents' equipment. He left for college, earned a degree from the North Dakota State College of Science and promptly returned to the farm. Wagner now farms with his father and one hired hand, producing soybeans corn, wheat, field peas, barley and oats. They also raise cattle.
Part of Wagner's efforts to be sustainable includes a high percentage of no-till farming. The only tillage takes place where corn will be planted the following year so that fertilizer can be banded.
"We are trying to conserve moisture and reduce erosion," Wagner says of the move to nearly all no-till farming. "We've also reduced our fuel consumption by one-fourth to one-third, and we're farming more acres than we used to."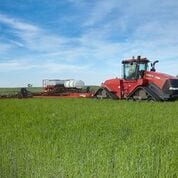 About 10 years ago, Wagner began incorporating cover crops into his operation. He's worked with crop consultant Lee Briese for many years, seeking innovative ways to improve the soil's health. Wagner says that the land he farm ranges from sand that won't even stay in a soil probe to heavy, dense soil. Cover crops help him manage both soil types. He typically seeds 3 or 4 different cover crops into each field, with a different mix of barley, oats, rye, peas or radishes customized for each field's needs.
In addition to reducing erosion, Wagner says that the cover crops help the soil to hold more water. The soil in one of his fields which was seeded to cover crops didn't freeze during the winter of 2016-2017. It was covered with 16 to 18 inches of snow which insulated the soil. Wagner could insert a soil probe into the ground the entire winter while a soybean field without cover crops across the road froze solid.
"By spring, both fields lost their snow cover at the same time. In the field with cover crops, there was no water standing while the other field had water in every low spot you could find," Wagner says.
Basic Approach
Wagner says that he is one of the few farmers in his area who is no-till farming and incorporating cover crops. While the process can quickly become complicated, Wagner says that he keeps it simple. All of his wheat, pea, barley and oat fields are planted with cover crops after harvest. He doesn't attempt to spread cover-crop seeds over the standing crops because he likes to make sure that the cover-crop seeds get into the ground.
"I'm keeping it very simple," Wagner contends. "I don't get too radical in what I'm doing, but I am learning new things."
Wagner says that the use of no-till management and cover crops has been worth it for him. In addition to reducing erosion, cutting down of fuel consumption and managing water better, the cover crops have a soil health and productivity benefit.
"We are seeing that, 2 years after incorporating cover crops, there is a 10 to 15 percent yield jump in all crops," Wagner says. "We leave strips so we know where we had cover crops and where we didn't."
Wagner admits that making the switch to no-till with cover crops isn't all "sunshine and rainbows," but it works for him. The key is making the commitment.
"I think it's working great, but it's an adjustment. It's a whole new way of farming," Wagner says.
Wagner knows that other farmers are watching what he does. He also knows that, for growers to recognize the true value of this approach, "you can't try it one year, say it didn't work and then give up. You have to be patient."