In August 2019, nearly 800 soy and grain industry leaders, buyers, and suppliers from more than 50 countries traveled to the United States for the 7th annual U.S. Soy Global Trade Exchange and the 16th annual Specialty Grains Conference and Trade Show. The jointly held U.S. Soybean Export Council (USSEC) and Specialty Soya & Grains Alliance (SSGA) event was held at the Hilton in downtown Chicago, Illinois.
In addition to the conference and trade show, where exporters and buyers had opportunities to connect and attend sessions covering a host of topics including market dynamics and African swine fever, the international guests participated in a number of events facilitated by the Illinois Soybean Association (ISA), including networking opportunities and visits to soybean processing facilities and farms. These visits allowed the trade teams to directly interact with the U.S. Soy value chain.
Dr. Aip Syarifuddin, Chairman of the Indonesian Tofu Tempe Producers Association (Gakoptindo), was part of the Indonesian delegation to the U.S. Soy Global Trade Exchange and the events surrounding it. He says Indonesian buyers prefer U.S. Soy for a number of reasons, including its reliable supply and quality.
Farm Visit Demonstrates U.S. Soy Sustainability and Quality
Syarifuddin got a closer look at Illinois soybeans still growing in the field during his visit to ISA chairman Doug Shroeder's farm in McLean County, Illinois.
"I was impressed with [the] professional farm management adopted by U.S. soy farmers. The way soybeans are grown in the U.S. involves not only mechanization needed to improve the productivity, but also other professional business services such as agronomy, accounting, tax, and insurance provided by third parties," he says. "In addition, well-functioning and large capacity storage facilities allow [the] farmer to implement effective and efficient post harvest [practices] that are important to preserve the quality of soybeans and to minimize losses [and] waste. In Indonesia, the harvest losses of soybeans can reach up to 8 to 15 percent, but in the U.S., I believe [that number is] one percent at the highest."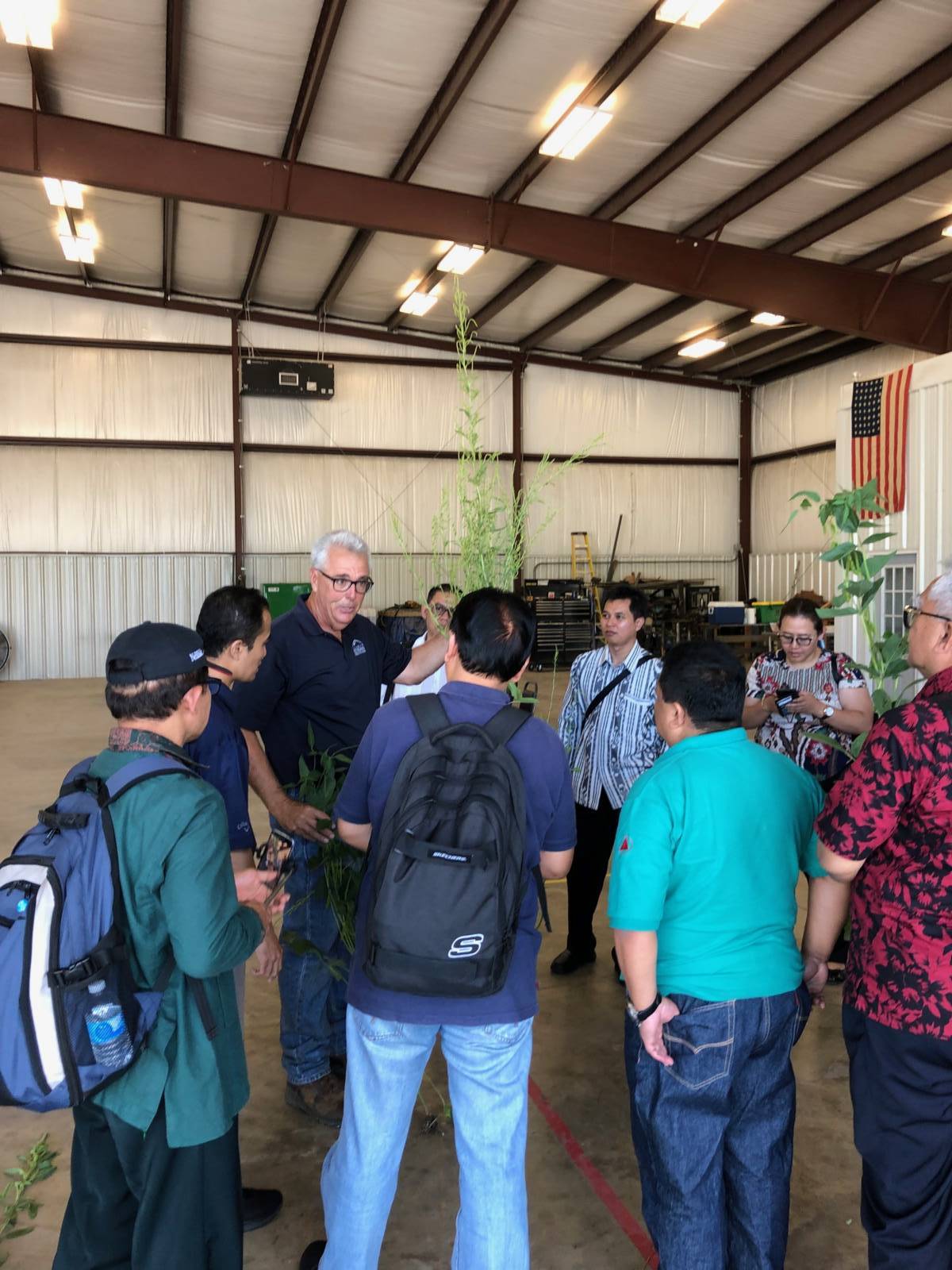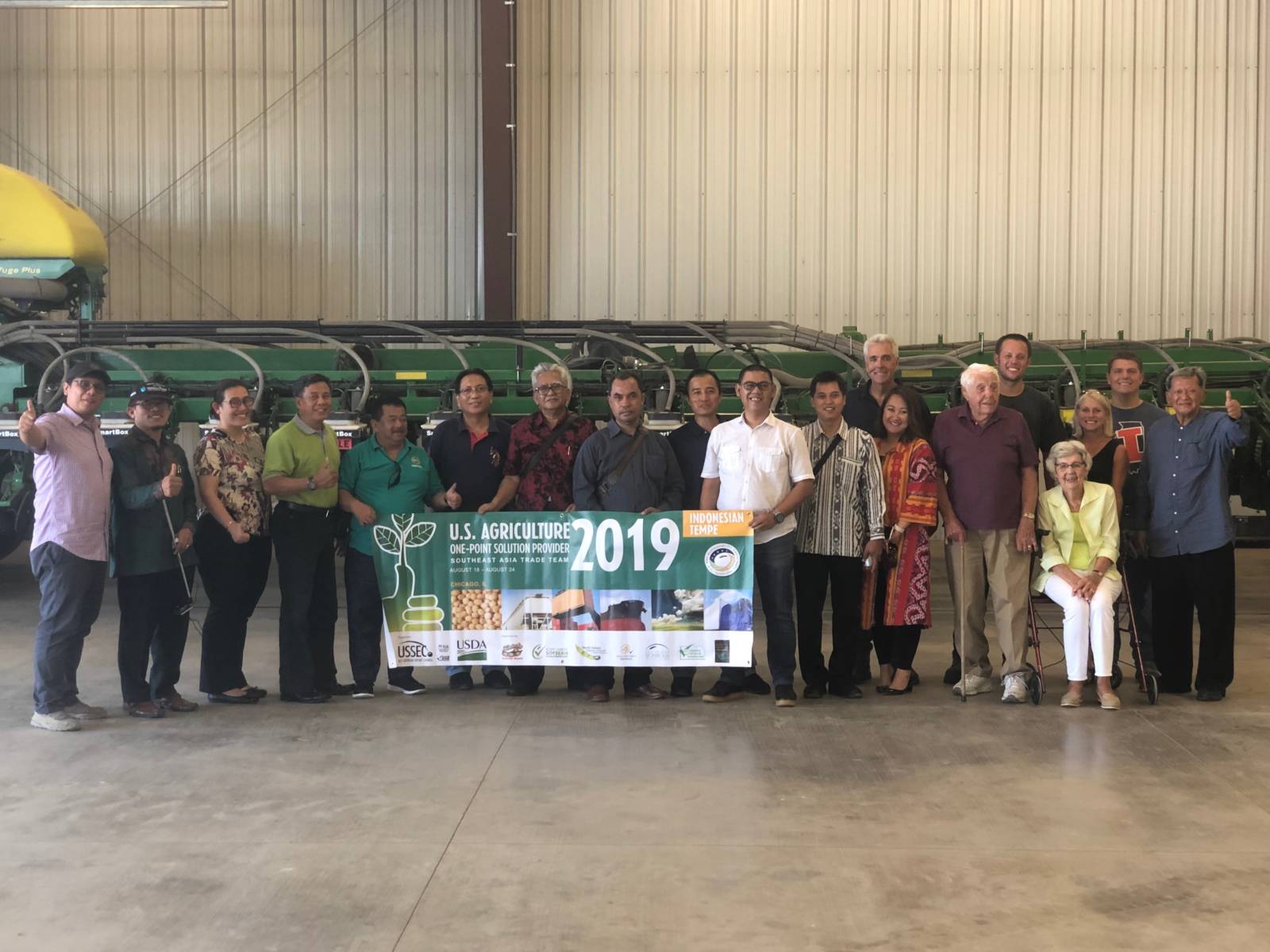 Syarifuddin talked with Shroeder about his farming methods and asked his opinion regarding the possibility of exporting tempe chips to the U.S. "[He] told me that he likes tempe chips and this can be served as a snack while having beers on a sunny day," says Syarifuddin.
Seeing firsthand how U.S. farmers grow quality soybeans sustainably is something that Syarifuddin will share with buyers and end users in Indonesia, who are very interested in the practices of U.S. soybean growers.
Container Facility Provides Closer Look at U.S. Soy's Reliable Supply
At the DeLong Container Facility in Joliet, Syarifuddin watched soybeans being loaded into containers.
"DeLong, in large extent, manages to have end-to-end quality control system for their soybeans," explains Syarifuddin. "The company procures…the soybeans seed for distribution to contracted farmers for cultivation. [At] harvest time, the soybeans are [taken to] DeLong's facility for further cleaning process before they are shipped to the customers by container.
"I saw the loading process of soybeans from the storage to the container was swift and smooth," he continues. "I also noticed the uniformity of soybeans in terms of yellowish color and size that is [a very good] fit with tempe makers' requirements."
Syarifuddin also learned more about risk mitigation tools utilized by U.S. soy farmers. The "well-established crop insurance system provides effective risk mitigation tools for the farmers to minimize the adverse impact on their crops resulting from either harvest failure or losses due to unfavorable weather and agronomical condition or market price volatility," he says.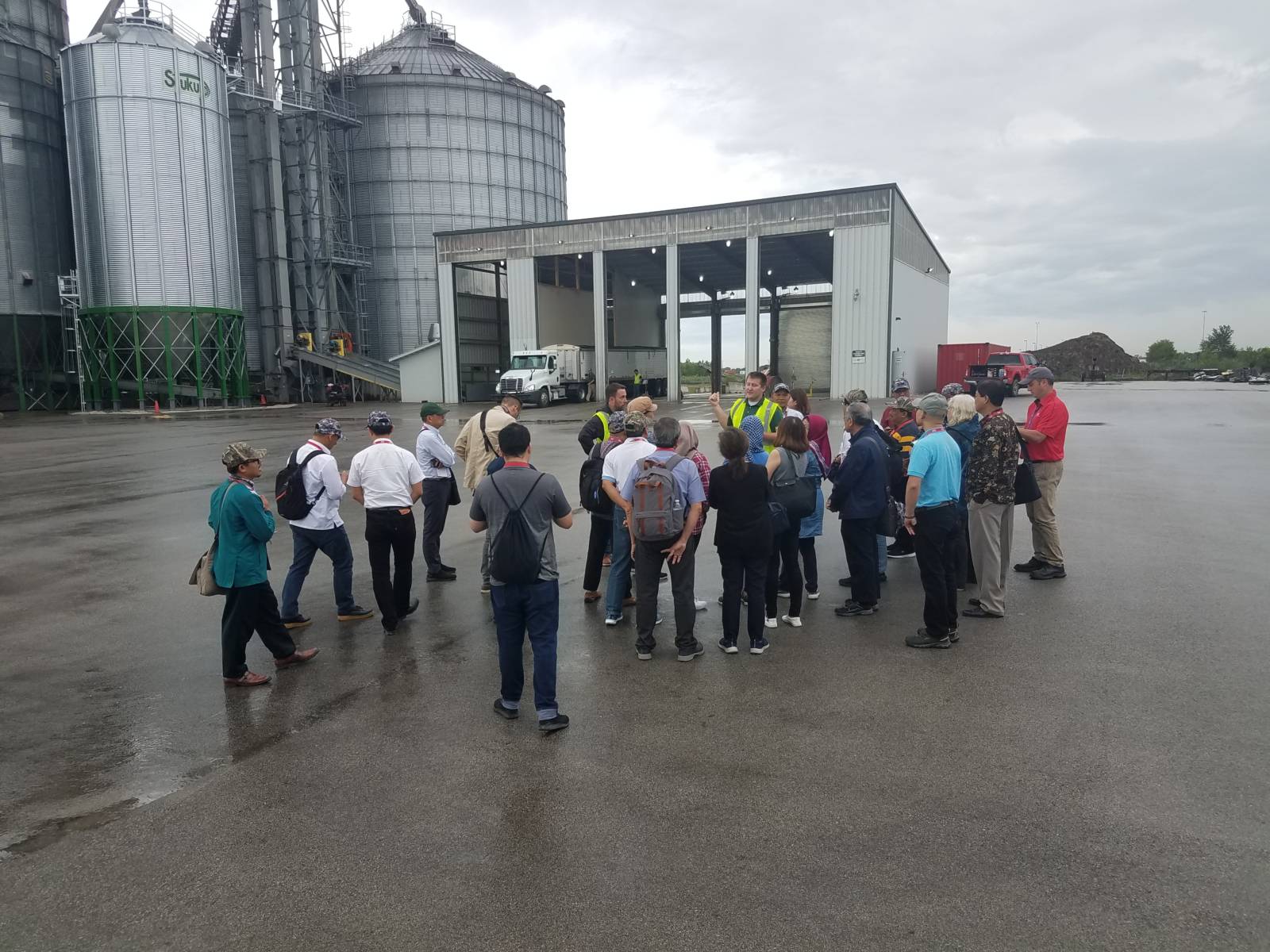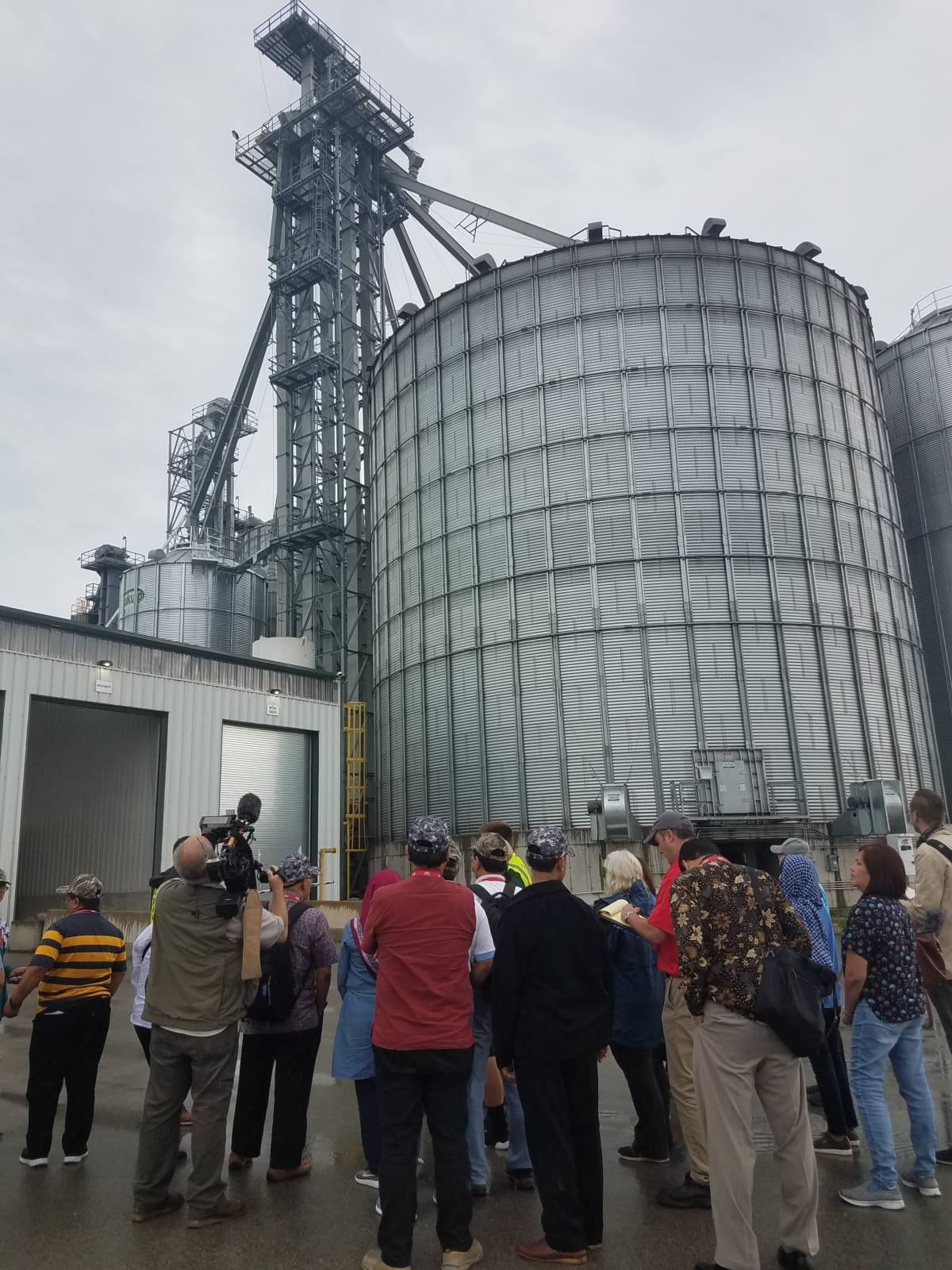 Trade Teams Make One-on-One Connections
The Indonesian trade team took part in the annual Trade Team Invitational (TTI), USSEC's annual buyer/seller speed meeting, which helps to build personal relationships between buyers and sellers. Exporters are encouraged to sign up in advance to meet directly with trade teams, which are broken up by country and buyer type. Exporters who have previously signed up to meet with these teams meet with and privately present to buyers for 30 minutes. These brief meetings help to quickly connect exporters to qualified international buyers.
Receptions were another way for the Indonesian team to create new relationships and foster existing ones. Early in the week, Indonesian container buyers enjoyed a reception hosted by ISA, and USSEC's opening reception was held at the Hilton prior to the first day of conference sessions. These informal gatherings allow buyers and sellers to mingle and chat.
Finally, ISA hosted a dinner for the Indonesian tempe buyers at Chicago Cut Steakhouse.
These get-togethers allow buyers to connect with importers and distributors, says Syarifuddin. "The dinner was entertaining because of both delicious food as well as warm and friendly conversation," he states.
"We discussed the factors that have contributed to growing U.S. soybean exports to Indonesia," he explains. "First is the population growth. Since tempe is one of the staple foods in Indonesia, its consumption will increase as the population grows. Second, the number of tempe and tofu makers is also increasing and U.S. soybeans are the ultimate choice for yellowish color and ideal bean size. Third, the availability and quality of local [Indonesian] soybeans are not consistent because of the non-uniform planting season and seed quality, suggesting that imported soybeans, especially from the U.S., are still needed to fulfill the supply gap."
Five Reasons that Indonesian Buyers Choose U.S. Soy
Syarifuddin says there are five reasons that Indonesian buyers choose U.S. soybeans.
U.S. soybeans are always available.
U.S. soybean quality standards are good for the production of both tofu and tempe.
Some soybeans from non-U.S. countries are good for producing tofu, but not for producing tempe, or vice versa. U.S. soybeans are a good choice for the production of both tempe and tofu.
It is easy to get U.S. soybeans throughout Indonesia and flexible services from importers and distributors can easily be purchased by franco and loco, Indonesian pricing systems. The loco price includes the cost of goods at the factory of the seller, and the franco price includes the cost of goods plus all expenses up to the buyer's warehouse. Under the loco price, the buyer normally arranges for transport and insurance, among other aspects. Under the franco price, the seller normally arranges for transport, insurance, etc.
Affordable and competitive soybean prices for tempe and tahu craftsmen.
Working Together to Communicate the U.S. Soy Advantage
As ISA's trade team lead, I enjoy welcoming soybean, meal, and oil buyers from around the world to see the U.S. soybean industry firsthand year-round. During the week of the Global Trade Exchange, we had many more international trade teams visiting than usual, so this was an all hands on deck effort! ISA was excited to partner with USSEC to help these international delegations and soy product buyers plan their missions and serve as guides and resources as our visitors met with farmers and industry leaders.
It's important for all of us in the U.S. soy industry to work together to communicate the U.S. Soy Advantage to our current and potential customers: exceptional composition, consistent supply, sustainable farming, and innovation beyond the bushel. The week of the U.S. Soy Global Trade Exchange & Specialty Grains Conference and Trade Show allowed us to do just that.