March has been fairly wet in my area in the heart of the United States midwest, along the Mississippi River. In fact, from March 11 to March 18, it rained every day for a total of 9.7 cm, or 3.8 inches, and it has continued to rain this week.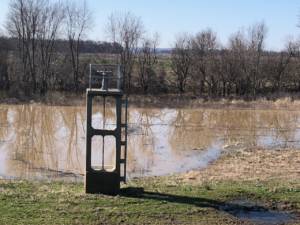 Because of that, the Mississippi River has risen above flood stage in St. Louis, which is something that I have to closely watch. I have one farm right along the river that directly drains into it and has a flood gate. When the Mississippi rises above 9.3 meters, or 30.5 feet, I shut that flood gate to prevent water from flooding that field. I did that on March 20, and the water already was backing up under the levee. Turning the wheel on top of the flood gate closes the 91-centimeter, or 36-inch, drainpipe that goes through the levee behind the trees. When the river level dropped a couple of days later, I opened the gate again to allow this water to drain.
A drainage ditch along the edge of the field also helps the water drain toward the river. It is full right now.
When the Mississippi River rises and stays high, several other fields will have standing seep water in them. That water will not drain until the river falls below 6 meters, or 20 feet.
Last week, the river level peaked at about 9.9 meters, or 32.5 feet. Now, I am waiting for the fields to dry out to be able to start spring field work.
I also have been getting a few key pieces of equipment ready for spring. I replaced a part on the sprayer that I will use to apply nitrogen to the winter wheat, fertilizer, and herbicides. This is before planting corn with herbicides and before planting soybeans. I am putting new shovels on the field cultivator that I will use to incorporate fertilizer and pre-emergence herbicides before planting corn. In addition, I am tuning the planter, so it will be ready to go when the fields dry up.
In the meantime, I have been delivering corn to the river terminal just 8 kilometers, or 5 miles, away. I watch market prices for both soybeans and corn. Prices impact when I sell my crops. I still have some 2020 crops to sell, but I already have sold 24 percent of my 2021 soybeans and 17 percent of my 2021 corn – based on conservative yields – though it has not been planted yet. However, prices do not impact what I plant. I stick to my crop rotation as closely as possible. Only the weather determines changes to my planting intentions. A very wet spring can force me to switch a field that takes too long to dry out from corn to soybeans.
I also participated in an American Soybean Association board meeting, where in addition to discussing industry issues, farmers from around the U.S. shared what they expect this season.
As soon as our fields are dry enough, hopefully by the end of March, I will apply liquid nitrogen to the winter wheat. It just has broken dormancy, a bit later than average because of cold weather in February and through March. The current cooler temperatures mean that it is slowly growing, which is ideal for the fertilizer application. If the wheat is growing quickly when nitrogen is applied in the spring, it can burn the top of the plant, meaning it would be damaged and turn brown before growing out of it.
Then, as field conditions allow, I will start preparing fields to plant corn. For my climate, planting corn first ensures that it pollinates before the summer gets hot and potentially very dry.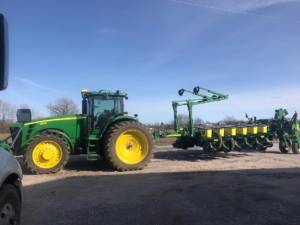 My soil tests have shown a sulfur deficiency, so I will spread dry ammonium sulfate fertilizer on fields that will be planted to corn. Then, I will apply a mixture of fertilizer and pre-emergence herbicide for weed control on those fields. I use a field cultivator to incorporate the fertilizer and chemicals into the field to ensure they work. Then, I will plant corn. I hope to start this process by the first week of April. Once corn is planted, I plan to start planting soybeans in late April.
All of that will happen one step at a time, as the rain breaks, and the Mississippi River drops below flood levels.