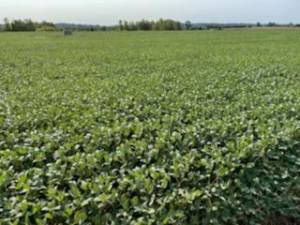 We had hot, dry weather the last two weeks of August, in my area along the Mississippi River in the heart of the U.S. Midwest. That was starting to hurt soybean yield potential, but we finally received about 7.5 cm, or about 3 inches, of rain during the first several days of September that will really benefit the soybeans.
For example, the double-crop soybeans have grown in height to about 1.2 meters, or 4 feet. They have finished blooming, and their pods are filling well.
After that rain, harvest began. I started combining corn on September 8. Early yields have been above average, which is very encouraging. The kernel moisture of the corn is between 19.5 and 21%, which is ideal. I will dry and store most of the corn, though I have sold some that will be delivered from the fields to the nearby grain terminal on the Mississippi River. On average, my hired man and I can harvest about 16 to 18 hectares or 40 to 45 acres of corn per day, and it will take nearly 3 weeks to finish, depending on the weather.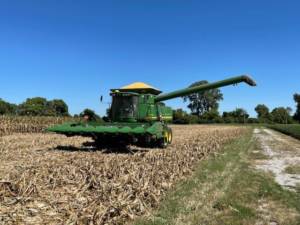 I usually start harvesting soybeans in October, after all my corn has been picked. But this year, as I started corn, some of my full-season, late Group 3 soybeans started yellowing rapidly, moving toward maturity more quickly than I expected. This year, I think I will need to stop harvesting corn in late September and switch to harvesting soybeans. This is just one example of balancing the needs of the different crops in the rotation that supports sustainability.
It's important to harvest soybeans when they are ready, when all the leaves have dropped and the soybean moisture has reached about 13%. If mature soybeans sit in the field too long, they can over-dry. Each day, dew accumulates on the plants overnight and dries out during the day, which causes the pods open up. The soybeans can start popping out of those pods. I will switch to soybeans as soon as they are ready so that I don't lose yield because of that. The combine head I use to cut soybeans is about 12 meters, or 40 feet, wide. That allows us to harvest 20 to 24 hectares, or 50 to 60 acres, of soybeans per day.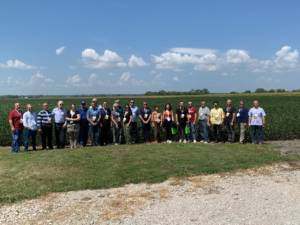 On one of those hot, dry days in last August, I hosted a group of U.S. Soy Global Trade Exchange attendees from Dubai, Egypt and Turkey at my farm. I have been to many areas of the world, but I haven't visited those countries yet. I enjoyed connecting with those U.S. soybean customers at my farm and during the conference later in the week.
The rain in my area and throughout the U.S. Midwest continues to impact Mississippi River levels. A week into September, it was about 2.9 meters, or 9.5 feet, above the minimum navigation level. However, during the next two weeks it is predicted to fall to that minimum navigation level, which will limit barges to carrying partial loads of commodities, including soybeans, toward the Gulf of Mexico.
I will continue to monitor the soybeans, crop prices and river levels, while I enjoy the view from the cab of my combine.
This field update is funded by the soybean checkoff. To share or republish part or all of this Ground Work 2021 article, please link to the original article and credit www.USSOY.org.