Reliability is an essential component of the U.S. Soy Advantage. Getting soybeans to market in a timely manner helps contribute to the reliability of U.S. soy.
From atop the 140-foot-tall concrete grain elevator east of Corder, Missouri, a mosaic of green and gold stretches to the horizon in all directions. From this vantage — arguably the highest in all of Lafayette County — cars and trucks passing by on Highway 20 look like ants, and the nearly 100-car train parked on the facility's 1.5-mile loop track below looks like a Lionel O-Gauge toy.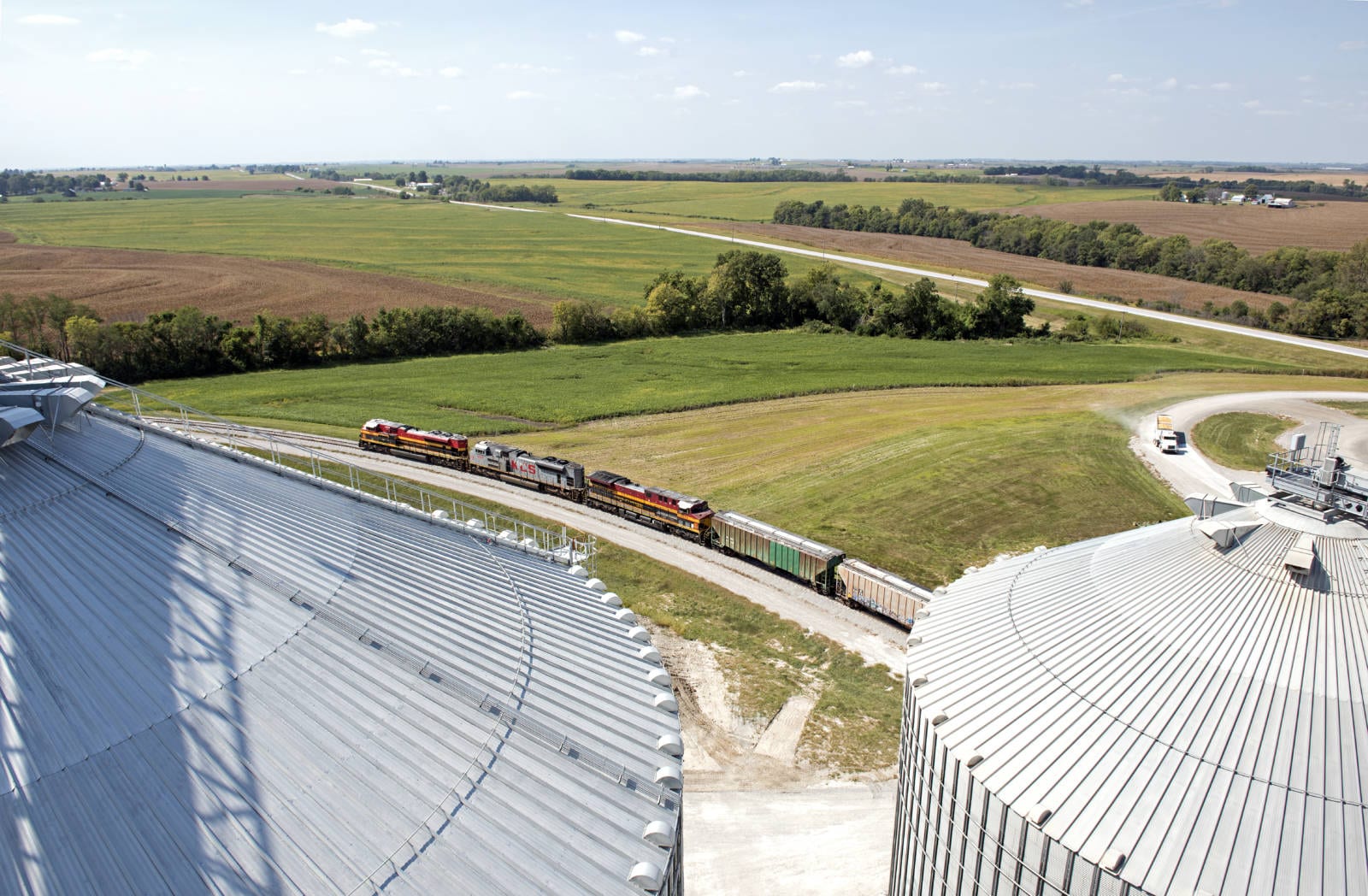 From the ground, however, it's clear that this elevator and the trains it loads aren't toys. Built in 2013, the shuttle-loader facility owned and operated by Ray-Carroll County Grain Growers Cooperative represents the latest evolution of rail transportation for corn and soybeans.
In less than 10 hours, a 110-unit train can be loaded with up to 420,000 bushels of grain, says Corder Location Manager Josh Riley. The corn or soybeans don't just fall into the rail car. At up to 70,000 bushels per hour, you can feel the grain move.
"We shoot for loading each car in three and a half to four minutes," he says. "A 2-foot-by-4-foot spout goes down into each hopper and dumps the grain. Each car will hold around 3,500 to 3,800 bushels. It doesn't take too long."
The Corder facility is the newest of four shuttle-loaders that Ray-Carroll Co-op has constructed since 1999 when it built its first outside of Slater. The ability to move large volumes of grain by rail has had a dramatic effect on the co-op. In less than two decades, grain sales have increased from $80 million to $500 million as the number of bushels handled has increased from 18 million to 80 million.
"There's been evolution in a lot of ways," says Ray-Carroll General Manager Mike Nordwald. "Our farmer has gone from a two-row picker and 80-bushel yields to a 12-row combine and 200-bushel yields. Whether corn or soybeans, his speed is dramatically faster, and his volume is higher. So it's a combination of his growth and our growth in expanding the trade area that surged the volume. The only way to move that amount of grain in a hurry is a shuttle-loader."
Ray-Carroll is not alone in the development of infrastructure that increases efficiencies for rail transportation. Just this year alone, two other shuttle-loaders in the region — one built by MFA Incorporated near Hamilton and another by Central Missouri AGRIService outside Marshall — also have come online. Such capital investments signal the importance of maintaining competitive advantage for Missouri soybeans in both domestic and export markets.
"Whether by rail, river or road, it's important for farmers to have an appreciation for these modes of transportation and how the system allows them to be more profitable," says Mike Steenhoek, executive director of the Soy Transportation Coalition (STC). "Brazil hasn't developed its freight rail system to the extent that we have. As a result, it's a lot more expensive to get product to the export region. Basis levels in Brazil are much wider than in the U.S. It's not because they're growing inferior-quality beans; it's because there's more cost in getting those beans to the ultimate customer."
Spurning spurs
Even as little as a generation or so ago, crops were still shipped from field to final destination as they had been since the days of horse-drawn wagons. A farmer would bring his crop to the local grain elevator, which was served by a railroad spur. Every 20 or 30 miles, there'd be another elevator with another spur, and the railroad companies would pick up a couple cars at each stop.
"For the railroads, this isn't efficient," Steenhoek explains. "The most expensive two miles for a train is the first mile when it begins rolling and the last mile when it comes to a stop. When they're able to constitute a train at one location and keep it moving long distances without stopping until it gets to its final destination, they're much more efficient."
Shuttle-loaders have helped to increase not only efficiency but also velocity of the rail network, he adds. In the mid-1990s, only 2 percent of grain moved by trains longer than 100 cars. Today, around 38 percent of grain is shipped in this method.
"It really allows the system to be much more fluid," Steenhoek says, noting that Missouri's in-state rail network consists of nearly 4,000 miles of track.
"Farmers and elevators may have to travel further distances to access the rail network, but there's incentive to load a train and be able to release it all as one unit."
Nordwald agrees.
"The railroads have truly incentivized a lot of this," he says. "There's a single-car rate and a shuttle-car rate. They've given pretty clear signal that in addition to rates, you won't get the same service on the small units. They don't want to stop and get a few cars."
Carrying the crop
According to the Soy Transportation Coalition, approximately 30 percent of soybeans destined for export markets are shipped by rail, and demands on the rail system will continue to increase. In a 2012 study that was expanded in 2016, the STC estimated that by 2023, railcar loadings of soybeans will increase by 20 percent nationwide. In Missouri, soybeans moved by rail are estimated to increase by nearly 93 percent by 2023.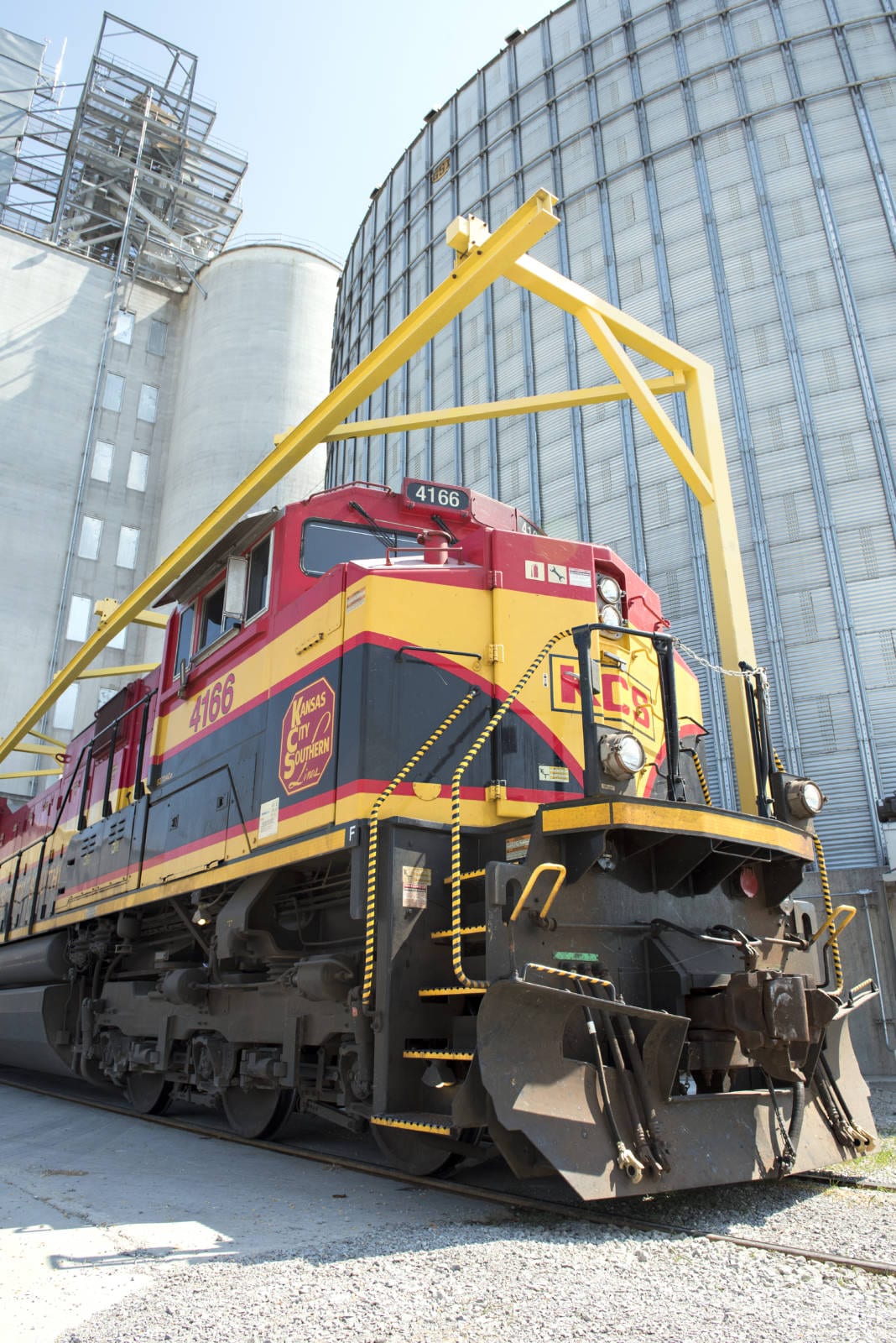 In addition, for the past seven years, the STC has conducted a survey of the nation's Class 1 railroads, querying agricultural shippers of various sizes and scale of operations. The survey includes questions regarding on-time performance, customer service and cost.
"The feedback expressed in this year's STC Railroad Report Card suggests railroads are doing some things right, but that there are a number of opportunities for improvement," says Gerry Hayden, STC chairman and a soybean producer from Calhoun, Kentucky.
Overall, survey respondents described the rail network as well capitalized with available capacity. They indicated a degree of satisfaction with the condition of the network and the ability of a number of railroads to accommodate the historic 2016 harvest. However, they also expressed frustration with rail rates that many considered an increasing obstacle to agricultural competitiveness.
"Commodity prices have not been robust as of late, so whenever you've got a cost escalation in your supply chain, we just don't have the luxury of passing those costs onto our customers," Steenhoek says. "If we try to do that, they will respond by purchasing elsewhere."
For Ray-Carroll Co-op, access to multiple railroads at its facilities offers options as they move grain from north-central and northwest Missouri to destinations in the East as well export hubs in the Pacific Northwest and the Gulf.
"At our Brunswick and Hardin facilities, we have service on both BNSF Railway and Norfolk Southern Railway. At Corder and Slater, we're on the Kansas City Southern line," Nordwald says. "We can ship a variety of directions."
Not all grain shippers are as fortunate, adds Steenhoek, who says there are significant areas across rural America where there is only one railroad in operation.
"As a result, rates tend to be higher in those areas than where there is competition among railroads or modal competition," he says.
"Historically, the cost of transporting soybeans via rail to the West Coast is cheaper if those beans are loaded in St. Louis than if they're loaded in Kansas City. Even though it's farther away, the rate is less because there's competition from the barges," said Steenhoek. "It exerts downward pressure on rates."
Competition for space on the rail system is another concern for agricultural shippers. Other industries, including coal, oil and other bulk commodities, also rely on trains to move their products. The effect of such competition was readily apparent in 2014 when crude oil production in North Dakota ramped up.
"You can only put so many trains on the track," says Ron Moore, president of the American Soybean Association (ASA) and a producer from Roseville, Ill. "When oil prices were so high, the basis got really wide for those growers in the northern states because all the trains were pulling oil tankers to refineries. We couldn't physically get any more trains on the track."
While competition from other commodities today is less acute than it was when crude oil prices were greater than $100 per barrel, there's always potential for such a scenario to re-occur and negatively affect the U.S. soybean producer's ability to compete in the international market.
"One of the things that our export customers like about buying soybeans from the United States is that we're a reliable supplier," Moore says. "We have the best transportation system in the world. But if there's anything that disrupts that system and makes us unreliable, they'll look someplace else to buy their soybeans."
Trade by train
Back in Corder, local farmers have already begun delivering their 2017 harvest to the elevator. Even with 5.6 million bushels of capacity on site, grain will need to be shipped out to make room for the area's entire crop. John Graverson, Ray-Carroll's merchandising manager, says their shuttle-loaders have opened markets to which the co-op's members have never had access.
"At any time, we could have soybeans on rail going to processors in Illinois or Georgia or the Carolinas. Or it could be headed to the Gulf export elevators or to Mexico," he says. "Those are markets these farmers never hit before the advent of shuttle trains. Just think that some little farmer in Ray County has his soybeans going all the way to China nowadays."
Because the railroad companies want to ship grain year-round and avoid a surge during harvest, on-site grain storage is a key component of the marketing strategy for Ray-Carroll. Extracting even an extra penny per bushel from the market adds up substantially when moving 80 bushels annually. In recent years, the co-op has added about 2 million bushels of storage per year.
"The name of the game is to be empty at harvest and full the rest of the year until we need to be empty again," Riley says. "We try to carry as much as we can. Right now, we load around 3,000 cars a year here."
Nordwald, who plans to retire in January after 16 years with the co-op, adds that when all of Ray-Carroll's elevators are operating at capacity, they have the ability to move 1.5 million bushels in a single day.
"The markets change every day. Having the option to hit all of those markets — who wants it, who doesn't — extracts a lot of value for our farmers. They might not think about it, but it's brought us into the 21st century."