Varied Path Gives Endrud Unique Perspective
The gravel roads of Traill County may be a world away from the bustling streets of Hong Kong, but Spencer Endrud has traveled them both on his journey from international businessman back to the family farm. 
Growing up near Buxton, North Dakota, Endrud figured he would answer the call to farm someday but only when the time was right.
"I always wanted to farm, but I knew I needed to travel and have some other experiences before I did," Endrud says. 
Endrud majored in finance and international business in college. His education included an internship in Hong Kong. Eventually he moved to Salt Lake City, Utah, where he was a management trainee with a large corporation. The only problem was, "I hated the corporate world," Endrud admits. 
After working in that corporate climate for a while, he felt the time was right to come back to the farm. Endrud's father and uncle had farmed together for 45 years and were nearing retirement, so he approached them about a return trip. 
"I came back and talked to my parents, but my dad and uncle weren't ready to quit, and there wasn't enough land for all of us to farm," Endrud says.
Instead of farming, Endrud moved to western North Dakota where he worked in the oil fields for two years. He grew tired of that lifestyle and was ready to return to the family farm. At the same time, his father's health was failing, so the timing was right to jump back into farming with both feet. 
Learning on the Fly
In 2015, Endrud returned to Buxton, bought the farm from his family, took over the rented land and started farming without a lot of time for transition. 
"It was zero to 100 just like that," Endrud says. "I went from having no part of the farm, not even as a hired hand, to running the whole thing."
Spencer Endrud's uncle, Glenn Endrud, still lives on the family farmstead and serves as a resource when needed, but the day-to-day management falls on Spencer. Now in his fifth growing season since he returned to the family farm, Spencer Endrud raises soybeans, corn, wheat, black beans, pinto beans and sunflowers. While he is currently using conventional to minimum till in his management, he likes the idea of no-till and precision farming. He's gradually incorporating more technology on his farm.
"I like the idea of precision agriculture and the benefit of variable rate technology. I'm slowly upgrading and making (the) transition to those technologies," Endrud explains. "I don't have the newest equipment, but I'm using today's technology in that equipment." 
Economic conditions have been challenging for farmers in North Dakota, especially for young farmers who are just starting. That fact doesn't deter Endrud from making his own success.
"It's what I'm content doing. I work for myself. The only person I have to blame is myself. Farming is a lot easier when there is $6 corn and $14 soybeans, but my banker told me, if I can make it during the down years, I can make it when things are good," Endrud says. 
Endrud's education and work experience are helping him navigate the business aspects of farm management. He draws upon his finance and international business background when making the farm's business decisions.  
"With my finance background, marketing made sense, and I understood how it works. At the same time, it's not a trading game; it's real life," Endrud emphasizes. "I'm the one writing the checks, so I understand what the end goal is."

That goal is profitability, which sometimes means being content to take the small opportunities and using the marketing tools at his disposal, including puts and calls.   
"I really lock in on break evens," Endrud says. "If it's profitable to sell, it's better than waiting and hoping for more profits. I'm not trying to be greedy."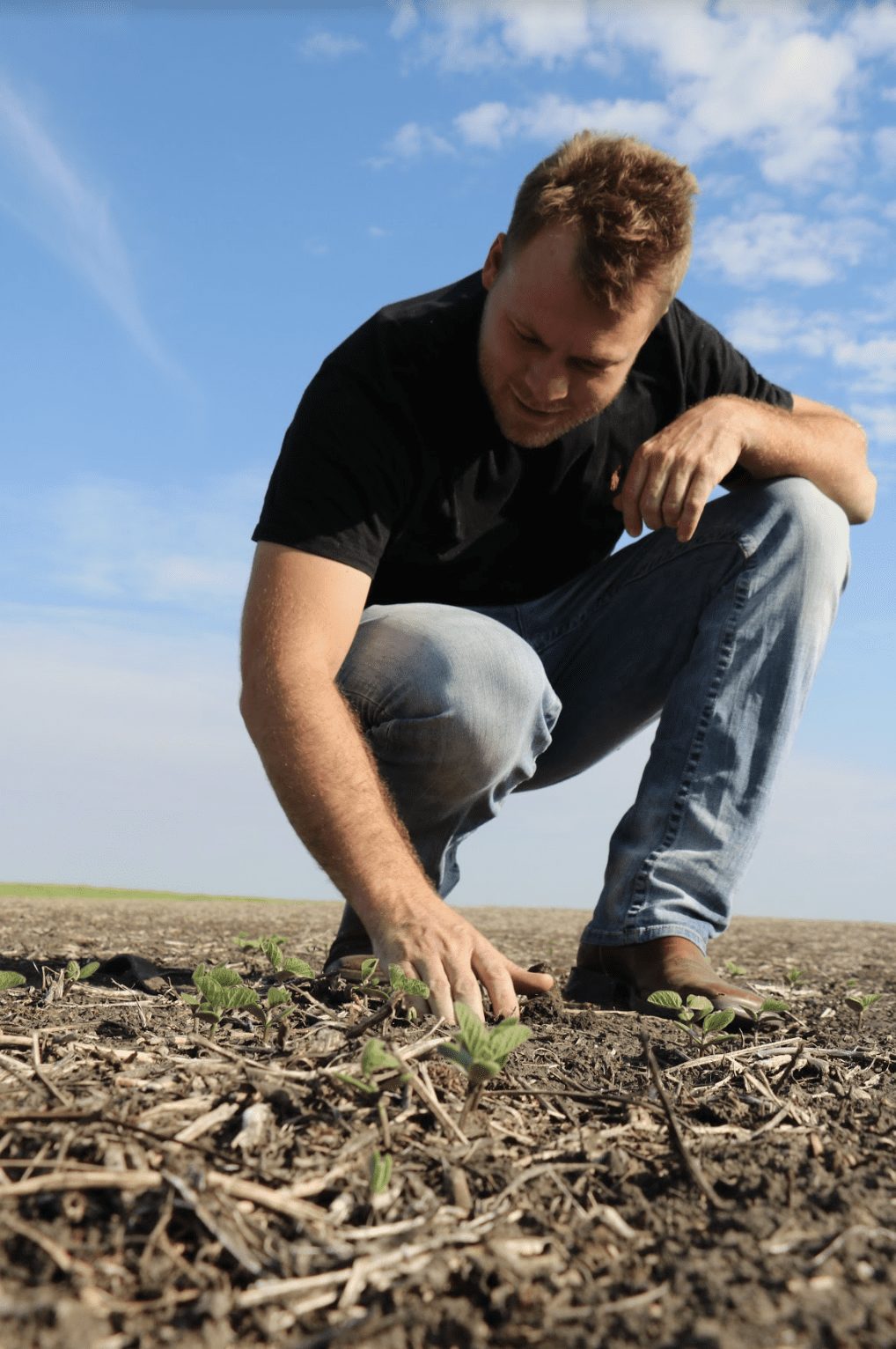 Industry Involvement
Even though he's only been back on the farm a few years, Endrud is already active in promoting the soybean industry and representing the state's soybean farmers. He was recently elected to the North Dakota Soybean Growers Association (NDSGA) board of directors. 
Endrud became involved with the NDSGA because he knew some previous board members. He looked into the roles of the NDSGA and the North Dakota Soybean Council in order to obtain a better understanding of the roles that the two organizations play. Prior to getting involved with the NDSGA, Endrud hadn't connected their efforts to his own farm. 
"I realized I didn't fully understand myself what the organizations did. I would just sell my soybeans to the elevator, and I didn't make the connection to what they (the organizations) were trying to do," Spencer Endrud says.
Having been involved with international business, Spencer Endrud recognized being involved with international business and travel was something he missed. Involvement with the NDSGA has piqued his interest in public policy and legislation as well as given him a better handle on what it takes to make things happen on the legislative level.  
"I had the opportunity to have a role in that environment, and now, I understand the bigger picture of how things work," Endrud says. 
Endrud brings a unique blend of experience and perspective to the NDSGA board. He also brings optimism for the future of North Dakota agriculture. 
"As down and slow as it is now, I think the future looks bright," Endrud contends, "because the world's population is still growing, and people are always going to need food."