Janet Reeder Gillen wades through a sea of soybeans on a late afternoon in September, and I follow in her wake, laden with cameras. It is harvest time in west central Illinois. After a day of combines and tractors, I know her minutes are precious, so I need to quickly snap a photo that captures the indomitable spirit that brought her all the way from heartbreak to this place, to this time.
Grain bins tower in the distance surrounded by a cluster of buildings, all of which she and her son own together. These are legacies of her late husband, but the fact that she still owns them is a monument to her own sheer grit. As long shadows creep across the field, I can't seem to find the right picture.
"How about taking my picture like this?" Janet says, spreading her arms skyward. "This is how I feel when I stand here, when I stop and look at all we have."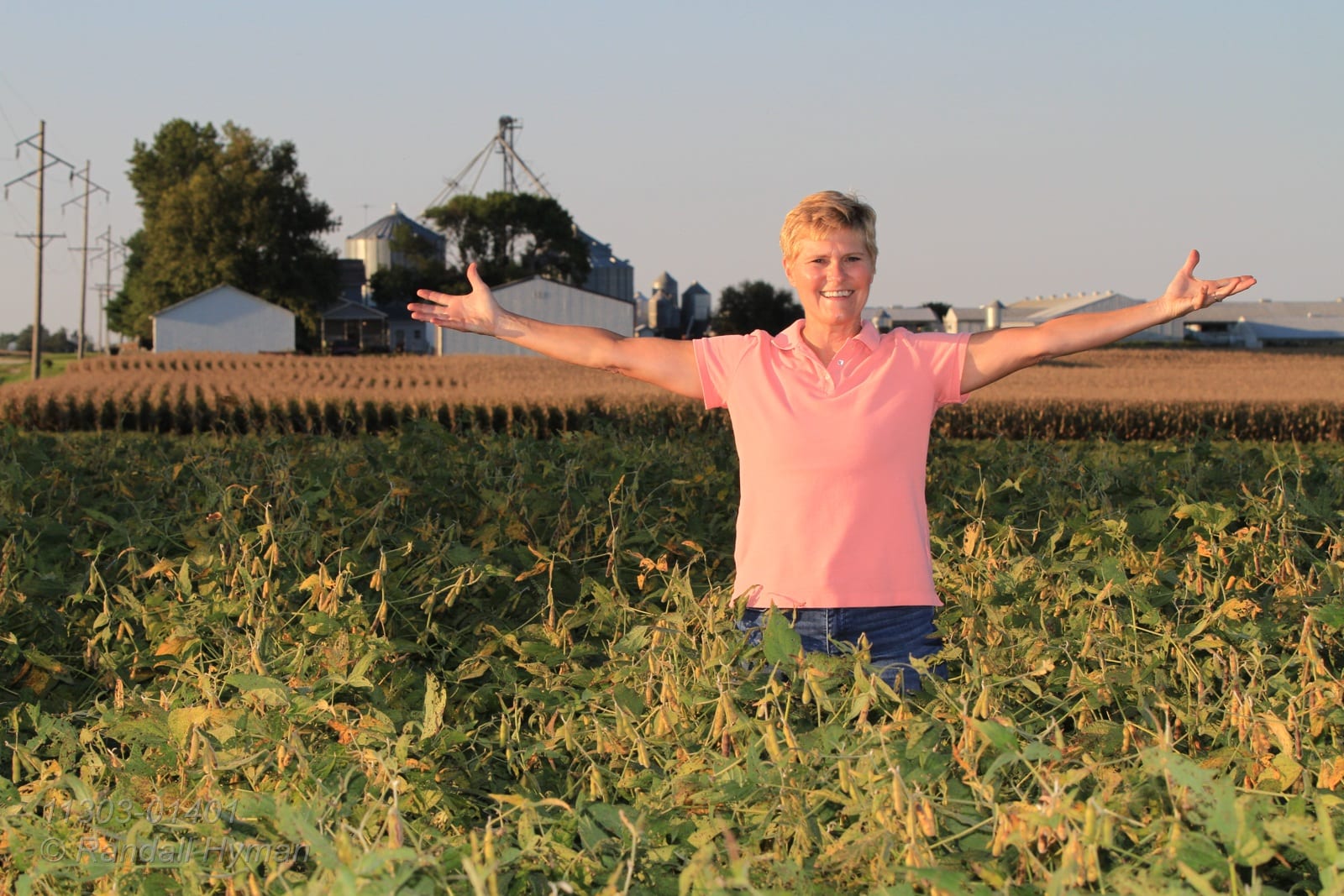 During my daylong visit, I've learned that she has a knack for taking charge when others dither. Farm employees call her "The Big Boss," especially since she's considerably shorter than everyone around. I take her advice and snap the picture. It looks perfect. Her arms hold up the entire farm, from soybean field to bins to outbuildings. It tells the story of a strong woman who triumphed against overwhelming odds so her family could continue farming.
Her late husband was a fighter, too, but liver disease followed by a liver transplant followed by liver cancer was too much for one body. When he died 13 years ago, Janet inherited five full-time employees, 975 acres of cropland, 700 sows, a grain complex and a feed mill. Trained as a veterinary medical technician, she knew something about hogs, but even the notebooks she filled with instructions from her husband during his last days in home hospice were not enough to prepare for what lay ahead.
One thing she knew for sure: her kids would go to college and she was determined to have something for them when they came back home.
Fast forward 13 years. The farm is 160 acres bigger now to accommodate more soybean production as well as corn. Her 30-year-old son Devin is in all places at once, tending hogs, crops and equipment. He loves it. Instead of sows, they own "sow shares"— 2700 piglets delivered every ten weeks that they finish for market in their own buildings with their own farm-ground corn supplemented with soybean meal, distillers grains and trace minerals.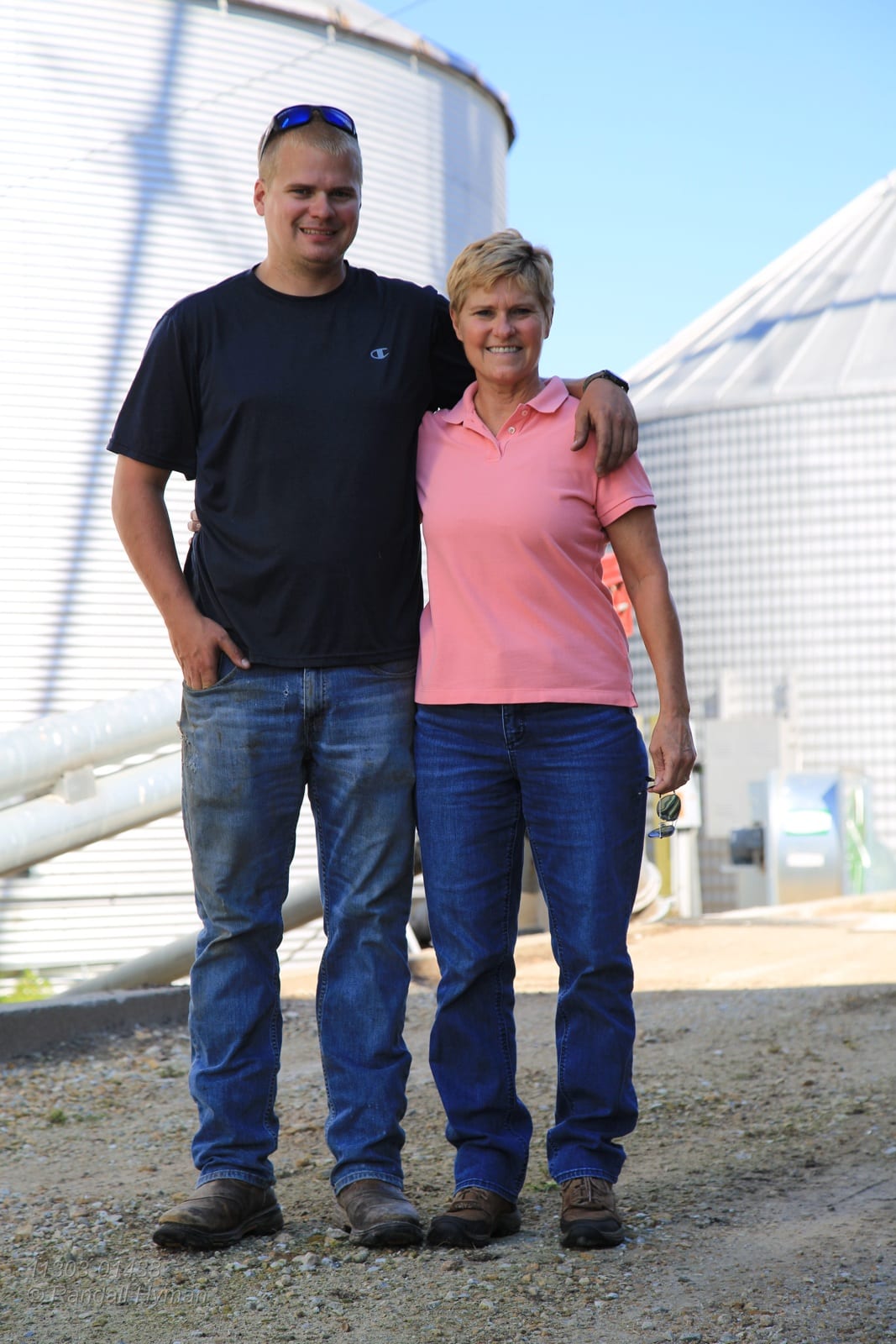 Her 27-year-old daughter Ellen works for John Deere in Davenport, Iowa and Janet has been remarried for over a decade to another farmer, Dick Gillen. They are, she says, "a match made in heaven."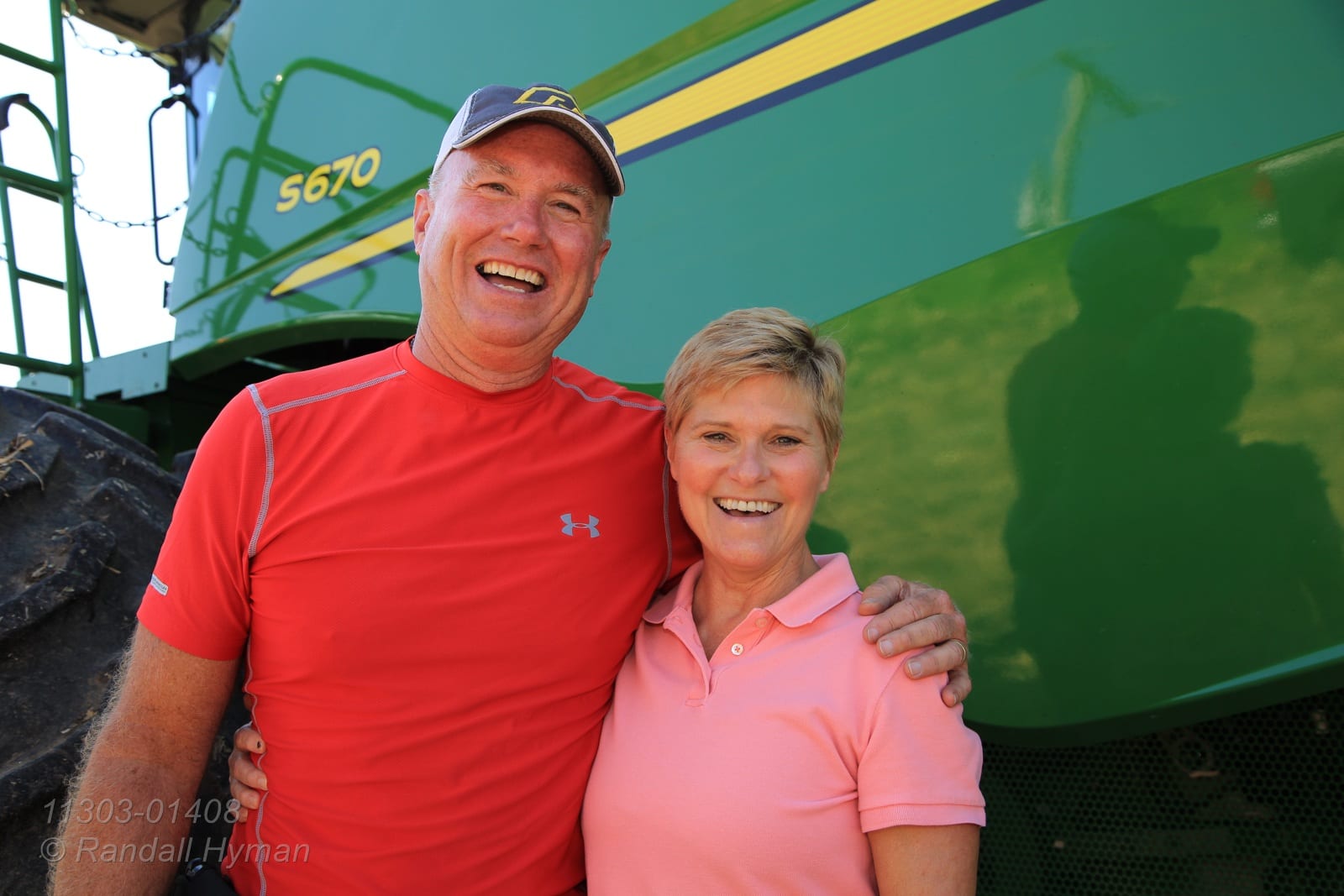 Dick remembers how she "blew him away" with her determination when they first met a year after her loss. He says she took on tasks those early years that most men would have shied away from. He was raising four kids on his own and farming with brothers. Since Janet's son was on a softball team with one of his daughters in the nearby town of Monmouth, sitting and talking in the bleachers became a weekly thing.
One day, with plans to upgrade her hog buildings, Janet asked Dick to drive her to meet and hire some Amish carpenters for the job (the local Amish have no telephones). He did, and the rest is history. With an expanded family and expanded farm, Janet has become a master multi-tasker, making endless lists as she juggles bookkeeping, house chores and farm chores. The last few years she's increased her soybean production with amazing results.
Janet Reeder Gillen confers with husband Dick Gillen and her son Devin Reeder at grain bin complex during harvest on Reeder farm near Monmouth, Illinois.
Janet Reeder Gillen confers with husband Dick Gillen and her son Devin Reeder at grain bin complex during harvest on Reeder farm near Monmouth, Illinois.
"We used to just plant corn on corn," Janet says. "With all those hogs, we needed every acre just to feed them. If we had 180 bushels of corn an acre, back then, we used to think, 'hoohoo!" but now we average 240 bushels, so we can plant more beans. They just absolutely explode on ground that has been in corn for 30 years. We're averaging 83 to 85 bushels of soybeans an acre."
Diversification has served the farm well, but so has Janet's financial acumen. With the help of lawyers and accountants, she has protected her family's assets by partitioning land, crops, livestock, buildings and equipment into separate companies which she, her children and her husband own as shareholders. As Devin buys more shares, he moves toward taking over the farm financially as well as operationally. Janet likes to say that farmers are dirt rich and cash poor.
"When you're a farmer, there is a passion about it," she says, "especially when you see your children have that same work ethic, integrity, character and drive to be a servant of the land."
As if on cue, her cell phone rings. It's Devin letting her know the next load of hogs is ready to go to market and to contact their commodity broker, followed by another call from her sister in North Carolina asking how to run a house generator as Hurricane Florence closes in.
Janet is used to handling rapid-fire problems. Besides being a woman of lists ("you can't sleep at night if you don't make them"), she is a woman of faith, with church and community high on her perennial lists. After administering some sisterly advice, she turns back to our conversation, never losing a beat.
"All I know, is that everything I've accomplished, I give God the glory for that," she says. "If I did not have my faith, and I did not have the belief that I could do this, I don't know where I would have been."