The U.S. Department of Agriculture (USDA) held its annual Agricultural Outlook Forum outside of Washington D.C. in late February. At the symposium, analysts and media members came to hear the agency outline its latest supply and demand projections for the upcoming 2020/21 U.S. marketing year. These forecasts provided an update from the agency's late October 10-year baseline projections and reflected USDA's February World Agricultural Supply and Demand Estimates (WASDE) old-crop carryout projections to provide the carryin supplies for the upcoming 2020/21 marketing year.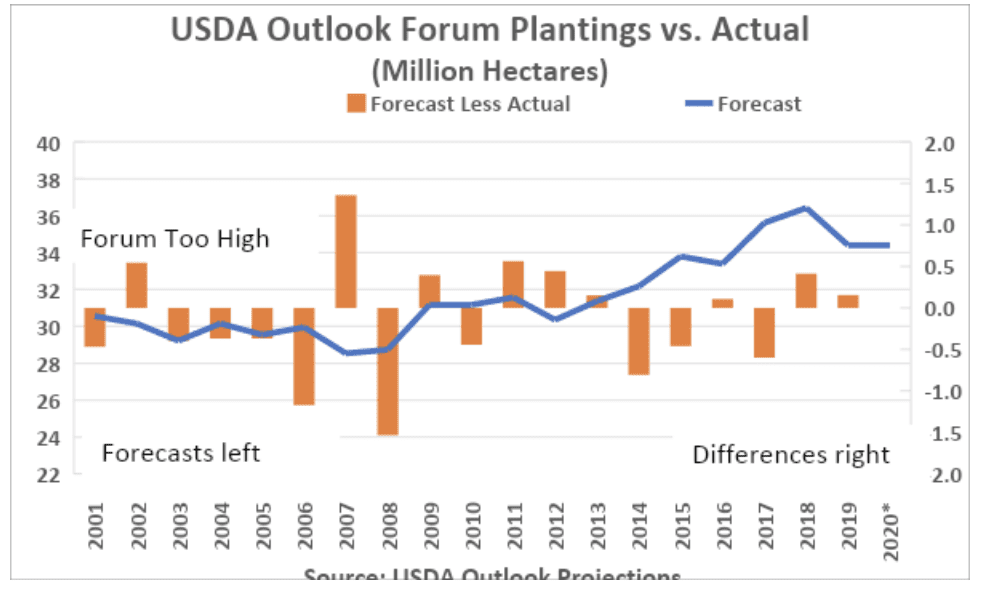 History shows that USDA's Ag Outlook Forum provides a fairly unbiased indication of the agency's March Intentions forecast for soybeans. Over the past 19 years, the agency's Outlook projection has fallen below the March forecast ten times. Conversely, the March acreage has come in below the outlook projection in each of the remaining nine years which has been the case in each of the last two seasons. Last year's forecast of 34.4 million hectares was just the third-smallest miss for the agency at 155,000 hectares above the March figure – greater than about 151,000 hectares in 2013 and just about 107,000 in 2016. On average, the absolute difference between agency's initial two outlooks has varied by about 570,000 hectares.
USDA projects U.S. soybean plantings at 34.400 million hectares – a rebound of 3.6 million hectares or 11.7% from hindered efforts last year totaling just 30.798 million. While still a considerable rebound from actual seedings in 2019, USDA notes that the scale of the rebound is seen as being limited by more favorable corn prices relative to soybeans. At the close of February, the soybean-corn ratio when measured with the respective new-crop contracts was 2.41, which slightly favors greater returns for planting corn when compared with soybeans where rotations allow. The chart above plots new-crop futures relationships at the end of February measured against the left axis against USDA's Prospective Planting estimate relative to the previous final plantings figure measured on the right axis. This highlights the relationship between changes in the price ratio and farmers indications for the upcoming planting season. USDA also noted that rotational constraints may likely keep more farmers planting additional soybeans rather than favoring slightly more favorable returns from corn. This is particularly a feature in the Midwest U.S., whereas soybean prices relative to other competing crops such as cotton, rice and sorghum may prompt rotations in spring plantings any given year, particularly in the southern U.S.
Based on the agency's view of normal spring and summer growing weather, USDA sees that 34.1 million hectares, or 99.1% of 2020 soybean plantings, will be harvested next fall. This is a modest improvement from last year's campaign, which estimated that just 98.6% of plantings were harvested and tops the previous five-year average percentage of area that was harvested at 98.8%. Multiplying the harvested acre estimate by the agency's latest yield forecast of 3.35 tonnes per hectare results in a soybean crop totaling nearly 114.2 million tonnes. This would result in a considerable rebound from latest estimates of the 2019 crop that totaled just 96.8 million tonnes but fell short of the 114.3-million-tonne estimate that the agency issued back in October when the projected yield was 3.40 tonnes per hectare and soybean plantings were lower. Following the release, many analysts questioned how USDA could lower its projected trend-type yield projection from October when USDA raised its latest yield figure for the 2019/20 crop from the October estimate in the agency's annual production update issued in January. According to Grains and Oilseeds Outlook published along with the presentation, the yield forecast was "based on a weather-adjusted trend assuming normal growing season weather."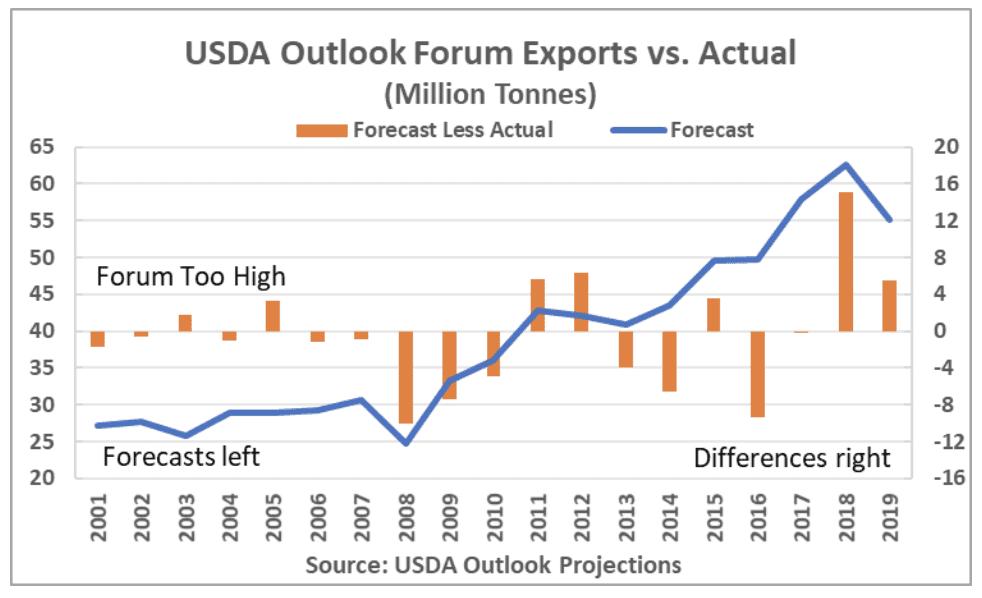 USDA issued some rather robust demand forecasts when laying out its initial projections for 2020/21. Exports were seen rising to 6.12 million tonnes from latest 2019/20 projections to reach 55.8 million. Rising shipments of U.S. soybeans to China as part of the Phase One trade agreement along with increasing global import demand were noted features central to projected increase, but expected strong competition from South American supplies and anticipated strength in the U.S. dollar when compared with other currencies were both noted as being limited factors. If realized, USDA's projection of 55.8 million tonnes would be an increase from 47.56 million tonnes shipped in 2017/18 and the agency's current expectations for 2019/20 of 49.67 million but would still fall short of exports that totaled 58.1 million in 2017/18 and 59.0 million in 2016/17.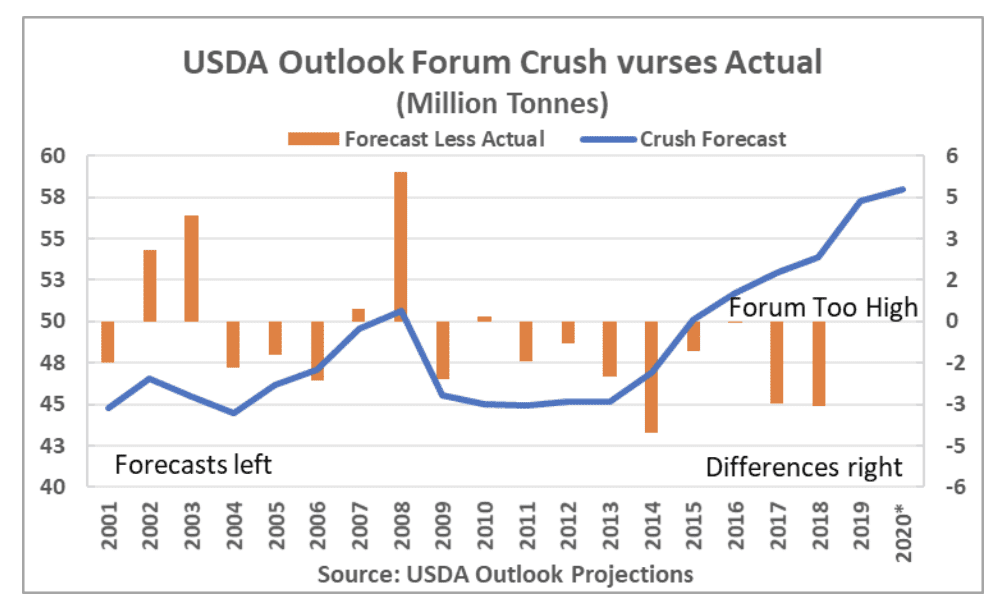 Domestic crushings were projected to grow by 680,000 tonnes or about 1.2% from 2019/20 to reach just shy of 58.0 million tonnes. Growing domestic demand for soybean meal and soybean oil were noted features seen supporting the expansion in crush as U.S. soy product exports were expected to decline from current forecasts. In the agency's Livestock and Poultry Outlook also presented at the Forum, USDA analysts laid out expectations for U.S. red meat and poultry output to rise by three percent in 2020 driven by record beef, pork and broiler output. According to the United Soybean Board's 2018 Soybean Meal Demand Assessment, nearly 48% of U.S. soybean meal feed in 2017 was consumed by broilers, followed by 24% from hogs and 9% from dairy cows. Demand for U.S. animal protein supplies is seen getting a boost from recent trade agreements along with greater imports from countries needing to boost meat supplies that have been negatively impacted by recent disease outbreaks. Demand for U.S. soybean oil is seen getting a boost in 2020 by growing food usage along with greater demand from the biodiesel sector.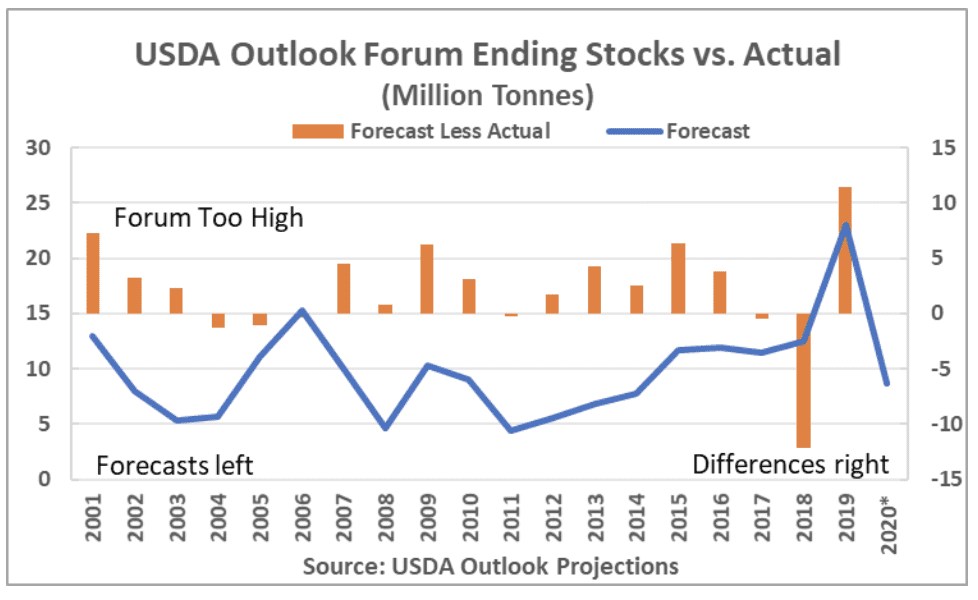 In USDA's view, rebounding supplies are expected to be more-than-offset by increased demand to bring soybean ending stocks 2.9 million tonnes lower to 8.7 million by the end of 2020/21. This results in a stocks-to-use ratio of 7.4% – the lowest mark since 7.2% realized back in 2016/17 and a far cry from 22.9% in the 2018/19 marketing year.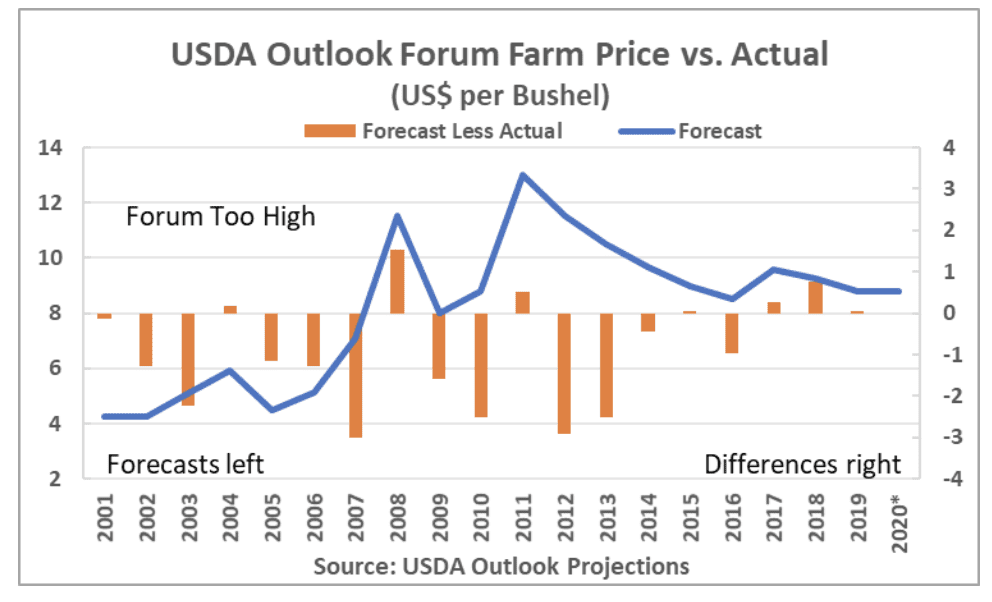 Despite the much tighter fundamental outlook highlighted above, the agency sees increased competition from South American supplies capping gains in the season-average farm price to just a nickel in 2020/21 at $8.80 per bushel. This was equal to agency's forecast for 2019/20 issued at last year's Outlook Forum and is just a $0.05 above USDA's most recent February WASDE forecast. If realized, this would be a far cry from $14.40 as recently as 2012/13 but would remain relatively depressed when considering prices above $10.00 per bushel over the course of 2010 through 2014. Over the previous 19 years, the USDA price forecast presented at the Outlook Forum was too low twelve times. Among those twelve years, the final cash soybean price averaged $1.67 per bushel above the Outlook Forum forecast. In the seven years when USDA's Outlook projection exceeded the actual level, it was by an average of $0.55 per bushel.
USDA's annual Agricultural Outlook Forum forecasts provide valuable insight for analysts and buyers of U.S. soybeans alike as the agency lays out initial supply and demand expectations for the upcoming marketing year. The agency will begin including regular updates for the 2020/21 marketing year beginning with the agency's WASDE released in May, and market watchers will compare those initial forecasts with those provided in late February to gauge any changes in market fundamentals. This will be particularly interesting in the case of the U.S. soybean market this year, as the report coincides with the beginning of China re-opening its market to U.S. soybean imports. The key takeaway from this latest report is that, despite much stronger demand for U.S. soybeans both domestically and abroad, foreign buyers are not expected to see drastic increases in prices as the U.S. will have to compete with what appears to be ample new-crop South American supplies.