While it's clear that the COVID-19 pandemic has affected every aspect of daily life around the globe from school to sports to business, the effects of the lockdown on soybean oil may not be top of mind. A recent Bloomberg story called attention to the expanded possibilities for soybean oil.
A surge in online orders during shutdowns led to increased truck mileage for cyber retailers such as Amazon whose delivery trucks are usually powered by biodiesel and its green alternatives. For context, there are two general types of biodiesel produced in the U.S. – conventional biodiesel is made from crude vegetable oil soy, canola, or corn, reclaimed cooking grease, inedible or edible meat fats, and renewable diesel is produced from refined vegetable oil, such as refined bleached and deodorized soybean oil.
Biodiesel made with soybean oil is a renewable, clean-burning diesel replacement that can be used in existing diesel engines without modification.[1] With soy oil accounting for about nine billion pounds of biodiesel feedstock annually, there's enough soybean oil to power a lot of deliveries.
"Truck traffic has been moving along," said Mac Marshall, vice president of market intelligence for USB and the U.S. Soybean Export Council (USSEC). "I'm probably going to get five Amazon packages at my door today. When you think about the long-haul truck fleets, those are primarily consuming diesel so the demand on the biodiesel side hasn't abated."
Futures traded in Chicago have rallied almost 40% since hitting a low in March, when coast to coast lockdowns in the United States caused demand for most commodities to plummet. The U.S. Department of Agriculture (USDA) is already forecasting the use of soybean oil to make biodiesel will jump more than 3% this season after declining a year earlier.[2]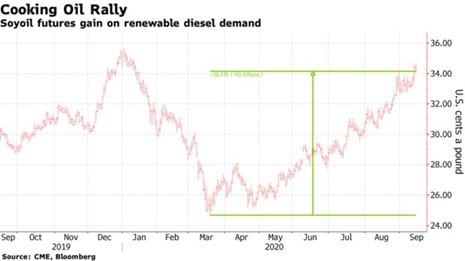 While traffic for passenger cars, mostly powered by gasoline mixed with ethanol, plunged and was still down 16% from a year earlier in the week ending August 30, truck miles were up 5%, according to data from the Department of Transportation.[3]
Because many makers of renewable diesel use tallow, a rendered form of beef or mutton fat, the shutdown of many U.S. meat plants earlier this year also left renewable diesel makers with the animal waste many use as a feedstock, said Marshall.
"You've had a decline in slaughter in the second quarter, which meant less available supplies of feedstock on the rendering side, but you are also having less restaurant traffic and lower repurposed grease volumes," he said. "That's been an opportunity for soy oil to get bid up as a feedstock, so we've seen a nice price appreciation."
Throughout the pandemic, U.S. farmers have been continuing to provide a reliable supply of soybeans for food, fuel, and fiber. Because agriculture was labeled "critical infrastructure" by the U.S. government, the ag supply chain was able to conduct business as usual. U.S. Soy is open for business.
[1] http://biodieselmagazine.com/articles/9333/us-soybean-oil-demand-gets-big-boost-from-biodiesel-industry
[2] https://www.bloomberg.com/news/articles/2020-09-15/your-amazon-packages-are-helping-fuel-a-40-rally-in-cooking-oil
[3] https://www.bloomberg.com/news/articles/2020-09-15/your-amazon-packages-are-helping-fuel-a-40-rally-in-cooking-oil