The National Oilseed Processor Association (NOPA) issued its monthly soybean crush and stocks data on June 17. NOPA members were able to process 4.213 million tonnes of soybeans in May. This was down 141,000 tonnes from April and fell well below the previous record of 4.452 million crushed in May 2018. While it is somewhat difficult to tell from the chart that follows, May data marked the third consecutive month that NOPA crush has fallen short of last year's pace after outpacing the previous year totals in the previous five months of the 2018/19 marketing year.
According to analysts' expectations published by Reuters, the trade was looking for crush to come in near 4.422 million tonnes with the smallest expectation at 4.273 million tonnes. It is likely that transportation issues that plagued much of the U.S. riverways throughout the course of May were at least somewhat responsible for crush falling short of expectations. These challenges have been discussed in more detail in previous articles. The greater implication from the NOPA data for the market is that the U.S. Department of Agriculture's (USDA) June crush forecast at 57.56 million tonnes from the June World Agricultural Supply and Demand Estimate (WASDE). Looking at recent history, U.S. processors have crushed more than 50 million tonnes of soybeans in each of the past five marketing years. At this late stage in the marketing year, there is no reason to think that 2018/19 will make it six-consecutive years of crush above 50 million tonnes.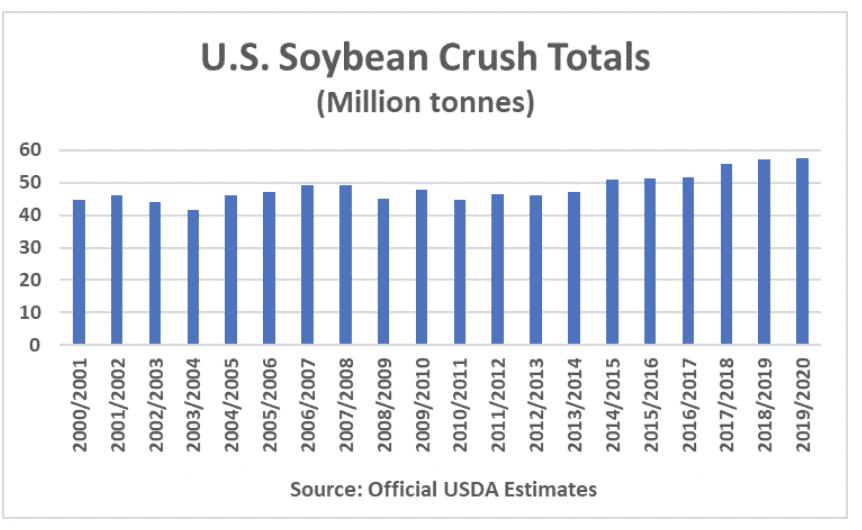 Barring any additional changes to USDA's supply/demand outlook, this would result in additional bushels being carried into the upcoming 2019/20 marketing year. USDA's National Agricultural Statistics Service (NASS) is scheduled to issue industry-wide crush and stocks data for May on July 1. If this data reflects the same trends as the NOPA data, then a minor reduction should be expected in July's WASDE balance sheet update on July 11.