This story originally appeared in SoybeaNebraska's summer 2018 magazine.
Soybeans are a major contributor to the bioeconomy of the U.S., with an annual farm gate value of approximately $38 billion dollars. The primary drivers of the demand for soybean are its two valued co-products, protein and oil, which are utilized in many food, feed and industrial applications.  With the former being primarily consumed for inclusion in poultry and swine feeds, while the latter co-product is the major vegetable oil for the food industry, with multiple industrial uses, including inclusion in biodiesel, lubricants, and heating oils.
A growing industry in which soybeans can have a positive sustainable impact on is aquaculture, given that aquafeeds for farm-raised fish are dependent on high quality protein and oil, for growth performance, along with nutritional value of the fish flesh for food use. To this point, a recent Food and Agriculture Organization (FAO) report has estimated that fish consumption accounts for 6.7 percent of protein consumed by humans, with the enriched omega-3 fatty acid oil providing additional dietary benefits. Currently, the major sources for protein and oil for aquafeed formulations are predominately secured through wild caught harvest of anchovies, sardines and menhaden, from which fishmeal and fish oil is produced. These fisheries are well maintained, and relatively stable, but are not expected to meet the future demand by the aquaculture industry. Hence, the rationale to target soybeans as a terrestrial-based feedstock for the two critical ingredients, protein and oil, for inclusion in aquafeed formulations, a market in which soybeans can be seamlessly integrated.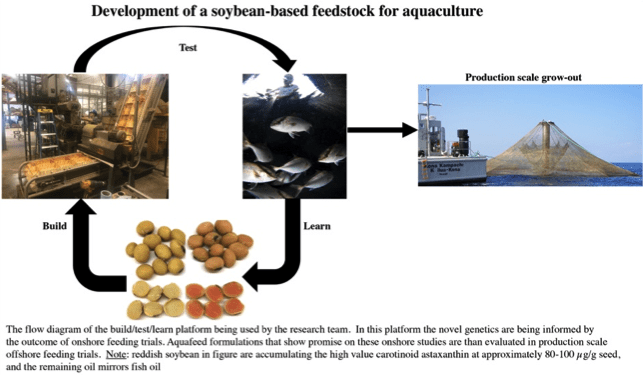 To address this opportunity, the soybean checkoff program has been investing in a research effort targeting the development of a soybean-based feedstock for aquaculture. To this end, a multidisciplinary team of researchers with expertise in aquaculture, feed formulation, biotechnology, and biochemistry has been assembled with the goal of developing an aquafeed formulation, wherein the marine-based protein and oil are displaced with soybean products. The team is a public/private partnership, with aquafeeds being formulated at Prairie AquaTech (Brookings, South Dakota), feeding trials being conducted at Kampachi Farms (Kona, Hawaii) and novel genetics being introduced into soybeans for value-added output traits to the oil fraction of seed being conducted at the University of Nebraska-Lincoln. The research team is employing a build/test/learn strategy to inform the formulation group at Prairie Aqua Tech and genetics team at UNL for further refinements.
To date, a formulation that exploits a soybean enriched with omega-3 fatty acids has been developed, in which approximately 80 percent of the fishmeal and 50 percent of the fish oil of the diet, used for the production of the high-end fin fish Kampachi (Seriola rivoliana), is displaced with soybean-based protein and oil. Importantly, this novel aquafeed formulation is estimated to be cost competitive with commercial aquafeeds. More recently, further genetic designs have been introduced into soybeans to further improve the oil component of soybean for aquaculture. Here the team has built and introduced into soybean genetic elements that lead to the co-synthesis of an oil that mirrors the fatty acid profile of fish oil, along with production of a high value carotenoid ($500 to $1500 per kilogram) called astaxanthin, which when added to aquafeed, provides the reddish coloration to farm raised shrimp and salmon.
The technology is in-hand for the development of a soybean-based feedstock that can sustainably meet the future demands for protein and oil by the aquaculture industry. The hurdles that must be addressed to translate a soybean-based feedstock for aquaculture R&D to the marketplace include an identity preservation model for the product and overcoming the global regulatory issues that govern utility of such innovations by society.