Last month the brightest minds in the world of food and agriculture descended on Des Moines, Iowa, to tackle hunger issues during the World Food Prize  Foundation 2022 Borlaug Dialogue. This year's theme, "Feeding a Fragile World," focused on overcoming pervasive shocks to the global food system.
The World Food Prize was established in 1986 to support the global imperative to provide safe, affordable, nutritious, sustainable, and equitable food for all. By honoring those who have worked successfully toward this goal, The Prize uplifts the work and establishes role models who can inspire others.
As a founding sponsor of the World Food Prize, U.S. Soy is committed to global nutrition and providing affordable, high-quality protein. The U.S. Soybean Export Council (USSEC) participated in multiple events during the 2022 Borlaug Dialogue, an annual international symposium dedicated to addressing food security issues. It is organized by the World Food Prize Foundation in recognition of its founder, Norman E. Borlaug – the father of the green revolution.
"We are committed to advancing food and nutrition security in the countries where we operate," Jim Sutter, CEO of USSEC, says. "I think it is important for us to remember that there is power in trade and doing what you're good at can help improve economies and the standard of living for all people in the world."
Discover U.S. Soy's advantage
Sutter joined a panel of U.S. soybean organization leaders discussing their commitment to global food security. The breakout panel U.S. Soy Producer's Commitment to Feeding a Fragile World hosted by USSEC, the Iowa Soybean Association, United Soybean Board (USB) and World Initiative for Soy in Human Health examined how the organizations that represent U.S. Soy across the globe are helping to feed the world by providing much more than sustainably produced soybeans.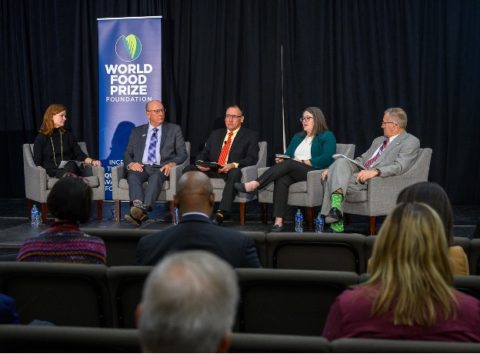 "Farmers are expanding the idea of community by looking beyond borders to make sure consumers and customers of soy can access the sustainable U.S. Soy that helps advance nutrition, provide climate-forward solutions, and supports the progress of people and their communities," Sutter says.
Polly Ruhland, the USB CEO, moderated the panel and illustrated the importance of U.S. Soy on the world stage.
"We are laser-focused on food security for the world, on providing nutritious protein for the world, be that in the form of plant or animal protein. And we pride ourselves on farmer investments to nourish the soil and the people of the world," Ruhland says.
Food and nutrition in Sri Lanka and Pakistan
USSEC hosted a side event called An Evening with South Asian and Sub-Sahara Africa Federal Ministries on Agriculture, Rural Development, and Climate Resiliency. The high-level panel discussion with Federal Ministers from Pakistan and Sri Lanka discussed their country's visions for food and nutrition security amidst conflict, COVID, and climate challenges.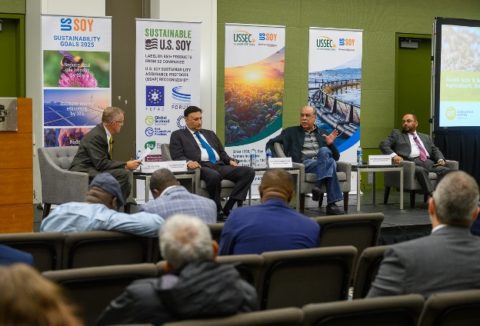 According to the Food and Agriculture Organization, Pakistan's aquaculture industry has seen consistent year-over-year growth for nearly 20 years—making it a ripe target for supporting its food security requirements. In 2021 the U.S. had $1.31 Billion in agriculture exports to Pakistan, and U.S. Soy comprised $367.85 Million of the total exports.[1]
In 2021 the U.S. exported $170.72 million to Sri Lanka. With the help of USSEC's work, the U.S. exported 180,066 metric tons of soybean meal to Sri Lanka and sold an additional $4.44 million in whole beans.[2]
The conversation between panelists addressed sustainability on farms, the importance of adopting biotech to support future growth in commodity demand, the impacts of climate on food security and the strife with synthetic fertilizer issues in Sri Lanka.
Both of the Ministers from Pakistan addressed the devastating flooding impacting the country since mid-June. The widespread floods have affected at least 33 million people and killed at least 1,500 as of Oct. 12.[3]
Days after the International Borlaug Dialogue, the U.S. Agency for International Development (USAID) announced $30 million in additional funds to help communities in Pakistan affected by widespread flooding. USAID partnered with the U.S. military to complete an air bridge that delivered nearly 630 metric tons of life-saving relief commodities to Pakistan.[4]
Environmental, social, and governance (ESG) initiatives worldwide were top of mind for attendees of the Borlaug Dialogue, along with the impacts of climate and the importance of sustainability.
"I think some of the key takeaways from today's discussion is the importance of open markets," Sutter says. "I heard from several of you that you need to have access to technology, you need to have access to inputs and that we need to utilize climate-smart agriculture. I think making sure that you can supply the needs of your people is important."
The Millennium Challenge
USSEC hosted a side event at the Borlaug Dialogue called Meeting the Climate Challenge in Agriculture.
"USSEC represents U.S. Soy worldwide as a high-quality and sustainable source of protein for food and feed needs. We are committed to helping advance food and nutrition security in the countries where we operate," Sutter says. "We admire the Millennium Challenge Corporation (MCC) for the important work they do to fight poverty and instability internationally."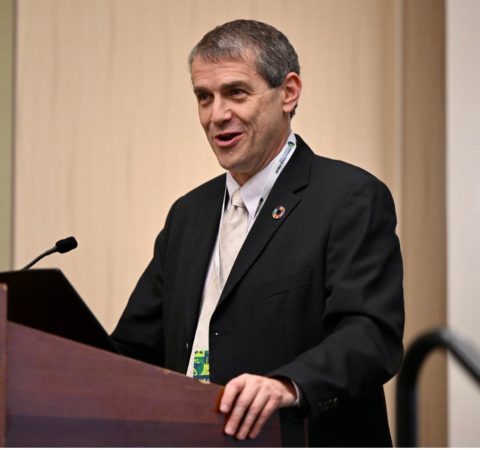 Eric Trachtenberg, Practice Lead & Senior Director of the MCC, outlined the important work they are doing. MCC has more than $500 million in investments to improve food security and strengthen land productivity. To date, 22 of MCC's compacts have included food security-related investments totaling over $5.2 billion, including investments in improving land governance in more than 15 countries.[5]
"We don't descend on a country and tell them what to do. We co-create our programs with our partner countries in the lead," Trachtenberg says. "They tell us what they want, and we help them get to the goal they have established for themselves."
MCC utilizes cutting-edge data to create plans and track progress.
"We work at large scale; our average program is $350 million," he told the audience. "We have a strict five-year clock on implementation. When we hit zero, the road stops being built even if the bridge is not finished. That makes us have a very, very strict focus on results."
A farmer's perspective
USSEC Board Chair Doug Winter, a soybean farmer from Mill Shoals, Illinois, continually strives to improve his farm's sustainability and profitability by improving current practices and implementing new strategies and technologies. Winter was a panelist on the U.S. Soy Producer's Commitment to Feeding a Fragile World and addressed dignitaries at a reception with government ministers of agriculture, fisheries, livestock & rural development.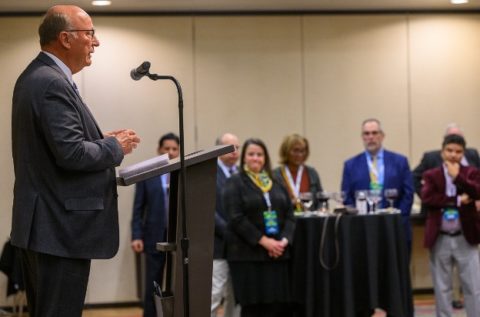 "What I think about the most are those over 600 million children in the world that are five years old and younger," Winter says. "I know that my fellow farmers in the U.S. and probably farmers across this earth share the fact that it's an intolerable thought that any child in this world should have to go to bed hungry at night. It's a sad situation. That (ending hunger) should be our primary goal, and why we want to do a better job of what we're doing."
This story was partially funded by U.S. Soy farmers, their checkoff and the soy value chain.
[1] Office of Agricultural Affairs. "Pakistan." USDA Foreign Agricultural Service.
[2] Office of Agricultural Affairs. "Sri Lanka." USDA Foreign Agricultural Service.
[3] Christina Goldbaum. "In Pakistan's Record Floods, Villages Are now Desperate Islands." The New York Times Additional author, Zia ur-Rehman.
[4] "United States Providing Additional $30 Million in Response to Flooding in Pakistan, Bringing Support to $97 Million." USAID
[5] Eric Trachtenberg. "Practice Lead & Senior Director, Land & Agricultural Economy (LAE)." LinkedIn.com