The extensive U.S. inland waterways system ensures a reliable supply of soybeans and soy products efficiently reach global customers. The system includes a vast network of more than 19,300 km, or 12,000 miles, of connecting waterways and 218 locks.1 Recently released economic research on the value these waterways bring to specific U.S. states further reinforces the reliability of this transportation system for U.S. exports.
The inland waterways efficiently, sustainably, cost-effectively, and safely transport critical commodities like agricultural goods, energy products, building materials and industrial chemicals to deep water ports for export. In 2018, 766.3 million tons of goods valued at $507.3 billion moved on the U.S. inland waterways system, and by 2045 it is expected to increase by 23% to 942 million tons valued at $871 billion.1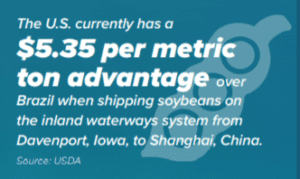 The economic research, commissioned by the National Waterways Foundation, quantifies the volume of freight moving on these waterways, as well as the jobs and tax revenue they bring to 17 U.S. states, including several of the top soybean-producing states in the U.S. For example, in 2018 inland waterways supported $37.6 billion of Illinois Gross State Product, 516,000 Indiana jobs and $18.7 billion in total output for Iowa.1 These three states in the heart of the U.S. Midwest rely on various inland waterways to ship soybeans and soy products to ports in the Gulf of Mexico.
Inland waterways also create value for customers. U.S. Department of Agriculture (USDA) data shows that the U.S. has a $5.35 per metric ton advantage compared to Brazil when shipping soybeans from Davenport, Iowa, via the Mississippi River to Shanghai, China.1
In addition to the soybean industry, commodity grains, construction, several manufacturing sectors, mining and other industries rely on the U.S. inland waterway system for efficient transportation. The volume of goods moved and jobs created by the inland waterway system reinforced why stakeholders like the soy checkoff make ongoing investments to maintain it. The value of inland waterways to multiple industries reinforces its role in allowing the U.S. to deliver a reliable supply of high-quality soy around the world.
1 Inland Waterways State Profiles, including Illinois, Indiana and Iowa, National Waterways Foundation, August 2020.