The 2019 flood conditions have been much worse than 1993, but because the levees have held up significantly better, the 2019 flood is not receiving the same airtime. In 1993, the average water level was below flood level at Lock and Dam 15 during early March and May, which allowed some shipments of grain and soybeans. By comparison, as of June 1, no crop volume has transversed Lock 15 at the Quad Cities this year.  Also, the water level on the upper Mississippi River has remained above flood level for 85 consecutive days and is forecasted to reach 100 days.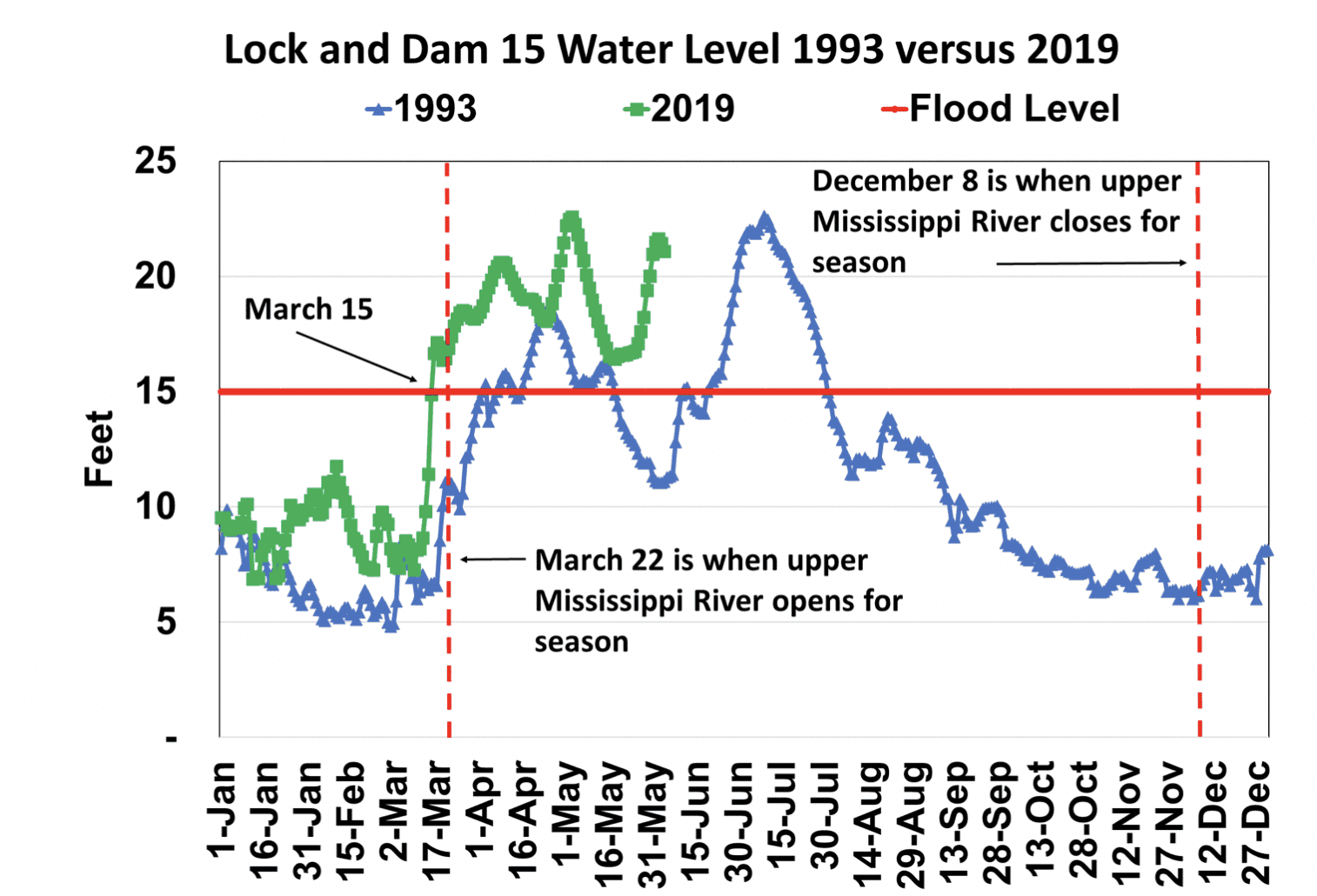 With the St. Louis harbor threatening the 1993 high water level record, the barge restrictions on tow configurations being reduced to five barges and only daylight transits from the St. Louis to Cairo section of the Mississippi River will remain in place after the area reopens for barge traffic. The Coast Guard stops all traffic at St. Louis when the river gauge exceeds 38 feet. The National Weather Service's forecast has river levels dropping below 38 feet in third week of June.
Lock and Dam 27 at Granite City, IL is below where the Illinois River joins the Mississippi River, but above St. Louis, Missouri. For two of the last four weeks, Lock and Dam 27 reported no barge crop volume transversed the lock. With a weather forecast that makes June water levels being record high a very good bet, barge movements of crops will remain very low through June. By comparison, during March and May 1993, the grain and soybean export system was able to ship normal to above normal volumes to the Gulf. The barge movements allowed soybeans to flow until the water level spiked in late June. Barge movements in 2017 represent an average year. If water levels drop sharply in the second half of June, there will be time to clear the bins before the next harvest. The time window for moving the soybeans is narrowing. Of course, this assumes a major levee break that shuts down river access for weeks does not occur. The river situation is very tough for farmers who are traditionally dependent on the waterway system to market crops.