Data released by the U.S. Energy Information Administration showed that the U.S. produced roughly 534 million liters of biodiesel in March 2019. This was up 38 million liters from February but was 30 million below the same month last year. On a per day basis, the U.S. produced 17.8 million liters of biodiesel in March, up slightly from 17.7 million in February and down from 18.8 million liters last year. As shown in the chart below, this was the first month that U.S. output has fallen below the previous year's level in the limited data set going back to 2017.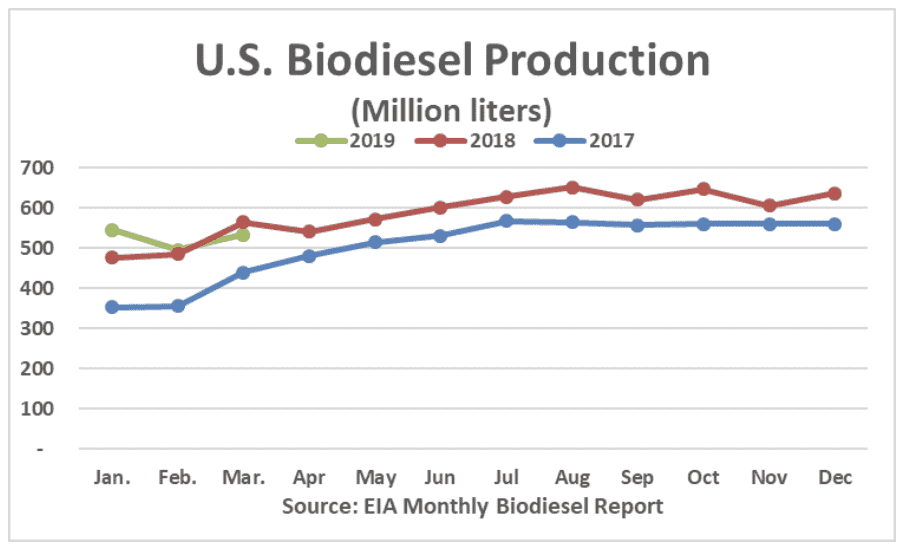 Looking at the feedstocks, soybean oil usage was again the top source of creating biodiesel in March at nearly 280,000 tonnes. This was up nearly 26,000 tonnes from the previous month and fell short of last year's total by roughly 4,000 tonnes. In its May World Agricultural Supply & Demand Estimate (WASDE), the U.S. Department of Agriculture (USDA) pegged U.S. soybean oil consumption for biofuel in the 2018/19 marketing year at 3.787 million tonnes versus 3.236 million tonnes estimated in 2016/17. Cumulative biodiesel demand for soybean oil in the first half of the 2018/19 marketing year, which began in October, has increased nearly 19 percent despite forecasts for usage to expand by 17 percent.
USDA's latest WASDE balance sheet shows a considerably tighter outlook for the U.S. soybean oil market in the 2019/20 marketing year. Increasing domestic demand from both the food and fuel sectors are expected to more than offset decreases in export potential in the new-crop timeframe. This increased usage is expected to be combined with a tighter supply outlook to draw projected soybean oil ending stocks to their lowest level since 2013/14. Like most countries around the world, the U.S. market is faced with increasing biofuel mandates, but our markets are mostly protected from foreign imports. This may result in an additional strain on domestic supplies in order to meet mandates, leaving less U.S. soybean oil to be available to buyers on the world market.