There has been much debate over plant versus animal protein. Instead of pitting one type of protein against the other, why not have both plant AND animal protein on your plate. Here's a look at how much protein is recommended, why combining plant and animal protein can offer a wider variety of nutrients, and my recipe for Ground Beef and Tofu Teriyaki Stir-Fry.
Protein Recommendations
The recommended dietary allowance (RDA) for protein for adults and the Food and Agriculture Organization (FAO) of the United Nations and other health agencies protein requirement is 0.8 grams per kilogram body weight.1
According to the 2020-2025 Dietary Guidelines for Americans (DGAs), the protein group comprises a broad group of foods from both plant and animal sources.2 Protein subgroups listed in the DGAs include meats, poultry, and eggs; seafood; and nuts, seeds, and soy products. Beans, peas, and lentils are also considered part of the protein food group as well as the veggie group. The DGAs recommend choosing lean cuts of meats and poultry whenever possible (like lean ground beef or chicken breast).
Why Combine Plant and Animal Proteins?
Each food within the protein group (whether plant or animal) provides a unique array of nutrients. For example, tofu made with calcium sulfate provides protein, calcium, iron, fiber, magnesium, manganese, selenium and phosphorus while lean ground beef provides protein, vitamin B12, vitamin B6, zinc, selenium, riboflavin, phosphorus, iron and choline. Some nutrients may slightly overlap and help increase intake of those specific nutrients. In the case of tofu and ground beef, this would mean you're getting iron, an under-consumed nutrient by Americans, from both the tofu and ground beef. However, each food also has nutrients that are specific to that food. As such, taking in both plant and animal protein means you'll be getting a wider variety of nutrients.
5 Plant and Animal Protein Pairing Ideas
Add cooked, shelled edamame to your beef chili.
Blend soy-based protein with lean ground beef on your next Taco Tuesday.
Add miso to your beef blend for a mouth-watering hamburger.
Combine extra-firm tofu with lean ground beef and loads of veggies in a stir-fry.
Enjoy your morning egg scramble with a glass of soy milk.
Below is my recipe combining 90% lean (at least) ground beef with extra-firm tofu which is marinated in a homemade teriyaki sauce. You can make the teriyaki sauce in advance and store it for up to 4 days in the refrigerator or use your favorite store-bought brand instead.
Ground Beef and Tofu Teriyaki Stir-Fry
Serves: 4
Serving Size: ¾ cup rice and 1½ cups stir-fry
For the teriyaki sauce:
1/3 cup reduced-sodium soy sauce
1/3 cup brown sugar
1/3 cup low-sodium vegetable or beef broth
2 tablespoons mirin
1 clove garlic, minced
1 teaspoon toasted sesame oil
1/4 teaspoon ground ginger
1/8 teaspoon red pepper flakes
For the rice:
1 cup long-grain brown rice
2¼ cups low-sodium vegetable or beef broth or water
For the stir-fry:
10 oz extra-firm tofu, diced into 1-inch cubes
3 tbsp olive or canola oil, divided
1 lb at least 90% lean ground beef
1½ cups bite-size broccoli florets
1½ cups bite-size cauliflower florets
1 red bell pepper, cut into ¾-inch pieces
4 tsp cornstarch
To make the teriyaki sauce: In a small saucepan, whisk together the soy sauce, brown sugar, broth, mirin, garlic, sesame oil, ginger, and red pepper flakes. Bring mixture to a boil over high heat and then reduce the heat to low, cover and simmer, whisking occasionally, until well combined, about 5 minutes. Remove the saucepan from the heat and allow to cool.
To make the rice: In a medium saucepan, bring the rice and broth or water to a boil over high heat. Reduce the heat, simmer and cover until the liquid is absorbed and the rice is tender, about 35 minutes. Fluff with a fork.
To make the stir-fry: In a medium bowl, add the tofu. Pour ¼ cup of the teriyaki sauce over the tofu. Place the remaining sauce to the side for later. Toss the tofu to coat with the sauce. Cover and place in the refrigerator for at least 20 minutes and up to 24 hours.
Heat a large wok or skillet on medium-high with 1 tbsp of the oil until the oil is shimmering. Add the ground beef and cook on all sides breaking up the meat* with a wooden spoon, 8 minutes. Using a slotted spoon, transfer the beef to a clean plate.
In the same wok or skillet, heat 1 tbsp of oil over medium-high heat until the oil is shimmering. Add the tofu and cook, turning occasionally, on all sides, 3 minutes. Using the same slotted spoon, transfer the tofu to the same plate as the beef. Discard the extra sauce that was used to marinate the tofu.
In a small bowl, add the remaining sauce and whisk in the cornstarch until dissolved.
In the same wok or skillet, heat the remaining 1 tbsp of oil over medium-high heat until the oil is shimmering. Add the broccoli, cauliflower, and pepper and cook until cooked but still firm, about 4 minutes. Add the remaining sauce, ground beef and tofu and raise the heat to high to bring the sauce to a boil. Lower the heat to medium-low and toss to evenly coat. Continue cooking for an additional 3 minutes until cooked through and ingredients are combined.
To serve: Spoon 3/4 cups of rice in each of 4 plates or bowls and top with 1½ cups of the stir-fry. Serve warm.
Nutrition Information (per serving): Calories: 639; Total Fat: 28g; Saturated Fat: 6g; Protein: 35g; Total Carbohydrates: 64g; Sugars; 15g; Fiber: 5g; Cholesterol: 74mg; Sodium: 717mg
*Ground beef should be cooked to 160 degrees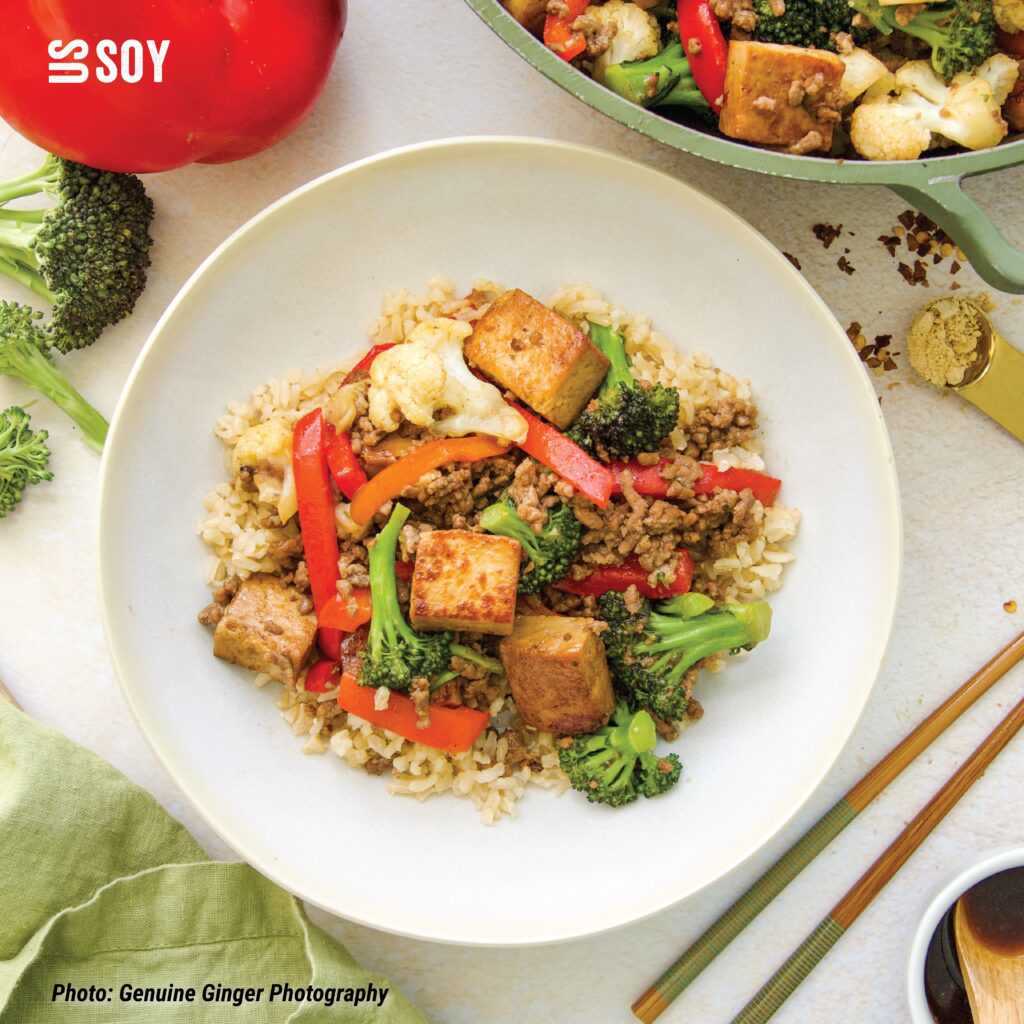 References
1 EFSA Panel on Dietetic Products Nutrition and Allergies (NDA). Scientific Opinion on Dietary Reference Values for Protein. EFSA J 2012;10:2557.
2 USDA. 2020-2025 Dietary Guidelines for Americans. https://www.dietaryguidelines.gov/sites/default/files/2021-03/Dietary_Guidelines_for_Americans-2020-2025.pdf